Catch an eyeful
Brands like L'Oreal and Peter Thomas Roth are rolling out new products that make eyelashes as fat and feathery as possible
Like hemlines and cocktails, facial features go in and out of fashion, and right now, eyelashes are where it's at. Five years ago, we may have wanted a plump, pillowy Angelina Jolie mouth, suffering through stinging lip glosses and shots of collagen for it. But these days the focus has shifted to a fat, feathery eye fringe (ask the Kardashians).
"The goal is drag-queen lashes," said Amber Katz, 30, a writer, describing the look she wants on Saturday nights. "Veering into 'I sweat glitter' territory."
For her, and the rest of us craving disco-ready lashes without using falsies, there is an ever-growing arsenal of tools: over-the-counter lash-enhancing serums, semipermanent mascaras that last up to six weeks and more-traditional formulas that claim to impart tarantula-like spikes.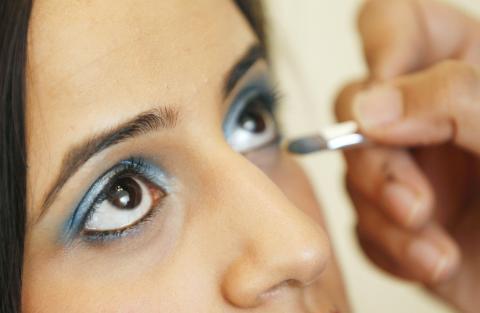 Photo: Reuters
Latisse, the first federally approved prescription drug for growing longer, lusher lashes, was introduced in 2009, and a wave of similar but less potent over-the-counter serums has followed. There are at least 10, all introduced in the last year, that claim to make lashes look lengthier and fuller, from brands like L'Oreal and Peter Thomas Roth, ranging from US$15 to US$125.
The products work on the lashes in two ways. First, they contain a molecule similar to the bimatoprost in Latisse, which prolongs the hair growth cycle so that your lashes don't fall out as often.
"It's not entirely understood why or how this type of molecule prolongs the growth phase of the cycle, but scientists know that it does," said David Colbert, a dermatologist. "And because it does, your eyelashes are in your face longer, so they grow thicker, and there are more of them."
The over-the-counter serums also purport to strengthen lashes by moisturizing them with ingredients like pro-vitamin B5 and humectants. "It's really about conditioning and giving the lash TLC," Colbert said. "If you moisturize anything, it's going to look better."
To be effective, the serums should be applied twice a day to the base of the lashes. Recently, DuWop Cosmetics co-founder Laura LaRocca and makeup artist Dawn Watts created the first lash-boosting formula with pigment in it so it can be used as an eyeliner. Called Line N Grow, it comes in black, olive and midnight blue, among other shades. "I thought: You put it on like eyeliner. Why don't we make it one?" Watts said. "It was one of those aha moments."
It won't stand alone for long. Physicians Formula is introducing a similar product, called Eye Booster 2-in-1-Lash Boosting Eyeliner (PLUS) Serum, in March.
But it takes about four to six weeks of twice-a-day use of lash enhancers to see actual growth, and soon after you stop using them, your lashes will revert to their original, sparser state. Established side effects of Latisse include itching, irritation, redness and increased brown pigmentation of the iris; the over-the-counter products, which are not government regulated, are also a gamble.
According to Colbert, the over-the-counter lash boosters contain a weaker derivative of bimatoprost or a similar molecule. "Most people won't experience any side effects from the over-the-counter products," he said, "but I'd never want to go on the record as saying 100 percent of people won't." Colbert tried Line N Grow on his right eye every morning for two weeks and noticed that his lashes looked thicker, but said: "A couple of times it stung a tiny bit, but it went away in seconds."
Amy Newburger, the founder of Dermatology Consultants of Westchester, is concerned that these products aren't undergoing the appropriate scrutiny. "Because they make a cosmetic claim that they 'appear to lengthen eyelashes' or 'enhance looks' they don't have to undergo the same testing as drugs," she said. "But it's just splitting hairs. I think it's a very audacious and dishonest thing and it puts the population at some risk."
A less threatening solution might be LashDip, semipermanent mascara that lasts for up to six weeks. It was created by a makeup artist, Jessica Harley, and a hairstylist, Gina Mondragon, in Chicago. "No-chip nail polish was a huge inspiration for LashDip," Harley said. "We thought, How come we can have semipermanent anything now but not mascara?"
Their invention, which is two years old and now available in about 50 salons in the US, is a gel made of black pigment, acetone and stearic acid that's painted onto the eye fringe. The LashDip application is a three-step process. First, the lashes are cleaned with a sodium-and-aloe soap. Then the gel is daubed on by a cosmetologist or makeup artist to darken and shape the lashes. Finally, it's dried and sealed with a glycol- and alcohol-based finishing solution. The procedure takes 45 minutes for both the top and bottom lashes and costs about US$200.
Courtney Akai, an eyelash extension specialist who owns the Courtney Akai Lash Boutique, was one of the first makeup artists in Manhattan trained to apply LashDip. She heard about the product from one of her extension clients. "As soon as I saw the first demonstration, my heart was racing," Akai said. "I just knew this was the missing piece."
Not everyone sees a reason to toss their wands yet, though. Jenn Falik, who hosts Beauty BFF on MSN, prefers regular old mascara to any of the new high-tech options. "I love that ritual of applying black lacquer to my lashes and seeing the difference different formulas can make," she said. "Adding a lash enhancer would feel like cheating."
For those like her, there's the new MAC Haute & Naughty Lash, for US$18, with a dual brush that lets you create either defined, combed lashes or thicker, more product-loaded ones, depending on your mood. Ultraflesh Panthera (US$26) is made from natural waxes that will keep your lashes soft and has a comb to help give a cat's-eye look. And Lorac's Multiplex 3D Lashes (US$22), which supposedly triples your lash volume, will be out in the spring.
Of course, by then you may be ready to move on to, say, hot-pink cheeks.
Comments will be moderated. Keep comments relevant to the article. Remarks containing abusive and obscene language, personal attacks of any kind or promotion will be removed and the user banned. Final decision will be at the discretion of the Taipei Times.