Funny guys, serious business
Bill Carter traces the strategies and motives behind this year's late-night fracas involving Conan O'Brien, Jay Leno and NBC
"Let's just hope it gets ugly, and then we'll all have fun," Conan O'Brien privately joked about his future at The Tonight Show back in 2004, never imagining just how ugly — and how far from amusing — his clash with Jay Leno would become. But who could have predicted that, instead of passing him the baton, Leno would beat him about the face and neck with it? Or at least that was the reigning narrative as this strange battle unfolded in January this year.
But in his new book, The War for Late Night, Bill Carter, a television reporter for the New York Times, demonstrates that the flanking maneuvers made by crucial warriors on the late-night battlefield were far more complicated and far less malevolent than onlookers assumed. Through exhaustive research and interviews with the major players in this battle Carter demonstrates that, while the usual oversize Hollywood egos were forming secret alliances and stockpiling armaments, it was NBC that fired the shots that sank the Lusitania.
Even as Leno felt attacked and O'Brien felt betrayed, and an unruly army of handlers spit invective into their cellphones, the real problem was simple: Unable to decide between Leno or O'Brien and fearful of losing either to the competition, NBC executives made a series of short-term moves to try to keep them both.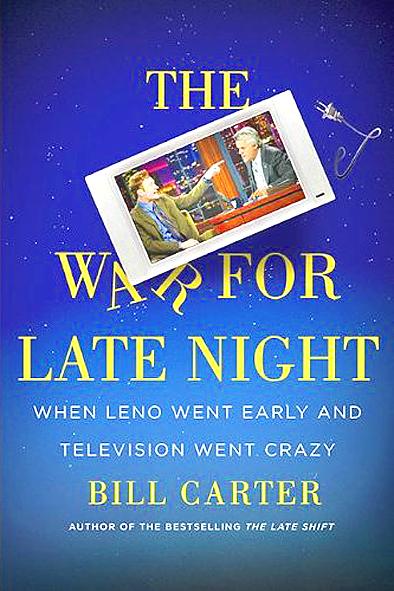 THE WAR FOR LATE NIGHT: WHEN LENO WENT EARLY AND TELEVISION WENT CRAZY
Those moves — promising O'Brien The Tonight Show in five years and promising Leno his own nightly 10pm spot to prevent him from competing in the Tonight Show slot elsewhere — not only sparked the war but also kept the battles raging until the bitter end. O'Brien abandoned NBC and The Tonight Show in a public huff in January, and Leno returned to the show in March with the sheepish humility of a five-star general disguised in a Little Bo Peep costume.
Despite its title, The War for Late Night is anything but incendiary. Just as he took a balanced approach to Leno's early 1990s clashes with David Letterman in The Late Shift (1994), Carter refuses to locate an evil mastermind or villain here. Instead he traces the strategies and motives of all parties with remarkable empathy.
Although Leno has been characterized by others as a no-nonsense workhorse willing to sacrifice his edge for the sake of broadening his appeal, Carter moves beyond such presumptions, pointing out that Leno's upbringing as a townie in Andover, Massachusetts — home of the prep school Phillips Academy — made him suspicious of elitism. Rather than cynically choosing jokes that play to the lowest common denominator, Leno has a deep desire, Carter contends, to "be a comic for every audience," like Bob Hope. And, the book asserts, Leno isn't simply hardworking; he's a man who feels utterly lost outside of his work routine and abhors "the very idea of vacation."
O'Brien, on the other hand, viewed The Tonight Show as a sacred institution that needed to be protected from the corrupting influences of network executives bent on maximum ratings. In rejecting pressure to broaden his show's appeal, O'Brien saw himself as fighting an honorable fight, offering higher quality and smarter laughs rather than rolling out the terrorist jokes and ugly-sister jokes of his predecessor.
Caught between these two very different personalities, NBC executives became fixated on preventing either host from departing. A true affinity for the peculiar challenges of late night television was remarkably rare, after all. Throw in O'Brien's appeal with younger viewers and Leno's sustained popularity in the 11:35pm slot, and it's clear why, for NBC's chief executive, Jeff Zucker, and its entertainment chairman, Jeff Gaspin, losing either to ABC or Fox was unthinkable. Given the dismal state of NBC's prime-time programming, such a blow would be considered devastating for the network and, of course, for the executive who failed to prevent Leno's or O'Brien's defection.
Leno wasn't all that flexible, though: In all of Zucker's attempts to find a place for Leno at NBC, Carter writes: "Jay always had the same reply: 'I tell jokes at 11:30 at night.'"
And thanks to an uncommon pay-and-play clause in Leno's contract, which forced NBC not only to pay him but also to keep him on the air for two years, NBC was wedged into a tight corner when Leno's 10pm show failed. "This demanded serious legal interpretation, and the one Gaspin got from NBC's legal team left him with little doubt: NBC faced risk — big risk," Carter writes. Looking for an out, they found one in O'Brien's contract, which lacked any stipulation that would keep his Tonight Show locked into the 11:35pm time slot.
As thorough and detailed a story as he tells, Carter entertains us every step of the way, peppering the page with more rich comedic details than your average late-night monologue — from agent James Dixon's habit of referring to male clients as Baby Doll to the unnamed NBC executive who asserts that top entertainment leaders "share a common genetic trait: 'They have narcissistic personalities. Almost every conversation will eventually be about them.'" And buried amid pages of carefully reconstructed executive strategies are sentences like this one about Jimmy Kimmel: "Not really overweight but always slightly puffy, Kimmel looked less like a leading man than a relaxed-fit jeans model."
With The War for Late Night, Carter presents an unexpectedly engrossing tale that should engage readers with even the mildest interest in this latest Hollywood battle of wills. He resists getting too ugly, but he still has plenty of fun, providing a nice lesson on restraint for entertainment reporters everywhere.
Publication Notes
Publication Notes
THE WAR FOR LATE NIGHT: WHEN LENO WENT EARLY AND TELEVISION WENT CRAZY
By Bill Carter
405pages
Viking
Comments will be moderated. Keep comments relevant to the article. Remarks containing abusive and obscene language, personal attacks of any kind or promotion will be removed and the user banned. Final decision will be at the discretion of the Taipei Times.