RESTAURANTS: Heyuan 和園川味經濟小吃
Nothing brings a neighborhood together like good, inexpensive food. Heyuan (和園), a Sichuan eatery near the Executive Yuan on Zhongxiao East Road (忠孝東路), attracts a lunchtime crowd made up of government employees, taxi drivers, business types, students and retirees.
It's probably the old red sign reading "economically priced Sichuan dishes" (川味經濟小吃) that lures in first-time patrons. They certainly don't come for the atmosphere: Heyuan is an aging hole-in-the-wall, dimly lit with fluorescent lights.
But the tasty, family-style grub keeps the room full during mealtimes. Stir-fry dishes, averaging NT$100, make up most of the menu, with the constant clacking of spatulas and woks to prove it.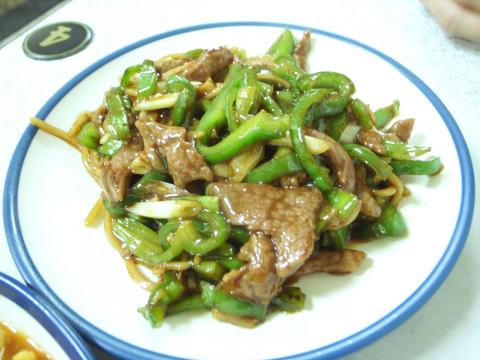 The stir-fried beef with green pepper provides a nice counterpoise to Heyuan's Sichuan dishes.
Photo: David Chen, Taipei Times
Diners choose from a long list of dishes full of Sichuan standards like kung pao chicken (宮保雞丁, NT$120) or spicy stir-fried eggplant (魚香茄子, NT$90).
Heyuan's mapo tofu (麻婆豆腐, NT$60) is a good example of the restaurant's home-cooked goodness: the gravy-like sauce, full of chilis, scallions, ginger and garlic, has a zesty, spicy kick, but won't leave you crying into your rice bowl.
Egg dishes seem to be a popular choice, judging from a peek at our neighboring tables. Choices include the traditional Taiwanese oyster omelet (蚵仔烘蛋, NT$80) and omelet with pickled radish (菜脯蛋, NT$60).
We stuck with the Sichuan theme and had the spicy yuxiang hongdan (魚香烘蛋, NT$90), literally "fish flavor omelet," which actually has no fish it, but rather minced pork. (The name refers to a spicy sauce commonly used in Sichuan cooking to garnish fish.) This dish was good, but the flavor was too similar to the mapo tofu. Order one or the other.
Balance the spicy dishes with qingjiao niurou, or stir-fried beef with green peppers (青椒牛肉, NT$110). The beef is tender and garnished with scallions and ginger in a sweet glaze sauce.
Despite the greasy spoon vibe, Heyuan is clean and well kept. The Formica tables and plastic chairs look like they get a regular scrubbing and the floors don't have that mysterious stickiness sometimes found at lunch shops. The waitstaff is very friendly and pleasant, and the shop offers complimentary spring water and chrysanthemum tea.
Heyuan is more enjoyable with a companion or two, but if dining alone, plate meals or a biandang (便當) can be had for NT$80, and there is a long list of fried rice and stewed dishes with rice from NT$65 to NT$90. The gaolicai chaofan (高麗菜炒飯, NT$65), or fried rice with egg and cabbage, is good value for a quick and satisfying meal. Or choose a single dish from the list of stir-fry selections and have it with a bowl of rice (NT$10), which comes in a generous portion. The ganbian sijidou, stir-fried green beans (乾扁四季豆, NT$100), is a bit greasy, but a decent take on a Sichuan classic.
Another reason why Heyuan probably does a brisk business is that there are few restaurants in the neighborhood serving family-style cuisine. The place felt like a godsend after a recent visit to Huashan 1914 Creative Park (華山1914). If you're not in the mood for this stretch of Zhongxiao East Road's sparse selection of 7-Elevens, fast-food chains and overpriced restaurants, it's a good place to keep in mind.
Publication Notes
Heyuan 和園川味經濟小吃
Address: 5-2 Shaoxing S St, Taipei City (台北市紹興南街5-2號)
Telephone: (02) 2394-0008
Average meal: NT$100 to NT$300 per person
Details: Cash only, menu in Chinese only
Open: 11:30am to 1:30pm and 5pm to 8pm Monday to Friday, 11:30am to 2pm and 5pm to 8pm on Saturdays, closed Sundays
Comments will be moderated. Keep comments relevant to the article. Remarks containing abusive and obscene language, personal attacks of any kind or promotion will be removed and the user banned. Final decision will be at the discretion of the Taipei Times.