POP STOP
It's been two years since Edison Chen (陳冠希) declared that he would forever turn his back on the entertainment industry as penance for his role in an infamous sex scandal that saw intimate photos of himself and four female celebrities go viral on the Internet. Since then, the young artist and performer has been doing everything in his power to regain his position within
said industry.
Two years is a lifetime in show business and media coverage of Chen's recent activities suggest that all might soon be forgiven.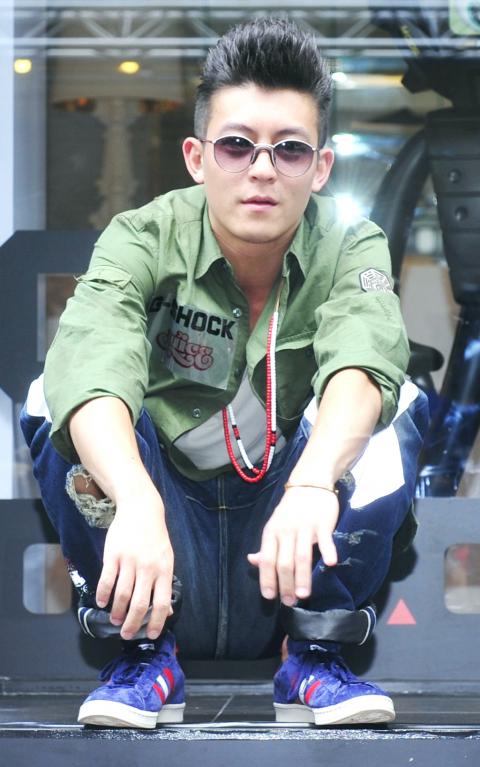 Edison Chen, aka Etalier Des Chene.
Photo: Taipei Times
Last week, Chen was found holding hands with Shu Qi (舒淇) at a charity event for leukemia victims in Hong Kong. He is currently busy preparing for the release of his new Mandarin album, Confusion, which should hit the shelves around Christmas. It has been widely circulated through the media that the album features much original content penned by Chen himself, and will not focus too much on love songs but rather his thoughts and feelings.
MC Hot Dog is reported to have assisted with polishing the lyrics, and the album also features a track written by none other than Jay Chou (周杰倫), Taiwan's Mando-pop music doyen. Chou has contributed a number titled I Can Fly (我可以). It seems likely that this, among Chen's other Herculean efforts, will soon be getting his comeback efforts off the ground.
Not content with the relatively small potatoes Chinese-language album release, Chen is rumored to be making a bid for global domination with a future collaboration with none other than Lady Gaga.
He has recently also gained extensive media attention for his work as a visual artist, with a piece being exhibited at MAD Museum of Art & Design in Singapore. Chen has proven adept at capitalizing on his past: the work on display is titled I Hate You for Looking. Although the work has been on show since September, Chen's involvement was partially veiled under the pseudonym "Etalier Des Chene," who the museum's Web site describes as a "famous and multitalented artiste."
Museum director Jasmine Tay (鄭巧雲) told Taiwan's Central News Agency that she found Chen a very committed artist and suggested that the museum might exhibit more of his work in the future.
Another artist who is stepping out of his comfort zone is Chou himself, who is already on the road promoting the new sci-fi action flick The Green Hornet, which will be released next year. Local media have made much of the fact that in the movie he stands a full head shorter than Cameron Diaz, the movie's leading lady.
Apple Daily has also mercilessly lambasted Chou's attempts at responding to interviews in English. The paper clearly enjoys the spectacle of the superstar being taken down a peg. For all his hesitancy at press events in Europe earlier this week, Chou should be delighted to have the chance of reprising a role that was played by a young Bruce Lee (李小龍), an acknowledged idol of Chou's, in the 1966 version of the film.
Loyal Pop Stop readers will know of Selina Jen (任家萱), from the popular girl group S.H.E, who suffered extensive burns in an on-set accident while shooting in China. Having been bedridden for one and a half months, this week she made her first step from the bed and tried sitting in a wheelchair. Her father told the press that the prognosis for the extensive skin grafts is good, and Jen said in an interview with the Apple Daily that she was not afraid of having scars. She said that she'd simply regard the marks "as a tattoo."
And last but not least, a quick update on the romantic front in the ongoing relationship between Jolin Tsai (蔡依林) and New Zealand-Singaporean model Vivian Dawson (錦榮). The relationship hit a speed bump last week after Tsai began intensive rehearsals for a new show. Dawson, left on his lonesome, was regularly photographed with a variety of hotties, and while these trysts may not have amounted to much, as pointed out here last week, it was more than sufficient to get Tsai angry enough to give Dawson the cold shoulder. According to Apple Daily on Wednesday, Dawson has been brought back to heel and even had to beg Tsai's mum to help patch up the tiff.
Comments will be moderated. Keep comments relevant to the article. Remarks containing abusive and obscene language, personal attacks of any kind or promotion will be removed and the user banned. Final decision will be at the discretion of the Taipei Times.