How cancer cells exploit evolution
Siddhartha Mukherjee argues that the War on Cancer may only be won if we redefine what victory means
In 1990, on a windswept plain in southern Peru, a scientist studying a gravesite of the ancient Chiribaya tribe discovered the mummified remains of a woman with a "hard bulbous mass" in her upper left arm.
The paleo-pathologist had stumbled upon the well-preserved evidence of a 1,000-year-old malignant bone tumor, or osteosarcoma, writes Siddhartha Mukherjee in The Emperor of All Maladies: A Biography of Cancer.
"The woman must have wondered about the insolent gnaw of pain in her bone, and the bulge slowly emerging from her arm," he writes. "It is hard to look at the tumor and not come away with the feeling that one has encountered a powerful monster in its infancy."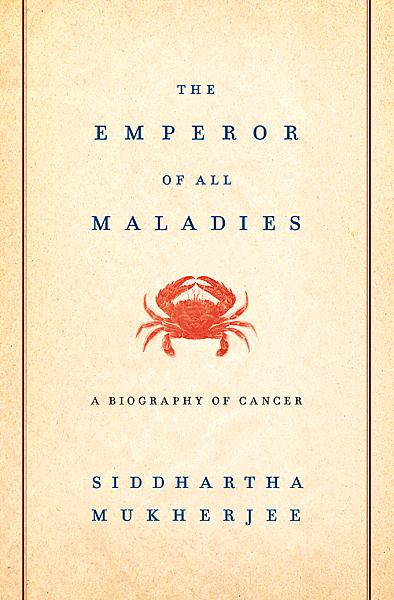 The Emperor of All Maladies
While cancer is among the oldest diseases known to humanity — the earliest cases may go back 4,000 years — it was also exceedingly rare in the ancient world, mostly because few people lived long enough to contract it.
Mukherjee, a cancer physician and researcher at Columbia University Medical Center in New York, has chronicled the history of an illness that has fascinated, bedeviled and humbled doctors, philosophers and patients alike. He looks the monster in the eye and aims to know it, moving beyond history into the realm of biography.
It's "an attempt to enter the mind of this immortal illness, to understand its personality, to demystify its behavior," Mukherjee writes. Ultimately, he wants to know whether this disease can be vanquished.
Elegant prose
At 470 pages, not counting the extensive notes and index, this isn't a breezy book; and for those who are well-read in the subject, some of it may be familiar. Mukherjee's elegant prose animates the science and captures our interest, however, as we meet patients, activists and researchers.
There's Sidney Farber, the father of modern chemotherapy, a pathologist who toils in the basement at Children's Hospital in Boston and, beginning in 1947, looks for a cure for childhood leukemia. And there's socialite Mary Woodard Lasker, a Radcliffe College graduate, who joins forces with Farber to wage "war" on cancer, merging the powers of science and political lobbying.
The researchers, physicians and activists who do battle with cancer are undaunted as they try to thwart their wily enemy, which "exploits the fundamental logic of evolution unlike any other illness." Yet Mukherjee wisely knows who the real heroes are.
We meet Mukherjee's patient Carla Reed, a 30-year-old kindergarten teacher with acute lymphoblastic leukemia, in the book's prologue, sitting on her hospital bed with "peculiar calm." Mukherjee tells Reed her chance of being cured through chemotherapy is 30 percent. As Reed begins her treatments, we experience her inner turmoil: "For Carla, the physical isolation of those days became a barely concealed metaphor for a much deeper, fiercer loneliness, a psychological quarantine even more achingly painful than her actual confinement," the author writes.
Mukherjee is quite certain Carla won't be alive by the time he completes his tome and she will provide his story's ending. He's wrong; she has gone into remission.
Fewer people are dying of cancer, thanks to genetic screening, early detection and treatments that range from chemotherapy to radical prophylactic mastectomy.
If a woman living in 500 BC with Hodgkin's disease could time-travel to the 21st century, she would gain 30 or 40 years in life expectancy, Mukherjee says. However, if that same woman had metastatic pancreatic cancer, modern medicine might buy her only a few more months.
Curing cancer may not be possible because of its unpredictability, Mukherjee concedes, and "we might as well focus on prolonging life rather than eliminating death. This War on Cancer may best be 'won' by redefining victory."
Publication Notes
Publication Notes
The Emperor of All Maladies
By Siddhartha Mukherjee
470 pages
Scribner
Comments will be moderated. Keep comments relevant to the article. Remarks containing abusive and obscene language, personal attacks of any kind or promotion will be removed and the user banned. Final decision will be at the discretion of the Taipei Times.