Pop rocks
Indie rock meets Mando-pop at the Urban Simple Life Festival next weekend
Next weekend the Urban Simple Life Festival (簡單生活節) offers fans of Mando-pop and indie music a chance to enjoy the rare congregation of many of Mandarin music's most popular and influential acts.
The biennial festival, which marches into its third edition this year at Huashan 1914 Creative Park (華山1914) on Dec. 4 and Dec. 5, includes a book fair, a T-shirt market and a lectures series, but is most acclaimed for its music. The weekend boasts a to-die-for roster of more than 60 acts, with heavyweight names such as Chang Hui-mei (張惠妹, better known as A-mei), Cheer Chen (陳綺貞), Tanya Chua (蔡健雅), Sammi Cheng (鄭秀文), Lisa Ono and Soul Asylum.
The performances will take place on five stages throughout Huashan. Established artists will headline at the Sky Stage (天空舞台) and Breeze Stage (微風舞台). Emerging singers and indie bands will take the stage at the Green House Live (綠意舞台). Ten emerging indie bands from Taiwan will be showcased at Street Voice (音樂自在舞台), while 14 of Hong Kong's representative bands will play at Hong Kong Little Simple (香港小簡單).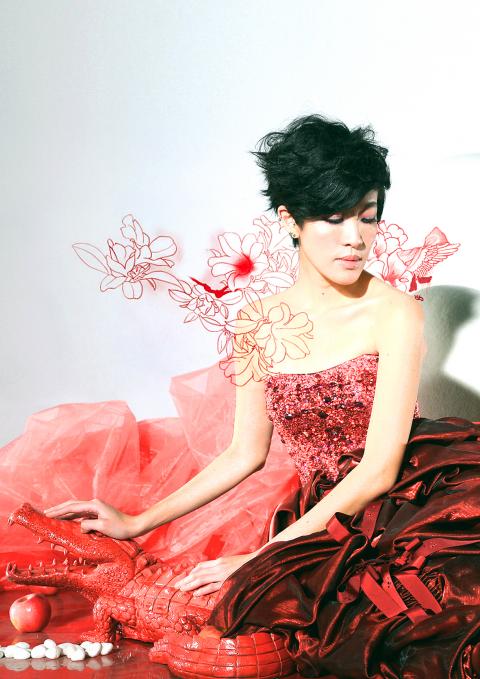 Sandee Chan takes to the Green House Live stage at the Urban Simple Life Festival on Dec. 5.
Photo Courtesty of Urban Simple Life Festival
Founded by Mando-pop songwriter/producer Jonathan Lee (李宗盛), Urban Simple Life aims to highlight Taiwan's best creative work in music, design and publishing.
Rufus Chen (陳功儒), the event's executive supervisor, told the Taipei Times earlier this week that organizers were broadening the festival's parameters to accommodate unplugged performances by superstars such as Taiwanese pop diva A-mei and Hong Kong superstar Sammi Cheng.
In the past, the music festival section has focused on songwriters or bands who pen their own songs.
"We want to create more cross-genre performances," Rufus Chen said. "There should be no border between pop singers and songwriters if their music's attitude sounds right."
After a banner year as her rock alter ego A-mit (阿密特), A-mei will get back to the basics with an unplugged performance on the evening of Dec. 5. "I've been noisy for so long as A-mit, so I want to sing quietly for a change," she said in a press release.
Cheng, long acclaimed for her hip-wagging electronica anthems and lovelorn ballads, will present unplugged versions of her hits with Hong Kong band AT17.
Three distinguished international acts will make appearances this year. Lisa Ono, Japan's reigning queen of bossa nova and chansons, will perform with a solo acoustic guitar. Soul Asylum, the American alternative folk-rock group best known for the Grammy-winning single Runaway Train, will also perform unplugged. John Cale, a founding member of the American experimental rock band The Velvet Underground, will perform Saturday evening.
The lineup
Dec. 4
Sky Stage (天空舞台)
Soul Asylum (US) at 3:50pm
Crowd Lu (盧廣仲) at 5:20pm
John Cale (UK) at 7pm
Cheer Chen (陳綺貞) at 8:50pm
Breeze Stage (微風舞台)
1976 + Ze Hwang (黃小楨) at 1:40pm
Joanna Wang (王若琳) at 6:20pm
Tanya Chua (蔡健雅) at 8pm
Green House Live (綠意舞台)
Olivia Ong (王儷婷)at 2:50pm
Yoga Lin (林宥嘉) at 5:50pm
Echo (回聲樂團) at 6:40pm
Kay Huang (黃韻玲) and guest Tarcy Su (蘇慧倫) at 8pm
Chang Chen-yue (張震嶽) at 9:10pm
Dec. 5
Sky Stage (天空舞台)
AT17 and guest Sammi Cheng (鄭秀文) at 3:50pm
Lisa Ono (Japan) at 5:20pm
Sodagreen (蘇打綠) at 7pm
Chang Hui-mei (張惠妹, aka A-mei) at 8:50pm
Breeze Stage (微風舞台)
Tizzy Bac at 1:40pm
Hebe Tien (田馥甄) at 6:20pm
Deserts Chang (張懸) at 8pm
Green House Live (綠意舞台)
Hsu Chia-ying (徐佳瑩) at 5:50pm
Luantan Ascent (亂彈阿翔) at 6:40pm
Sandee Chan (陳珊妮) at 9:10pm
For a complete program schedule, visit simplelife.streetvoice.com/festival/show/show.html
Publication Notes
FESTIVAL NOTES:
WHAT: 2010 Urban Simple Life festival (2010簡單生活節)
WHEN: Dec. 4 and Dec. 5, 11am to 10pm
WHERE: Huashan 1914 Creative Park (華山1914), 1, Bade Rd Sec 1, Taipei City (台北市八德路一段1號)
ADMISSION: NT$1,200 for a single-day pass at the door (NT$900 for single-day pass or NT$1,600 for two-day pass when purchased in advance). Tickets available through 7-Eleven ibon kiosks, at Books (博客來) ticketing outlets or online at www.tickets.books.com.tw
ON THE NET: simplelife.streetvoice.cOm
Comments will be moderated. Keep comments relevant to the article. Remarks containing abusive and obscene language, personal attacks of any kind or promotion will be removed and the user banned. Final decision will be at the discretion of the Taipei Times.