Manga 'pop opera' invades Europe
Organizers hope 'Japan Anime Live' will not only appeal to fans of Japanese cartoon culture, but also draw the mainstream public
The heroes of Japanese manga cartoons are taking Europe by storm in a new "pop opera" featuring a wild mix of martial arts and music billed as the world's biggest manga show ever.
The tour started on Saturday in Paris before going on to Belgium, Germany and Italy. Agence France-Presse was invited to a rehearsal in the city of Pomezia near Rome, where Japanese performers spoke about a unique show tailored to Western audiences.
"My character is a happy boy with guts and he never gives up to reach his goal, whatever it costs," said Shiina Taizo, 24, who plays the role of Naruto.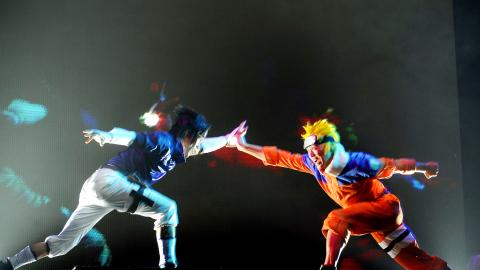 Actors perform during a premiere for the media of the Japan Anime Live event in Rome on Oct. 19.
PHOTOS: AFP
Taizo is a star in Japan but little-known in Europe. He said this is actually no bad thing: "Here I can visit all the sights with complete freedom."
The show is organized by Japan's biggest production houses and publishers of the comics and cartoons, which are wildly popular in Japan and have a growing following especially in Europe and the US.
Japan Anime Live will feature previously unpublished episodes and performers sing in Japanese. The lyrics appear in phonetic spelling on a giant karaoke screen with the English titles: Tonight, You'll Find a Way and Sail.
Actors perform during a premiere for the media of the Japan Anime Live event in Rome on Oct. 19.
Photos: AFP
The stage is dominated by a giant Japanese drum and multiple screens show manga characters with multi-colored hair, futuristic uniforms and giant eyes.
The manga aesthetic reigns supreme at this ultra-Japanese show, but producers said they're not only expecting manga fans to come.
"We're expecting fans of Japanese culture, but also a more mainstream public. Families too. It's an opportunity for dads to share this moment with their children," said Fabrizio Verdiani, the producer for the Belgian show. "There's also a third type of public. University students who love manga."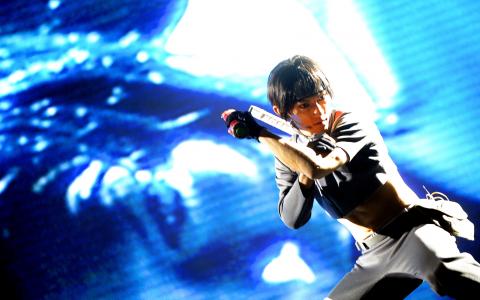 Actors perform during a premiere for the media of the Japan Anime Live event in Rome on Oct. 19.
PHOTOS: AFP
Verdiani said that three-quarters of the 3,000 seats available for the show in Brussels on Friday have already been sold.
"All the actors are very well known in Japan. The musicians too. The artistic director is a living god over there and the producer is the biggest producer in Japan — a market with 300 million consumers," he added.
The show, which lasts two and a half hours, is divided into five sections shaped around five major manga series: Naruto Shippuden, One Piece, Bleach, Fullmetal Alchemist Brotherhood and Gundam Series.
Piko, a young singer who is very popular in Japan, and Daisuke Asakura, known for his computer game soundtracks, are both set to take the stage.
The show started on Saturday in Paris, hits Brussels on Friday and Dusseldorf on Sunday. It will then return to Italy for shows in Milan on Nov. 6, Florence on Nov. 11 and Rome on Nov. 13.
Comments will be moderated. Keep comments relevant to the article. Remarks containing abusive and obscene language, personal attacks of any kind or promotion will be removed and the user banned. Final decision will be at the discretion of the Taipei Times.