Namibia's Himba embrace tourism, with little profit
Busloads of tourists are upsetting the semi-nomadic people's traditional way of life, and the costs outweigh the material benefits
Their bare-chested bodies painted in rich red, Himba women sing and dance in villages untouched by modernity since their ancestors settled on the Angola-Namibia border 200 years ago.
Then the cameras click, and a European tourist in a floral print joins the circle of dancers, while her fellow travelers from an air-conditioned tour bus browse beaded jewelry for sale among the cone-shaped huts made of wood, mud and cattle dung.
The Himbas number fewer than 30,000, their communities straddling the remote border region where they have survived colonialism, wars and droughts with their ancient traditions intact.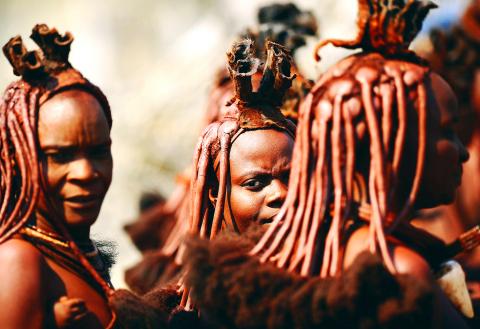 Though the Himba live in villages untouched by modernity, increasing numbers of tourists are threatening to disturb the group's fragile culture.
photo: AFP
Now they're earning bits of money by opening their communities for tourism, in the process changing the dynamics of the culture on display for visiting foreigners.
"Tourists, which mostly come from Europe, want to see people on their own, see how they do their ochre color and cook," said Himba guide Matirepo Tjiras.
"The problem is that these visits disturb the village life," he said. "Women stop what they're doing to come and sell handcrafts."
Children skip school to beg for sweets when they see tour buses arrive, he added.
Other Namibians scorn the Himba for maintaining their traditional ways, seen as backward in an age of ever-encroaching supermarkets and cellphones.
But tourists are fascinated by the Himba traditional way of life, and during winter months foreigners arrive daily in the village of Ohungumure to peek into their huts and marvel at their semi-nomadic lives.
"The problem is not with the tourists but with us. We have to organize ourselves," said Kakarandua Mutambo, a local Red Cross official who founded an orphanage in nearby Opuwo.
"People are not thinking of developing any infrastructure for the community."
Tourism has brought some development — it's the country's third-largest industry, with nearly one million visitors a year.
"Tourists want to get to know our culture," said 19-year-old Veuzuvamuani, as her baby suckled below the large shell on her necklace. "They bring us things to eat, buy necklaces and pay to take a photo."
That money allows her to visit her mother in hospital, buy blankets or maize meal to cook their staple porridge, she said.
Namibia has created a dozen "protected zones" in this region, and plans another for the nearby town of Opuwo. About 15 percent of Namibia's land falls under these zones first created in 1995 to grant local communities the right to exploit natural resources.
The money is then managed by the community and can be used to repair wells or build schools, according to the environment ministry.
But many local chiefs don't like to share the earnings with mor distant communities.
"We met to build a well, but no one wanted to share their money," said one family leader, Tuaseuapi Mbinge.
Other efforts aiming to spread the gains from tourism to more people include a plan by the Franco-Namibian association to raise funds for a cultural center near Opuwo.
But one manager at a nearby hotel wants to stop visits to the village completely.
"I will prefer not to do the Himba tour," said Andrew Lesch, saying that if the visits stopped, it would "help them to become more independent."
Comments will be moderated. Keep comments relevant to the article. Remarks containing abusive and obscene language, personal attacks of any kind or promotion will be removed and the user banned. Final decision will be at the discretion of the Taipei Times.