Made malleable
The design duo behind Bomb Metal and Fry Jewelry use innovative metalworking techniques to create accessories with a story
Over the past five years, Bomb Metal and Fry Jewelry (爆炸毛頭與油炸朱利) has earned a reputation for using unusual techniques to make jewelry. The company's pieces range in style from modern and abstract to cute, but most feature an edgy sense of humor, offbeat inspirations and witty visual puns.
Bomb Metal and Fry Jewelry (also known as BMFJ) was launched in 2005 by Peggy Hung (洪佩琦) and Ting Ting Tsao (曹婷婷). The two met while undergraduates at Fu Jen Catholic University (天主教輔仁大學). They later each received graduate degrees in jewelry design from Tainan National University of the Arts (國立臺南藝術大學) and studied metalworking at Birmingham City University.
The two created BMFJ as a showcase for their own work, as well as the creations of other jewelry designers who, like Hung and Tsao, have a conceptual approach to design. The duo chose their brand name because it describes the metalworking process.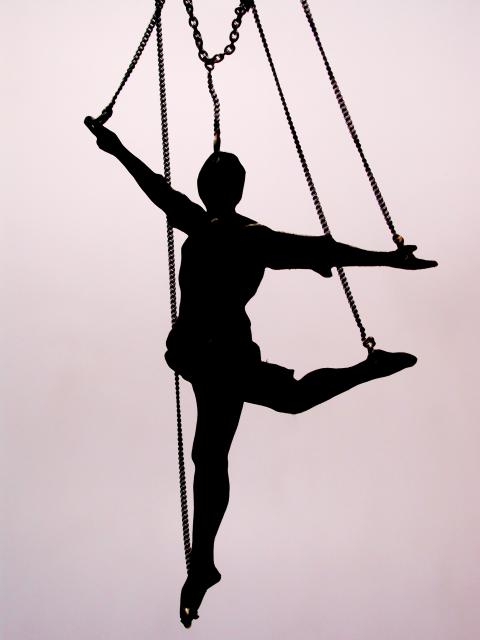 Bomb Metal and Fry Jewelry has a tale or two to tell.
Photos: Catherine Shu, Taipei Times AND COURTESY OF BMFJ
"Bomb and fry, we liked those words because we are often in contact with heat and fire. It's explosive and also a bit like cooking," says Tsao.
Ensconced in a narrow alley near the intersection of Civil Boulevard and Yanji Street in Taipei's East District (東區), BMFJ's tiny boutique resembles a jewelry box, with earrings, rings, necklaces and other pieces laid out for customers to try on.
Most of Hung and Tsao's designs are made in their Banciao (板橋) studio from sterling silver, brass or aluminum. Brass jewelry ranges in color from bright yellow to a rich brownish red, depending on how much zinc or copper is in the metal alloy. Oxidation on some pieces gives the surface a vintage appearance. Hung and Tsao use heat to manipulate the color and texture of the metal before adding layers of translucent enamel to create colorful, glowing bracelets, pendants and earrings. Aluminum is used as the base in other enameled items for a shimmery, pearlescent effect. Some pieces are made by dripping molten silver in a hardening solution, so the drops are caught permanently mid-splash.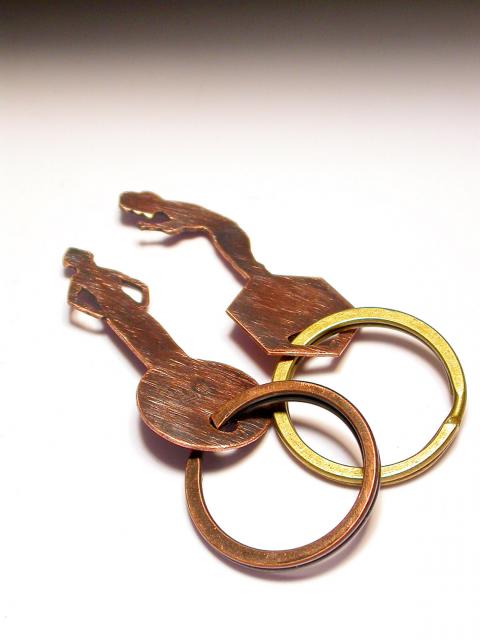 Bomb Metal and Fry Jewelry has a tale or two to tell.
Photos: Catherine Shu, Taipei Times AND COURTESY OF BMFJ
"Each metal has its own personality and we match it with what we want to say," says Tsao.
Cat owner Hung created the Animal Protection (保護動物) series after her pet got spayed. Pendants in the shape of critters ranging from dogs to alligators and horses all wear a cone-shaped Elizabethan collar around their necks.
"My cat's stitches wouldn't heal and she had to wear a collar for months. I felt so sorry for her, but at the same time she looked funny," says Hung. "It's a reminder that animals are vulnerable, but the series is also intended to be humorous."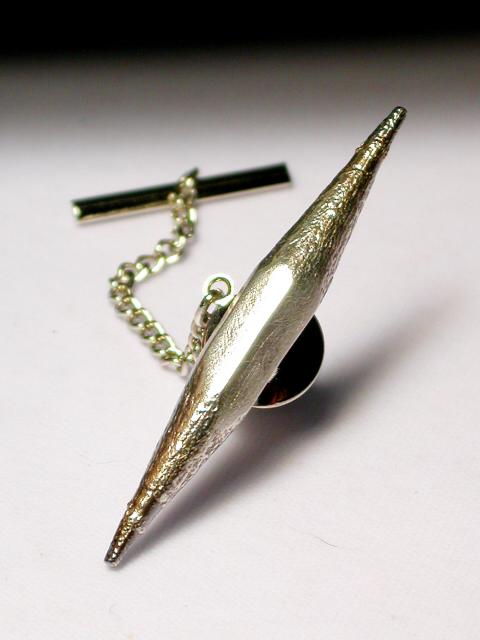 Bomb Metal and Fry Jewelry has a tale or two to tell.
Photos: Catherine Shu, Taipei Times AND COURTESY OF BMFJ
Hung also frequently works the human form into her jewelry. Soul (靈魂) is a series of pendants with enamel portraits of celebrities like Woody Allen or faces drawn from Hung's imagination (custom pieces are available). One of BMFJ's best-selling series, Take Me Away (帶我走), features flat brass silhouettes of people with loosely jointed limbs. When the wearer moves, the pendants dance around like a jumping jack.
Politics used to be a favorite subject of Hung's, but after a pendant portrait of former president Chen Shui-bian (陳水扁) caused some heated discussions among her customers, Hung decided to take a more subtle approach to the subject. Images in the pendant collection Winning (凍蒜) are based on photographs of election candidates with their arms raised in the victory position, but turned into duotone silhouettes with faces indistinct. The series' Mandarin name, dongsuan, is a homonym for the word "elected" in Hoklo, commonly known as Taiwanese.
Tsao's designs, meanwhile, often focus on communication between people and the hidden layers of meaning in each interaction. Her first designs included a series of jewelry in the shape of gift boxes.
Bomb Metal and Fry Jewelry has a tale or two to tell.
Photos: Catherine Shu, Taipei Times AND COURTESY OF BMFJ
"People ask me why there isn't something in the box, but with gifts it's the intention that counts," says Tsao. "The jewelry represents what you are thinking as you wrap the gift."
The Speaking (說話) series was inspired by Tsao's experiences learning how to market BMFJ's designs to customers. Despite her outgoing nature, Tsao often found herself tongue-tied when describing her creations. Brass pencils are bent into an angular heart or jagged lines that resemble lightening bolts. A ring features a small sign language chart that spells out "wish," and a pendant is stamped with the characters for "lost language" (失語).
"I didn't think that talking with people would be difficult, but that's something I'm still working on," says Tsao. "When you spend all your time working with inanimate objects, sometimes speaking becomes hard."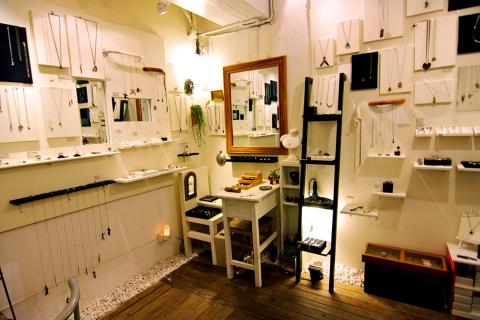 Photos: Catherine Shu, Taipei Times AND COURTESY OF BMFJ
The Lovely Homonyms (諧音的美好寄喻) series showcases visual puns on Chinese words with auspicious meanings. A brass cutout of the character for door (門) is scattered with tiny three-dimensional butterflies; the Mandarin pronunciation of "butterfly, or hu (蝴), sounds similar to fu (富), which means abundance.
The pair hope that they will have plenty of luck with their newest venture, a collection of home accessories. The line currently includes sterling silver wall vases and intricate lacelike clock faces.
"Metalworking is challenging. It's different from other crafts," says Tsao. "There is a level of a difficulty and if you can accomplish a new technique you feel a sense of accomplishment."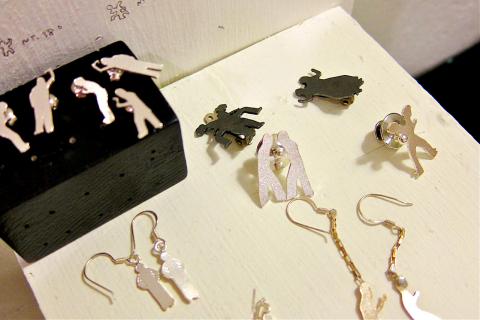 Photos: Catherine Shu, Taipei Times AND COURTESY OF BMFJ
Publication Notes
STORE INFO
ADDRESS: 1-7, Alley 29, Ln 205, Zhongxiao E Rd Sec 4, Taipei City (台北市忠孝東路四段205巷29弄1-7號)
OPEN: Tuesday to Friday from 2pm to 10pm, weekends from 1pm to 10:30pm. Closed Mondays
TELEPHONE: (02) 8773-1843
ON THE NET: www.bmfj.com
Update on Aug. 8, 2011: The store has since moved to 27, Ln 1, Chengde Rd Sec 2, Taipei City (台北市承德路二段1巷27號) and is open Sundays to Thursdays from 12:30pm to 9:30pm, Fridays and Saturdays from 12:30pm to 10pm, and closed Mondays. Tel:(02)2552-5931
Comments will be moderated. Keep comments relevant to the article. Remarks containing abusive and obscene language, personal attacks of any kind or promotion will be removed and the user banned. Final decision will be at the discretion of the Taipei Times.