Giles Deacon's debut revives moribund Ungaro
The designer's debut collection for the label, presented at Paris Fashion Week, breathed new life into the brand after its disastrous involvement with Lindsay Lohan
After the "Lohan incident" — an ill-fated ploy to rejuvenate the foundering House of Ungaro by teaming up with the tabloids' favorite starlet, Lindsay Lohan — many in the fashion world wrote the label off as dead.
But British designer Giles Deacon pulled off the apparently impossible on Monday at Paris Fashion Week, breathing new life into the moribund brand with a ravishing spring-summer 2011 ready-to-wear collection.
For his debut effort for Ungaro, Deacon hosted a cocktail party, where models in airy concoctions of chiffon, tweed and ostrich feathers sipped champagne inside a glass hothouse as buyers and journalists, also sipping champagne, looked on. The clothes, sheath dresses and frothy cocktail numbers hit the sweet spot, managing to live up to the house's sensual heritage and not looking either cheap or stodgy.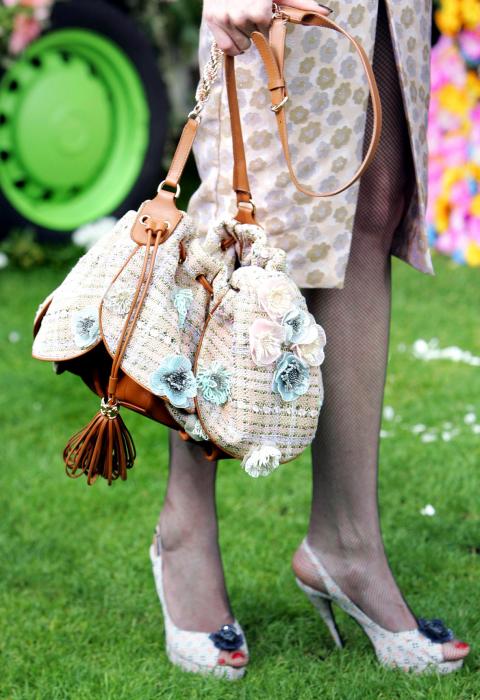 A model presents a bag by Emanuel Ungaro during Paris Fashion Week.
Photo: EPA
It was a score for Deacon, who managed what the revolving door of designers before him — and particularly short-lived "artistic adviser" Lohan — couldn't.
Giambattista Valli's retro cocktail dresses looked aimed to seduce approximately the same demographic as the new Ungaro collection — the elite cadre of jet-set party girls for whom cocktail parties are a way of life. The Italian designer fielded out a toned-down collection of wispy white dresses so short that fabulous legs were an absolute prerequisite to even dream of donning them.
Good legs were of the essence at Stella McCartney, too. Many of her relaxed, late 1970s-steeped looks had slits that cut up the models' legs to their pelvis, with a strange panel of fabric that dangled strangely between their legs like a sort of elongated loincloth.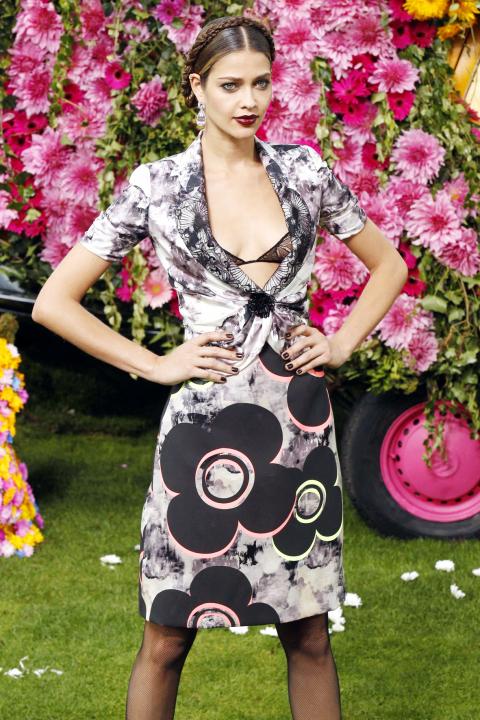 A model wears a creation by Emmanuel Ungaro during Paris Fashion Week.
Photo: Agencies
The 1970s were also in the air at Yves Saint Laurent. The Paris label's demure poplin dresses and A-line wrap skirts were all demure Paris housewife circa the early 1970s from the front, but left the back exposed.
Leonard proved that remaining true to one's self is the best strategy. With the house's trademark 1970s vibe taking catwalks in Milan and London by storm, the Paris-based label suddenly found itself spot on-trend.
Chloe, the house whose unique winter collection helped launch the current camel craze, jumped on the minimalist bandwagon with looks that were a tad too close to cross-town rival Celine for comfort.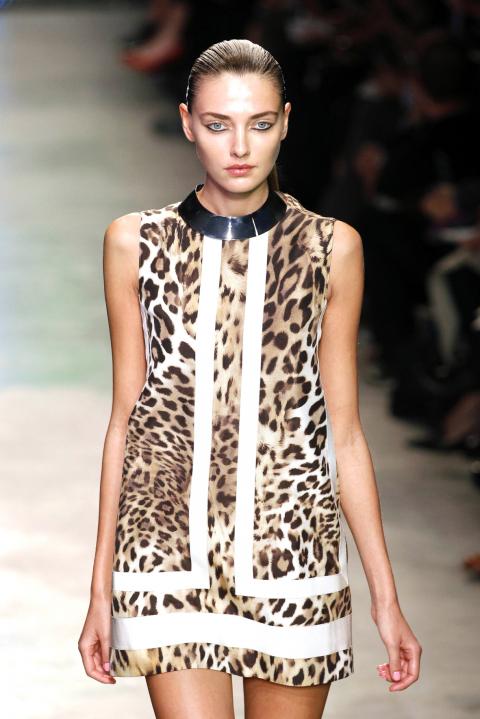 A model wears a creation by Giambattista Valli during Paris Fashion Week.
Photo: Agencies
Newcomer Caroline Seikaly, who made a splash in the US after Madonna donned one of her creations in black lace, fielded a lovely collection of refined dresses and gowns in featherlight chiffon and lace.
Seikaly, who's half-French, a quarter-American and a quarter-Lebanese, received journalists and buyers for her debut Paris presentation — despite being nine months pregnant: The willowy 36-year-old designer cut her teeth at Lagerfeld Gallery and was her own fitting model before her pregnancy.
She said that being a woman gives her a special insight into what women are looking for in a dress. (She almost only creates dresses, and presented her first ever pairs of pants with Monday's collection.)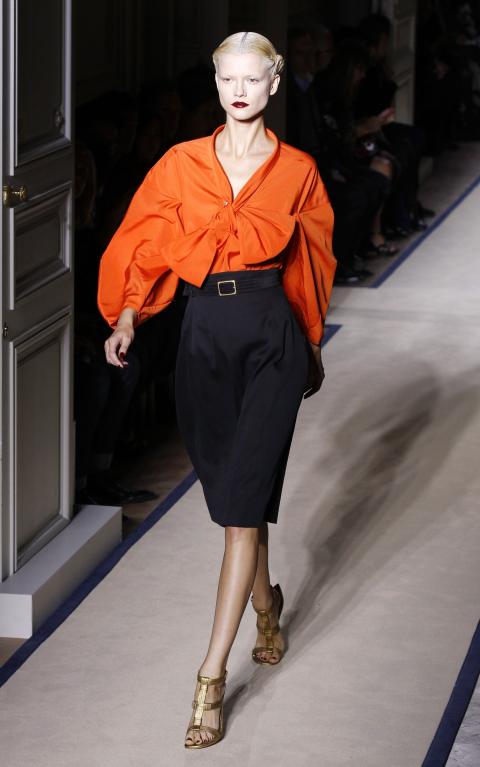 A model wears a creation by Yves Saint Laurent during Paris Fashion Week
Photo: Agencies
"I like things to be really light and lacy, very feminine and really flattering," she said. "My mission is to make women look and, more importantly, feel great.'' Judging from the pastel-clad models at the presentation, that mission was accomplished.
After the days' shows, the fashion crowd descended on H&M's new Paris boutique for the inauguration celebration. Celebrity architect Jean Nouvel designed the new building, on the famed Avenue des Champs-Elysees.
Paris' nine-day-long fashion extravaganza entered its penultimate day yesterday with one of the most-anticipated shows, the perpetually over-the-top blowout at Chanel. Valentino, Kenzo and wacky French designer Jean-Charles de Castelbajac also fielded their spring-summer collections.
A model wears a creation by Chloe during Paris Fashion Week.
Photo: Agencies
EMANUEL UNGARO
It was like watching a phoenix rise from its ashes.
Deacon, who also designs his own signature line, breathed new life into Ungaro with a collection that showcased his formidable skills.
A model wears a creation by Stella McCartney during Paris Fashion Week
Photo: Agencies
The fashion world had been awaiting his debut effort with Ungaro with bated breath after the spectacular crash and burn that was the "Lohan incident" and the mediocre collection of micro-dresses by a little-known Spanish designer that followed.
Instead of a proper runway show, the label staged a mock cocktail party, with models in beaded silk shift dresses and classy tweed suits chatting on a grassy knoll around a flower-coved Volkswagen centerpiece. Fashion insiders crowded around the grass to ogle the models — including Italian fashion diva Anna Dello Russo and French actress Joana Preiss — who struck poses and ogled them back.
A general atmosphere of approval filled the hothouse air, with journalists and buyers murmuring appreciatively about the delicate dresses which — finally — struck the delicate balance between youth and classiness that the label had long been seeking in vain.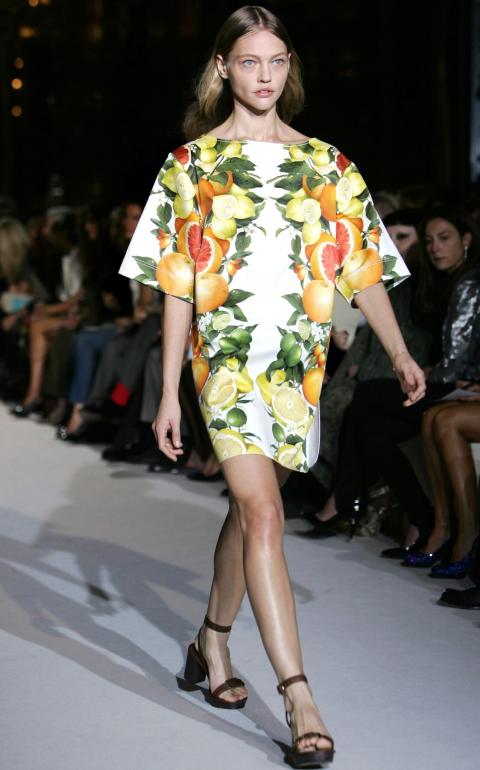 A model wears a creation by Leonard during Paris Fashion Week.
Photo: Agencies
Saks Fifth Avenue's Mindy Prugnaud nodded with approval.
"Ungaro's back on the right track,'' she said. Lohan, whose brief but highly publicized stint as artistic adviser two season ago was roundly lambasted, "was a joke," Prugnaud said. "Giles Deacon is a serious designer who's getting the house back in order."
GIAMBATTISTA VALLI
The gifted Italian tamed his inner tiger with a collection where more domesticated fabrics nudged out the roaring animal prints that usually dominate his work.
There was still some leopard, mainly on his trademark boxy retro, color-blocked cocktail dresses, but white sheer silks with baroque curlicue appliques dominated the collection.
Paris' summer catwalks have been flooded with white and neutral hues, so Valli's palette was on-trend — as was his creative use of the men's button-down shirts that have also emerged as big winners in the City of Light. Valli injected the menswear staple with a stiff dose of glamour, delivering a bone-white evening gown with a crisp white shirt bodice and a puffy cloud of a skirt made of little silk petals.
Front row guest Andrea Dellal, who calls herself an "unconditional fan of Giambattista," hailed the collection as "amazing."
"He outdoes himself every season," the striking Brazilian-born socialite said during a post-show interview.
YSL
Yves Saint Laurent's Stefano Pilati is bringing sexy back.
The Italian-born designer continued in the vaguely 1970s groove he's worked in past seasons, delivering looks that channeled a bourgeois Paris housewife circa 1972 — at least from the front. The dresses in orange and fingerprint-printed poplin had back-baring halter tops, and even the silken blouses with billowing sleeves and a demure neckline were cropped behind, leaving a wide gap of skin above the high-rise A-line skirts.
Pilati can cut a garment like nobody's business, and the complicated construction on display Monday — like the ruffly wrap bodice dresses — hammered home the point.
The collection was on-trend with its constant play between transparency and opacity. Sheer chiffon was layered over the poplin to create gowns with solid bodices like old-time bathing suits and long see-through skirts.
Shown in the gilded salons of a sumptuous former town house in Paris' chic eight
district, the collection was a strong one, and one of the coveted label's more wearable in recent seasons.
CHLOE
Watching Chloe's cool parade of minimalist chic skirt suits and plain-front leather tops was a frankly disorienting experience that touched off a case of deja vu with recent collections by crosstown rival Celine.
The competition between the two houses is fierce: former Chloe designer Phoebe Philo, who doubled the label's sales during her tenure there, signed with Celine after a years-long hiatus from fashion. Her first three collections for Celine have garnered almost universal praise and are considered to have spearheaded the new minimalist trend that's swept runways worldwide.
Chloe struggled to replace her, and in 2008, her former assistant, Hannah MacGibbon, became the third designer to try to fill Philo's enormous shoes, to sometimes mixed — but steadily improving — reviews.
The two women share a similar aesthetic, so some cross-pollination would be normal. But the plain-front leather shirts and clean-lined skirts that are shorthand for Philo's new minimalism were there on the Chloe catwalk on Monday, as were the high-waisted pants that made their debut at Celine a couple seasons ago.
Still, not everything in MacGibbon's collection looked familiar.
She also served up plenty of original looks that were fetching and fresh. Flirty dresses had asymmetrical bodices in bands of ruched chiffon and translucent pleated skirts. Similar long see-through skirts were worn over little shorts and with long-sleeve leotard tops for a pared-down ballerina look.
A solid collection, but one that made you wish MacGibbon — whose taupe-colored collection last season helped launch the current craze for camel — had stayed truer to her own particular vision.
STELLA MCCARTNEY
The late 1970s were in the air in this collection centered around high-waisted trousers, masculine blazers and pleated skirts with bold, leg-baring slits.
Wide but soft-shouldered blazers in sweet pastel-colored linen and chambray were paired with pants and skirts with waists that hit above the models' bellybuttons. It was a pretty look but one that was so unapologetically retro it might be hard-pressed to appeal to anyone outside the elite cadre of fashion initiates.
It was hard to imagine any normal working woman donning the printed silk pantsuits and ankle-length dresses with slits up the front of both legs that reached all the way up to the crotch. Some of the slit-riddled garments looked like one-piece bathing suits with a narrow flap of fabric between the model's legs and long, fluttering skirts.
Still, the show — held in Paris' gilded Garner Opera house — bubbled with positive, happy vibes.
LEONARD
It was Leonard's moment. With the bohemian 1970s vibe in the air in New York and Milan, the Paris-based fashion house, which has for decades ignored the ever-changing winds of fashion, churning out its trademark oversized flower prints season after season, found itself spot on trend.
Monday's collection featured little shirt dresses, swinging, hippie gowns that hit at mid-calf and fetching jumpsuits in the house's perennial flower-covered silk jersey. Fringe — another top trend in New York — dangled dazzlingly from drop-waisted tank dresses printed with oversized irises in jewel tones.
"We are in fashion without even trying," CEO Daniel Tribouillard, who has long played a role in the label's design, said. "When I saw what was happening in New York and Milan, I though 'Hey, are they copying us or what?'"
By remaining true to its long heritage of staying above the fashion fray, Leonard finds itself in the eye of the storm.
Comments will be moderated. Keep comments relevant to the article. Remarks containing abusive and obscene language, personal attacks of any kind or promotion will be removed and the user banned. Final decision will be at the discretion of the Taipei Times.