FILM REVIEW: Cold, mechanical and utterly terrifying
A picture is worth a thousand words in Nikolaus Geyrhalter's exquisitely shot documentary on the industrial food complex
Our Daily Bread is a documentary that looks at the high-tech food industry, which feeds most of us but is rarely examined closely. The food simply arrives at the supermarket and we take it from there. Well, at least we did.
Fast Food Nation (2006) and Food Inc (2008) have gone some way to directing attention to what happens behind the scenes, and both work hard to shock us into a belief that the industrialized food production system is horrifyingly filthy and cruel, demeans animals and humans and prioritizes the bottom line over consumer health.
Our Daily Bread has no truck with such polemics. It has no polemic at all. In fact, it has no dialogue. The only words spoken are background sounds that are unintelligible. It is often not even clear what language is being spoken. This is part of Nikolaus Geyrhalter's process of focusing all our attention on the visual. A bored, underpaid worker doing filthy work translates into any language.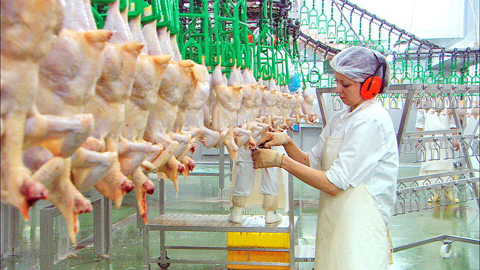 PHOTO:COURTESY OF JOINT ENTERTAINMENT INTERNATIONAL
What we are left with are static camera shots of industrialized food production processes, from peppers to pigs. The images are beautifully shot, with an eye to the otherworldly beauty of machines as large as buildings tracking through fields that stretch to the horizon, sowing and harvesting, or the abstract horror of thousands of fresh carcasses hanging up ready for processing in hangers large enough to hold a jumbo jet.
Then there are the people themselves, their faces occasionally brought into close-up, driving tractors, eating a sandwich, their eyes devoid of any expression other than weariness or the grim acceptance of their lot. They are not angry, they do not protest, but it is impossible to imagine that they are happy or fulfilled.
Some scenes are spectacular in their vastness, others horrifying in their intimacy. Two young abattoir workers wash off the gore from their aprons after being sprayed with hot blood from a disemboweled cow, chickens move along a mechanized highway that takes them from chicks to grown birds to carcasses prepared for sale, all in just over a month. Our Daily Bread makes no suggestion that these operations are other than clean, efficient and totally professional. That is probably why director Nikolaus Geyrhalter won permission to shoot inside these facilities. But this in no way diminishes the power of his work.
Food Inc made considerable play of the fact that none of the big US meatpacking operations allowed its makers access to the factory floor or would even be interviewed for the program. Such secrecy suggests that these firms have something to hide. Hidden camera images and reenactments of the killing floor bring the point home for the singularly obtuse. Our Daily Bread doesn't hector us with facts or figures. The images are sufficient, for while often innocuous enough on their own, they build up to an impression of something so mechanical and cold as to be utterly opposed to anything as organic as food, or indeed of human life as we still like to imagine it.
The careful composition and long, sometimes inordinately long, takes suggest that the film crew had the full cooperation of the plant management, which in turn suggests that the operators of these food production plants are proud of their facilities. There is no suggestion at all that there might be feces in the mince or Escherichia coli bacteria (E. coli) in the spinach, just some of the accusations made by Fast Food Nation and Food Inc against the industrial food complex. The operations depicted here are clean and efficient. They are state-of-the-art.
Watching the long tracking shot of a young woman working a pair of hydraulic shears cutting trotters off pigs, which move into place along a conveyor belt, the tens of thousands of chickens huddled in artificially darkened pens, and the vacant faces of the men driving combine harvesters, it's impossible not to feel utterly disenfranchised from nature's bounty. Geyrhalter takes his time presenting his images, giving us plenty of time to look, to hopefully see, and perhaps finally to think about who and what we are. It imposes no conclusions, but provides an uncomfortably large space for us to think about that old cliche: You are what you eat.
Publication Notes
FILM NOTES
Our Daily Bread (Unser Taglich Brot)
DIRECTED BY: Nikolaus Geyrhalter
LANGUAGE: German and Polish with Chinese subtitles
RUNNING TIME: 92 MINUTES
TAIWAN RELEASE: TODAY
Comments will be moderated. Keep comments relevant to the article. Remarks containing abusive and obscene language, personal attacks of any kind or promotion will be removed and the user banned. Final decision will be at the discretion of the Taipei Times.