Celebrity sells
In the era of the human billboard, it's becoming harder to tell where the star ends and the pitch begins
Early last year, marketing executives at Totes Isotoner, a Cincinnati company that had spent the previous 30 years churning out a reliable lineup of humble umbrellas, crowded around a computer and listened to a teenage singer from Barbados named Rihanna breeze through a tune titled, appropriately, Umbrella.
The song, not yet released, had commercial, jingle-ready lyrics and a stick-in-your-head hook: "You can stand under my umbrella, ella, ella, eh, eh, eh." Totes, which hadn't deployed celebrity endorsements since the former NFL quarterback Dan Marino hawked its gloves more than a decade earlier, was smitten. Umbrella became a corporate rallying cry, with the song drifting through Totes' offices at all hours.
Rihanna and her representatives wanted Totes to do more, however, than merely use her to peddle a product. They wanted Totes to create customized umbrellas featuring sparkly fabrics and glittery charms on the handles — all recommended by the emerging star and her team. Totes also guaranteed the singer a percentage of the sales of the umbrellas.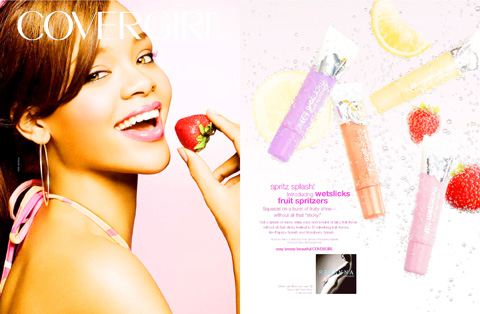 Singer and model Rihanna in a print ad for CoverGirl.
NY TIMES NEWS SERVICE
Umbrella went on to become a huge, Grammy-winning hit. And Totes, although it declines to discuss sales data, describes its relationship with Rihanna as "invaluable." The company, which had never tried such a sweeping design shake-up before, says it now reaches younger shoppers and that traffic on its Web site — which links to Rihanna's own site — has soared.
AUTHENTIC CONNECTION
"We've worked hard to build me and my name up as a brand," Rihanna says. "We always want to bring an authentic connection to whatever we do. It must be sincere and people have to feel that."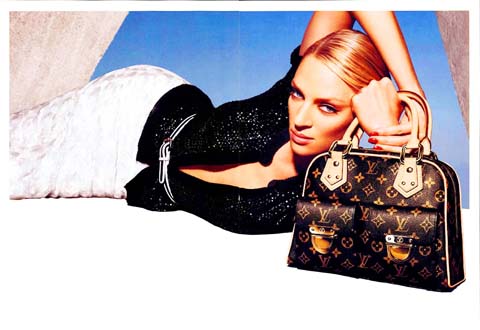 Louis Vuitton signed Uma Thurman to plug its status handbags in 2005. Using celebrities for product promotion is hardly new, but in the last decade corporate brands have increasingly turned to Hollywood celebrities and musicians to sell their products.
NY TIMES NEWS SERVICE
But where the star ends and the product and pitch begin has grown less and less discernible in the era of the human billboard.
These days, it's nearly impossible to surf the Internet, open a newspaper or magazine, or watch television without seeing a celebrity selling something, whether it's umbrellas, soda, cars, phones, medications, cosmetics, jewelry, clothing or even mutual funds.
Nicole Kidman sashays in ads for Chanel No. 5 perfume. Eva Longoria, the bombshellette star of Desperate Housewives, sells L'Oreal Paris hair color. Jessica Simpson struts for a hair extension company, HairUWear, and the acne skin-care line Proactiv Solution. And Jamie Lee Curtis spoons up Dannon Activia yogurt while promoting environmentally friendly Honda cars.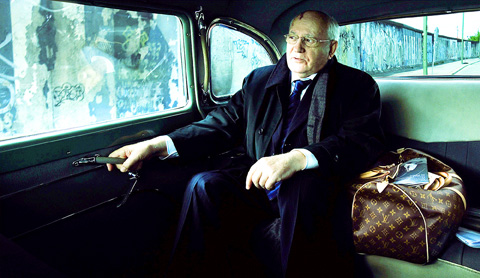 Former Soviet leader Mikhail Gorbachev sits in a car, a Louis Vuitton bag at his side and the Berlin Wall in the background, as he appears in an ad campaign for the French label.
PHOTO: AP
Using celebrities for promotion is hardly new. Film stars in the 1940s posed for cigarette companies, and Bob Hope pitched American Express in the late 1950s. Joe Namath slipped into Hanes pantyhose in the 1970s, and Bill Cosby jiggled for Jell-O for three decades. Sports icons like Michael Jordan and Tiger Woods elevated the practice, often scoring more in endorsement and licensing dollars than from their actual sports earnings.
But over the last decade, corporate brands have increasingly turned to Hollywood celebrities and musicians to sell their products. Stars showed up in nearly 14 percent of ads last year, according to Millward Brown, a marketing research agency. While that number has more than doubled in the last decade, it is off from a peak of 19 percent in 2004. (Hey, it could be more extreme: Celebrities appear in 24 percent of the ads in India and 45 percent in Taiwan.)
Starlets and aging rockers are likely to continue popping up in ads for a very simple reason: Celebrity sells. If consumers believe that a certain star or singer might actually use the product, sales can take off.
"The reality is people want a piece of something they can't be," says Eli Portnoy, a branding strategist. "They live vicariously through the products and services that those celebrities are tied to. Years from now, our descendants may look at us and say, 'God, these were the most gullible people who ever lived.'"
Newer forces are also propping up the celebrity-endorsement boom. Companies, trying to align themselves ever closer to A-list stars (as well as B-listers, C-listers and reality TV pseudocelebrities) and their quicksilver fame are constantly seeking new ways to merge the already-blurry lines between the commercial and entertainment worlds.
Television programmers and music producers are particularly eager to play along as joint marketing deals offer artists new ways to reach audiences while also defraying their own marketing costs. Celebrities have also grown much more sophisticated about the structure and payouts of endorsement deals.
Last fall, the rapper-impresario Sean Combs created a 50-50 joint venture with Diageo, the spirits giant, for Combs to be the brand manager of the Ciroc vodka line. Combs says he made the profit-sharing deal only after refusing to work solely as a pitchman.
"My brand is rocket fuel. It would take this brand 10 years to get to where I can take it in one year," he says. "I've gotten to the point where I don't want to do just endorsements. I want ownership."
In the few short years since she exploded onto the music scene, Rihanna, 20, has been involved in about a dozen endorsement and licensing deals. Behind the scenes, her representatives say they vet every offer for two key criteria: how does it support the brand known as Rihanna, and will it help sell more albums?
Rihanna's commercial for a lip gloss, CoverGirl Wetslicks Fruit Spritzers, opens with outtakes from her steamy Umbrella video, then morphs into a close-up of her wearing the lip gloss before ending with a shot of her album cover — leaving viewers possibly confused whether they just saw an ad for a lip gloss or an album. (Totes, for its part, says it cares not a whit about CoverGirl also capitalizing on Umbrella. The more the merrier, its executives say, because ubiquity benefits everybody in brandland.)
IN SICKNESS AND IN HEALTH ...
To be sure, marrying a brand to a celebrity has its perils. Just last month, Christian Dior yanked ads from China featuring the actress Sharon Stone after she suggested that the earthquakes that killed tens of thousands of people in China were karmic retribution for the country's policies toward Tibet.
Yet no less an expert than the comedian Ellen DeGeneres enthusiastically embraces the endorsement whirlwind.
"It's flattering that companies think of you and they want to work with you," she says, adding that she is working with American Express because she liked earlier ads the company did with Jerry Seinfeld. The AmEx ads routinely appear first during her talk show.
Although she says she would consider other endorsement deals, she's not actively looking.
"I would not feel good if I had made a deal and was making money for something that I'm not proud of and don't have any control over," she says. "Now watch, cut to next week and I'm endorsing five different things. Look, bread! Isn't it great? And what goes well with bread? Mayonnaise!"
Comments will be moderated. Keep comments relevant to the article. Remarks containing abusive and obscene language, personal attacks of any kind or promotion will be removed and the user banned. Final decision will be at the discretion of the Taipei Times.