It takes balls
While live music festivals (like last weekend's Peacefest) are usually a great way to see live bands, the combination of ankle-deep mud and the after-effects of blaring techno from midnight on Friday to 10am on Saturday somewhat hindered the experience.
All lethargy was thrown aside, however, when The Big Brass Balls Band took the stage. Its inspired, addictive, leg-shaking tunes had the crowd whipped into a frenzy of mud-slashing dancing that ended in raucous cheering and screams of delight.
This weekend is the final performance in the group's Taiwan tour, following the release party for its new CD, Sober as a Judge, this past Wednesday at Deluxe.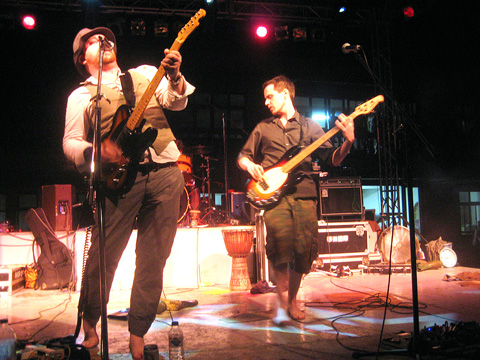 From left: Brian Calhoun, Dan Plimmer (in background), and Tom Squires at Peacefest 2008.
PHOTO: ALITA RICKARDS
It's difficult to describe the Balls by comparison as the music ranges from song to song. "The underlying idea was to make it as original as possible and to have input from each person in the band," said lead singer and guitarist Brian Calhoun in an interview on Monday.
Dan Plimmer (who also plays with Public Radio and Johnny Fatstacks) went off on drums, pounding out kick-ass rhythms, while bass player and supporting vocalist Tom Squires (also in Public Radio) gave an amazing performance, smacking his bass and howling in a soul-baring grimace that was art at it's most alive.
The Balls are not an angry band; in fact the vibe they give off is very welcoming, involved and intimate. Nonetheless, according to Calhoun, song lyrics "usually come to me when I'm angry or drunk. Not really angry, more frustrated. Music is a great place to vent it. That feeling of not understanding how people can do the things they do. … We really let loose when we're playing, and in my mind, I'm kicking the shit out of someone, but in real life I'd never do that. Never."
They recorded the raw material for the CD in one epic 24-hour session before Calhoun left for France two years ago. Squires, who produced the album, said: "For the last two years, Billy Trainor (co-producer and engineer) and I were mixing the tracks and working on them — without Billy's know-how I'd have been stranded." He compares the editing of the raw tracks to sculpture, saying: "You have to chip it down."
Calhoun loves playing in Taiwan and would like to return for another tour next summer. "The support you have here when you play [live] is unlike anything in the world," he said.
Tonight they play with the Doolittles in Taichung, an original indie-rock band with beautiful lyrics and a charming stage presence. Hard and heavy rockers Gold Seal join them tomorrow night in Taipei.
To show support for another local expat band, New Hong Kong Hair City, the The Big Brass Balls Band will leave their own show at Bliss tomorrow just after midnight and head down to APA Lounge 808 to play at New Hong Kong Hair City's CD release party. (See this week's highlight on Page 15 for more information on the New Hong Kong Hair City show.)
Publication Notes
PERFORMANCE NOTES:
WHAT: The Big Brass Balls Band
WHEN AND WHERE: Tonight from 10pm to 2am with the Doolittles at 89K, 21 Daguan Rd, Nandun Dist, Taichung City (台中市南屯區大觀路21號). Call (04) 2320-7010 for more information; tomorrow from 9:30pm to midnight at Bliss, 148, Xinyi Rd Sec 4, Taipei City (台北市信義路四段148號). Call (02) 2702-1855 or visit www.bliss-taipei.com for more information
TICKETS: NT$300 admission
at 89K includes one beer; NT$200 at Bliss
Comments will be moderated. Keep comments relevant to the article. Remarks containing abusive and obscene language, personal attacks of any kind or promotion will be removed and the user banned. Final decision will be at the discretion of the Taipei Times.