[POP STOP]
It looks as though it's not just Next (壹週刊) magazine that is cashing in on last week's revelations by the notorious "Joanna" that model and actor Ethan Ruan (阮經天) is wild in bed and fond of penetratio per anum.
According to a report in the Liberty Times, the ratings for To Love You Is My Destiny (命中注定我愛你), a television show that Ruan appears in, hit an astonishing viewer rating of 10.93 last week after news of the revelations broke (each point equals roughly one million viewers).
Producers of the program had earlier joked that if the show's popularity went above 10, an episode in which Ruan goes skinny-dipping would be shot. And just in time too. According to the Lunar Calendar, May 23 (June 26 on the solar calendar) is an auspicious day to purify the body by taking a shower or a swim.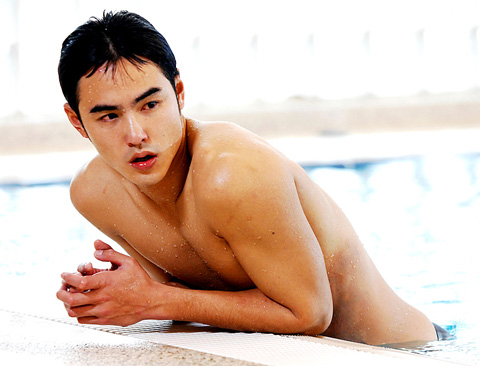 Ethan Ruan has inadvertently discovered the secret to high TV ratings.
PHOTO: TAIPEI TIMES
In other celebrity news, the on-again, off-again relationship between male model Jerry Huang (黃志瑋) and high-society belle Terry Kwan (關穎) looks as though it's on again.
The celebrity saga, which began eight months ago when it was reported that Kwan's wealthy family wanted her to date a man with a better pedigree than Huang (at the time his father drove a taxi and his mother ran a convenience store), took a somewhat predictable turn when Huang told the paparazzi that they are back together, according to reports in the Liberty Times and the Apple Daily. It's not difficult to imagine a soap opera based on their trials and tribulations hitting the airwaves with melodramatic crying and scenes shot in the rain a plenty.
Meanwhile, funnyman Chen Wei-ming (陳為民) is getting by with a little help from some newfound friends. Or should we say friendly inmates. Apple reported that other convicts are teaching the television entertainer, who began a four-month prison sentence earlier this week after being found guilty of false accusation, how to survive in prison.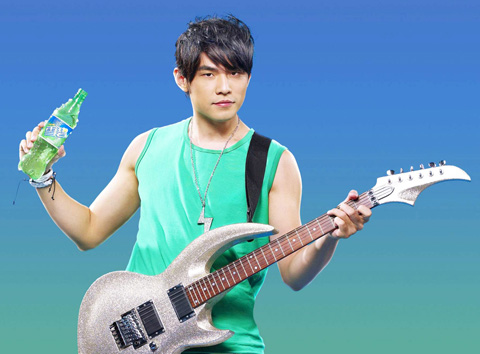 Jay Chou's adventures with his co-stars may be causing Jolin Tsai's nose to grow.
PHOTO: TAIPEI TIMES
Jay Chou (周杰倫), on the other hand, seems to be running wild in Shanghai. Chou is often romantically linked with the women he works with, whether movies — Alice Tzeng (曾愷玹) — or music videos — Chiang Yu-chen (江語晨). The paparazzi are going crazy over the latest starlet to work with The Chairman —19-year-old Angela Baby (楊穎), who is featured in a commercial with Chou. When asked about a possible budding relationship, Chou, in typical fashion, denied anything was going on.
Chou's escapades may be the reason why Jolin Tsai's (蔡依林) nose is even more beautiful today than it was two years ago. A report in Next compared pictures taken this week with those snapped two years ago and pointed out that her nose has grown. The magazine attributes this to special breathing exercises that cause the nose to protrude. Bloggers, however, speculate that every time she hears about another Chou conquest she exhales in a somewhat violent manner, giving her nose its current prominence.
There may be a different reason, though. Jolin's nose may have been put out of joint because, as Apple reports, the singer's uncle has disappeared because of gambling debts. The subtext here, of course, is whether Jolin should foot her uncle's gambling bill.
Finally, Pauline Lan (藍心湄) has given up on men — as a way to further the family line, that is. The veteran singer/TV hostess went to Japan last week to find a suitable sperm donor for artificial insemination. Why Japan? She said that sperm banks in Japan offer a clearer picture of sperm donors than those in Taiwan. Who is the donor? Nobody knows, but rumor has it that he's an 186cm-tall Japanese-Chinese artist who is very handsome.
Comments will be moderated. Keep comments relevant to the article. Remarks containing abusive and obscene language, personal attacks of any kind or promotion will be removed and the user banned. Final decision will be at the discretion of the Taipei Times.