A hop, skip and a jump
This year's International Ballet Star Gala truly lives up to its billing
Capitalizing on the success of their inaugural gala program last July, Taiwanese ballerina Wang Tzer-shing (王澤馨) and ballet impresario Paul Seaquist began planning the 2008 International Ballet Star Gala almost before the ovations finished last year.
Despite an array of injuries over the past two months that took out several of their original lineup, including Ronald Savkovic and Sue-jin Kang and even one of the replacements, Wang and Seaquist have come up with a roster of principal dancers and soloists that will make both balletomanes and the average dance fan happy. Wang also upped the stakes this year, moving the show from the International Convention Center theater to the National Theater — and expanding it from one night to two. The length of the program has also meant an earlier starting time, 7pm.
While some of the dancers might not be well known to Taipei audiences, there will be some familiar faces — Leonid Sarafanov and Olesia Novikova, who have appeared here with the Kirov Ballet — and Shoko Nakamura of the Berlin State Ballet, who appeared in last year's gala. The other ballerinas are Miki Hamanaka, Ivy Amista, Diana Cuni, Maria Yakovleva and Tiit Helimets and the danseurs are Daniil Simkin, Giuseppe Picone, Tigran Mikayelyan, Alessio Carbone, Robert Tewsley and Tan Yuan Yuan.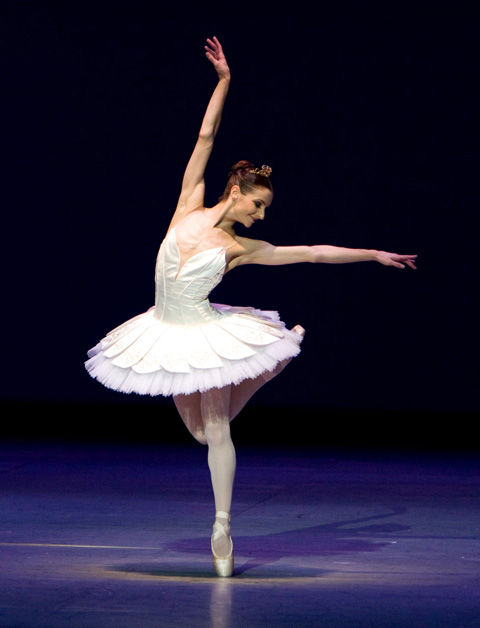 Royal Danish Ballet principal Dancer Diana Cuni.
PHOTO COURTESY OF IBSG GROUP
This year's international gala truly lives up to its billing as the nationalities of the dancers and their companies they work for reflect just how cosmopolitan even national companies have become in the past decade or so. The dancers hail from Brazil, Italy, Denmark, Estonia, Armenia, Japan, Russia and China and they dance for troupes in Germany, Lithuania, Italy, Russia, Austria and the US.
Much of this year's program is a repeat of the bravura warhorses seen last year (though with different dancers) — the grand pas de deux from Le Corsaire, Don Quixoite, Giselle, Les Sylphide, Sleeping Beauty — mixed with those from less familiar ballets such as John Cranko's Romeo and Juliet and Kenneth MacMillan's exquisite Manon.
There are also excerpts from George Ballenchine's vast output, a pas de deux from his classic Apollo, the Tchaikovsky Pas de Deux he created in 1960 and the whimsical Who Cares?, set to George Gershwin songs.
Wang said it was the dancers themselves who set the program, based on their individual repertoires.
"The dancers make the choice, what they would like to do ... . We just ask them to do one classical piece and one contemporary," she said.
Among the contemporary works, there is Russian-born, San Francisco-based dancer/choreographer Yuri Possokhov's 1999 ballet Magrittomania, which explores the world of Belgian surrealist Rene Magritte; and Belgian-born, Wiesbaden-based choreographer Ben Van Cauwenbergh's funny, technically demanding solo Les Bourgeois, set to the music of Jacques Brel.
There will also be a world premiere, The Human Within, choreographed by Eduard Nikita, which will be danced by Amista and Mikayelyan.
"The Human Within is electrifying," Wang said. "Nikita is quite a new choreographer, but he is getting a reputation in Germany."
Pulling together such a disparate array of talent has been a logistical nightmare.
"It's been crazy. The flight schedules, the dancers' schedules with their companies," Wang said yesterday. "For example, the Kirov dancers came in last night [Wednesday], the dancer from Vienna [Yakovleva] came in this afternoon but she's on stage now rehearsing and the Kirov pair go back on the 23rd and they have a performance at home that night. I don't know how they can do it."
Publication Notes
GALA NOTES
WHAT: 2008 International Ballet Star Gala (2008國際芭蕾舞星在台北)
WHEN: Tonight and tomorrow at 7pm
WHERE: National Theater, Taipei City
TICKETS: From NT$1,600 (tonight only), and NT$2,800 to NT$6,400
Comments will be moderated. Keep comments relevant to the article. Remarks containing abusive and obscene language, personal attacks of any kind or promotion will be removed and the user banned. Final decision will be at the discretion of the Taipei Times.