[THE VINYL WORD]
Like a healthy dose of cod liver oil, most people know funk is good for them, though not many regularly partake. It's a fine thing, therefore, to see reasonably new boy to the scene David Clabaugh, aka DJ Soto, laying down his own brand of funky world music on Thursdays at Center Stage with his own night, Sagittarius Rising.
Having been in Taiwan just over one year Soto, 35, has worked the beat at places such as Bliss and a free street show in Ximending on Sundays. His music is eclectic with a nod to funk fusion. "I like to mix world sounds, like jazz, rare groove funk 45s and hip-hop. With electronica becoming more global and not restricted to English-speaking markets, sounds are coming out of all corners of the globe that fuse."
Funk, according to Soto, was the renaissance of recorded music and instrumental in creating many of the sounds sampled in hundreds of hip-hop and house tracks. "Because it was relatively cheap to press tracks, thousands of bands would record while they were touring to sell more merchandise," said Soto. "[Funk musicians] were capturing an exciting moment in music which still permeates what tops the charts today. It is timeless."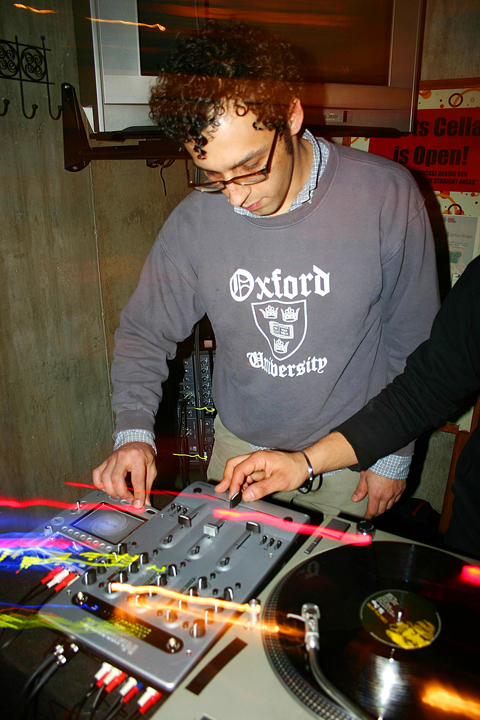 Sagittarians love a healthy challenge.
PHOTO COURTESY OF ANDREW CLABAUGH
On Thursdays Soto, originally from Milwaukee, Wisconsin, begins old-school funky and then moves onto Middle Eastern beats mixed with Brazilian samba. "Sagittarius Rising is all about change and adapting to that change, freedom, and independent in nature," said Soto with a nod to Zodiac sensibilities. "With the music, I try to adapt the two styles to meet at a common ground and see what comes out."
Soto also uses a projector to add visuals to his set. "For people who are there to just have a drink or dinner, I like to show obscure movies with a strong visual element so people can get something from it without hearing the audio. I play movies like Black Orpheus, Rockers or Sergei Parajanov films."
Last Thursday, hip-hoppers THC made a guest appearance. The hip-hop outfit freestyled over the beats, created a great sound, especially when rapping in French, and backed up Soto's idea of adaptation and freedom. Zacharie Touzin aka BabbleOn from THC will be returning to play. "I'll be there next time and I hope to see some of the real music heads come through … . The music was fresh," said Touzin. "[Soto's] style is creative and versatile. It was a musical adventure that had me singing and dancing."
For the house heads out there looking for electro enlightenment, you can all funk off to Stereo Fridays tonight at Ageha with a special party being put on for Dominick Fresina, DJ Fratzuki, who today reached the peak of his physical existence and turned 28. Fratzuki will be bringing home raw house from 2:30am until 4am, following top foreigner DJs Junior and Megan, Saucey and Gareth Jones. For two-for-one VIP card entry before 12:30am, send an e-mail to Megan (see below) as early as possible today.
A final Vinyl Word tip-off: If you missed the delicious all Taiwanese Tomodachi DJ dish two weeks ago at The Wall, you didn't finish your dinner, didn't show a clean plate, and weren't excused from the table. All is not lost, however. You could, and should, get after-party pudding with Tomodachi's brand new rock/electro mix. You can listen to it for free on the Web at www.myspace.com/tomodachidjs.
Sagittarius Rising at Center Stage, 3F, 8, Nanjing E Rd Sec 5, Taipei City (台北市南京東路五段8號3樓). Every Thursday from 9pm until late. Free entry. THC: www.myspace.com/taipeihiphopcrew.
Stereo Fridays at Ageha, B1, 171 Songde Road Taipei City, (台北市信義區松德路171號B1). Tonight from 10pm until 4am. NT$600 all night. For two-for-one VIP entry before 12:30am e-mail Megan at junior.and.megan[at]gmail.com.
Comments will be moderated. Keep comments relevant to the article. Remarks containing abusive and obscene language, personal attacks of any kind or promotion will be removed and the user banned. Final decision will be at the discretion of the Taipei Times.