Home is where the heart is
The fire that destroyed Cloud Gate Dance Theatre's (雲門舞集) rehearsal studio and warehouse complex earlier this year was a tragedy for Taiwan's dance scene. Fortunately, however, the Taipei City Government stepped in and offered the dance troupe one of its many vacant properties throughout Taipei City until the group got back on its feet.
This left many smaller theater and dance companies wondering — sometimes out loud — why they weren't offered the same deal. The existence of these properties is the inspiration for iHome (仲介愛情), a largely humorous play by Black Gate Mountaintop Theater (黑門山上的劇團) that starts tonight and runs this weekend at Novel Hall.
Instead of directly criticizing the government's perceived favoritism, however, iHome ponders the tactics real estate agents use to sell homes.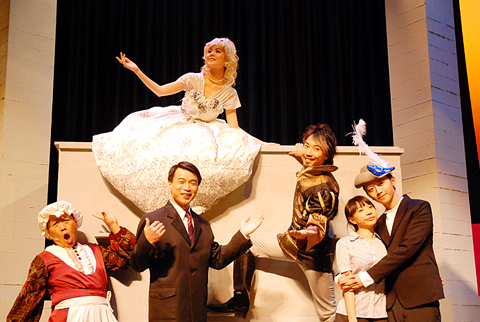 Themes associated with classical theater are used to sell houses in iHome.
PHOTO COURTESY OF BLACK GATE MOUNTAINTOP THEATER
The play's main character is experiencing a mid-life crisis when a friend approaches him with a plan to sell a number of houses, recently acquired from the government.
Although each property is flawed in some way, the two men come up with a plan to convince potential customers to buy them. Rather than lower the price of the houses, the salesmen use themes from classical plays as a means of turning the shortcomings into selling points.
For example, a young couple refuses to buy a house, the main room of which has been torn in half by an earthquake — that is until the agent points out that Romeo and Juliet were separated by a larger chasm. By moving into the house the young lovers are told they could relive daily the romance of Shakespeare's most famous lovers. Sold!
iHome will be performed at Novel Hall (新舞臺), 3-1 Songshou S Rd, Taipei City
(台北市松壽路3-1號), today, tomorrow and Sunday at 7:30pm and tomorrow and Sunday at 2:30pm. NT$400 to NT$1,200
tickets are available through ERA ticketing.
Publication Notes
Performance notes:
What: Ken Ohtake with Chung Yu-feng and Hsieh Chieh-ting (acoustic guitar, pipa, and accordion)
When: Tonight at 7:30pm
Where: Booday Shop, 18-1, Ln 25 Nanjing W Rd, Taipei City (台北市南京西路25巷18-1號)
Details: No formal entrance fee, but minimum charge of NT$350 for one drink; reservations required, call (02) 2552-5552
On the Net: www.treesmusic.com, www.booday.com
Comments will be moderated. Keep comments relevant to the article. Remarks containing abusive and obscene language, personal attacks of any kind or promotion will be removed and the user banned. Final decision will be at the discretion of the Taipei Times.