[THE VINYL WORD]
You've heard her deejaying at some of the trendiest lounge bars in Taipei, such as FiFi, Sofa and Barcode, at events like Spring Wave (Kenting) and Campo Life Art Carnival (CAMPO生活藝術狂歡節), and most recently at the Dance Rock party at The Wall (這牆) last weekend, but the odds are you don't know much about Kay.
Who is this enigmatic turntable goddess? During the time she ran Lounge Lounge (from 2002 to 2005), the 32-year-old, baby-faced DJ was featured all over the media, including fashion magazines and a TV commercial. Located in an alley off Zhongxiao East Road (忠孝東路), Lounge Lounge was a popular hangout for movers and shakers in the music scene and a high-profile boutique specializing in lounge and dance music CDs. Because of that, and her distinctive dress sense — stylish short hair, funky glasses and boyish outfits — Kay is one of the most recognizable DJs in Taiwan.
Three years ago, Kay's record store, like many others, was forced out of business in the wake of cheap or free Internet downloads. When speaking of her shop, Kay says she is nostalgic and has bittersweet memories of the time.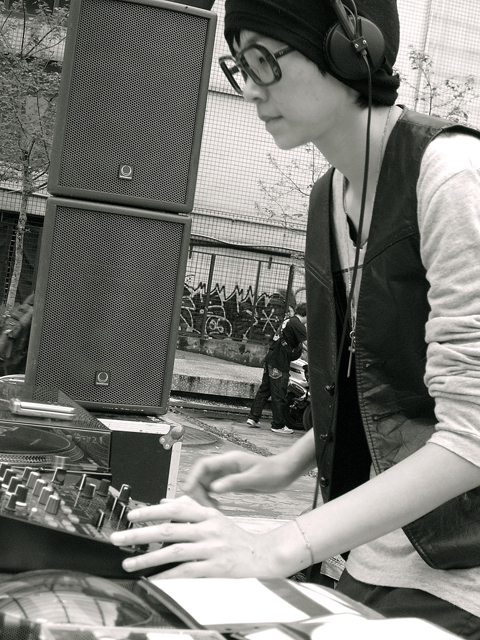 Kay, appearing at a lounge bar near you.
PHOTO COURTESY OF KAY
"All in all it had was awesome experience," she says. "I'm glad that I did it. In fact, it was one of the best decisions I've ever made, even though I didn't make any money."
Kay has maintained a low profile since Lounge Lounge closed. Besides music, yoga is also a major part of her life. During her four years of running Lounge Lounge, she established herself as Taiwan's premier lounge DJ and her name became synonymous with lounge music. The fame, and her eclectic music, not only brought Kay the opportunity to release a compilation (for Figaro magazine) and residencies at Taipei's top lounge bars, but led to a dream gig with her idol Towa Tei in Okinawa, Japan, in 2005.
Lately, Kay has proven herself to be more than just a lounge DJ. She describes her music style as "underground," and plays genres as diverse as nu rave, disco, new wave, electro, house, jazz, R 'n' B and indie rock. She's also been working with vocalist Kolette in live tech house acts at special events.
"The gig on Friday went really well. I stayed till 5am! I really enjoyed myself playing lots of rock 'n' roll and stuff like Joy Division. The feedback was incredible. A few people even invited me to play for their parties afterwards. Did I have a great set or what?" she says.
What's next for Kay? "Well, every time I perform I always enjoy it so much. And honestly, I would like to combine my own vocals in my sets," she says.
DJ Kay's top tunes of the month:
1. Misch Masch by Freeform Five
2. Piece Work by Ewan Pearson
3. Fabric 40 by Mark Farina
4. Erlend Oye by DJ Kicks
5. Disco by Health
Catch Kay every Tuesday, Thursday and Saturday at FiFi, 3F, 15, Renai Rd Sec 4, Taipei City (台北市仁愛路四段15號3樓); Wednesdays at Sofa, 1F, 56, Ln161, Dunhua S Rd Sec 1, Taipei City (台北市敦化南路一段161巷56號1樓); and Fridays and Sundays at Barcode, 5F, 22 Songshou Rd, Taipei City (台北市松壽路22號5樓).
Comments will be moderated. Keep comments relevant to the article. Remarks containing abusive and obscene language, personal attacks of any kind or promotion will be removed and the user banned. Final decision will be at the discretion of the Taipei Times.