The Tao of the drum
Renowned Japanese drumming ensemble Tao returns to Taiwan tonight and tomorrow with its own "brand of global entertainment" at Taipei Arena. The group, whose name in Chinese means "the way" or "the path," has wowed audiences worldwide with epic performances that combine martial arts athleticism and waidaiko, or traditional Japanese drumming.
Since its breakthrough performance at the Edinburgh Fringe Festival in 2004, Tao has gained a strong following in Europe, where the group recently completed a four-month tour.
The group's members were pleasantly surprised last year by the "power and reaction" they received from a 2,000-strong audience in Taipei, said the group's producer, Ikuo Fujitaka, in a phone interview with the Taipei Times just after arriving at Taoyuan International Airport.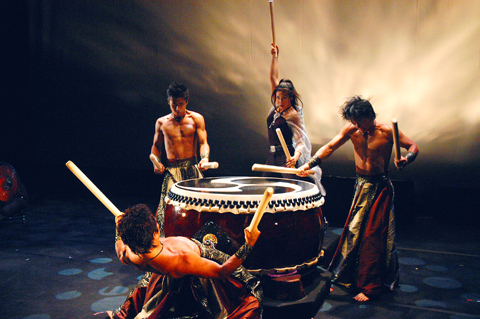 Japanese drumming ensemble Tao combines martial arts athleticism, traditional wadaiko drumming, and theatrical elements from Broadway shows to create its own brand of "global entertainment."
PHOTO COURTESY OF TAIA
"In Japan, people are very shy, and we expected a similar reaction in Taiwan [in comparison to European and American audiences]," said Fujitaka, speaking through his interpreter and Tao's marketing manager Emma Sato.
Among Japanese wadaiko groups, Tao is considered an innovator for bringing a modern touch to its shows. The group incorporates elements of Western-style musicals in its music, which is adorned with a wide range of sounds, including bamboo flutes, the Japanese harp and marimba.
The group says its inspiration comes from Broadway and Las Vegas productions. Throughout their two-hour show, Tao's drummers dance, spin, and jump across the stage — all the while playing a large drum strapped over their shoulders. The tight, synchronized choreography is enhanced by an elaborate stage design, lighting and special effects.
PHOTO COURTESY OF TAIA
But behind the style and flair, Tao takes a strict, traditional approach to training. The drummers live together in a near-monastic existence in their mountainous home of Kuju in Kyushu's Oita Prefecture. Their training emphasizes both physical and mental discipline: the group members start mornings with a 15km run, followed by two hours of physical training and then 10 hours of wadaiko practice.
The rigorous training in Kuju is the ultimate test for the world stage as Tao masters believe that the local residents must be satisfied with the trainees' performances before they can be taken on the road, the group said in a press release. Kuju is also the inspiration for the themes of nature that feature in Tao's shows.
Fujitaka said the group is excited about returning to the Taipei Arena, which is one of the biggest venues it has ever performed in as a headlining act. This weekend's show will make full use of the arena, with a more spectacular stage setup than last year's, he said.
And Taipei audiences will see Tao performing all new pieces, honed on tour in Europe and North America. "We want to make an even deeper impression than last time," Fujitaka said.
Publication Notes
Performance notes
What: Tao — Wadaiko Drumming Ensemble of Japan
Where: Taipei Arena (台北巨蛋), 2, Nanjing E Rd Sec 4, Taipei City (台北市南京東路四段2號)
When: Tonight and tomorrow at 7:30pm
Details: NT$600 and NT$900 tickets are sold out; NT$1,200 to NT$3,500 tickets are available through ERA ticketing. Call (02) 2341-9898 or visit www.ticket.com.tw
On the Net: www.drum-tao.com
Comments will be moderated. Keep comments relevant to the article. Remarks containing abusive and obscene language, personal attacks of any kind or promotion will be removed and the user banned. Final decision will be at the discretion of the Taipei Times.