Returning home, on her own path
Inka Mbing brings her traditional Atayal music to the forefront with two performances in preparation for a European tour
Inka Mbing (雲力思) remembers clearly the day her ancestors spoke to her.
She had gone to visit a large, sacred rock in Nantou County (南投縣) that according to legend was the home of her Atayal (泰雅) ancestors.
When she arrived, the locals warned her not to go. The ancestors were powerful and had scared off a construction project that tried to remove the stone, they said.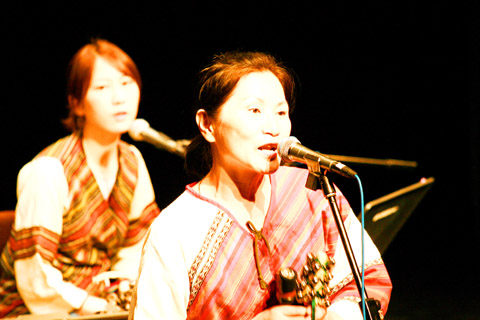 Atayal singer-songwriter Inka Mbing performs tonight with her ensemble at Zhongshan Hall in Taipei City.
PHOTO: YANG WEN-CHING, COURTESY OF TREES MUSIC AND ART
This only piqued Mbing's curiosity. Dawn had just broken as she hiked down to the rock, the sunlight was shining on the dewy grass, the mountain air was fragrant.
"I felt like I could hear a voice saying to me, 'Child, you've finally returned.' The feeling I had … it was like I hadn't returned home in such a long time," says Mbing.
"I replied to my ancestors … . I feel like you've brought me here — whatever you want me to do for the Atayal, I will do it."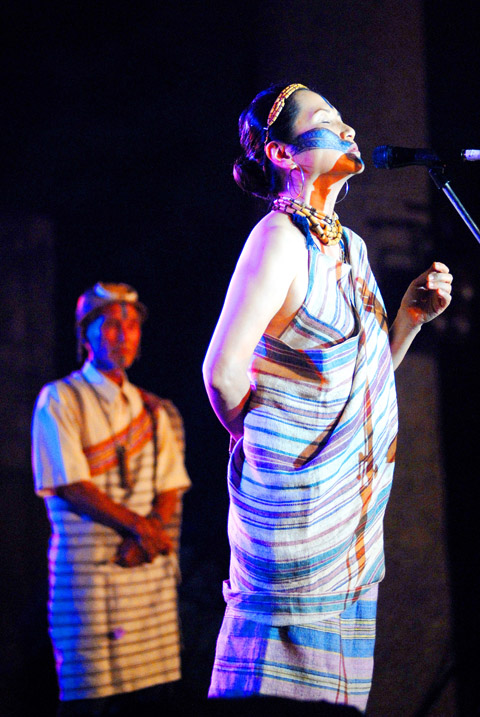 PHOTO: YANG WEN-CHING, COURTESY OF TREES MUSIC AND ART
So Mbing went on to become a singer and an informal archivist of Atayal songs. She quickly gained attention for her intense, rapt performances, which won her critical acclaim in Taiwan. In 2006 she represented Taiwan at WOMEX, one of the world's major world music fairs.
Earlier this month she released her first full-length album, Gaga, which in the Atayal language roughly translates as the "natural order of things in the universe."
The album contains rare Atayal tunes Mbing has learned over the years, as well as her own songs, all sung in her native tongue.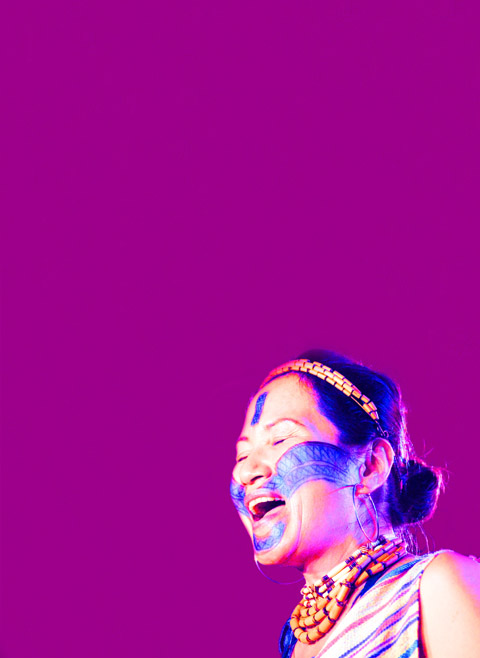 Atayal singer-songwriter Inka Mbing performs in Ilan earlier this year with her daughter, Yasui Inka (left). Mbing and her ensemble are preparing for a European tour next month.
PHOTO: SU TING-JUNG, COURTESY OF TREES MUSIC AND ART
Gearing up for a European tour next month, Mbing is preparing with a series of concerts in Taiwan: tonight at Zhongshan Hall (中山堂) in Taipei, and next weekend at her tribal home in Hsinchu County (新竹縣).
For Mbing, 54, her journey to the sacred rock remains an inspiration. While there, she climbed to the top of the rock with ease, "as if the spirits were helping me." At the summit, she felt "this very powerful energy," which she associates with the Atayal songs she learned from a tribal elder.
THE MEANING OF LIFE
After the experience, says Mbing, singing Atayal songs "came naturally." And the music has given her a sense of purpose: "Every time I sing, I feel like I'm on a mission — I feel like I'm representing my ancestors, reminding us of where we come from."
Atayal songs, traditionally sung a capella, are not commonly heard. For the Atayal, singing is less of an open, public affair — in contrast to the Amis and Paiwan, for whom "singing is something you do anytime, anywhere," says Mbing.
However, she says, in her serene, soft-spoken voice, "They're unlike anything else … the melodies, the tunes — they're completely different than from the [music of other peoples]."
A native of Chienshih Township (尖石鄉) in Hsinchu County, Mbing grew up listening to the songs of her elders, but mostly on the periphery: traditionally in Atayal culture, says Mbing, women and girls aren't supposed to sing — it's something "only the men do."
But she took an interest anyway during her years as a teacher of the Atayal language in the 1980s. At one teachers' meeting, an elder from Taoyuan County, Watan Tanga (林明福), sang several Atayal songs, which were passed on to him from previous generations of his family.
It was an "awakening" for Mbing. "The way he moved me, it was direct. I wanted to do the same for my students at the time … he used the words [of our language] very well," she says.
Mbing was enraptured by these "ancient precepts" sung by Tanga. After spending time with him, she learned that the songs were lessons passed down from their ancestors. Among the lessons: the tribe must persevere, no matter the hardship; the tribe must live in peace, and cannot lose its land.
Despite Mbing's keen interest in the songs, it took an earthquake to get her to sing them in public.
After the 9/21 Earthquake struck in 1999, Mbing joined an aid group dispatched to a disaster area in Nantou County. The group helped organize a benefit concert for quake victims, and several Aboriginal artists, including Puyuma-Paiwan singer Kimbo Hu (胡德夫), came to perform.
The disaster area's residents were predominantly Atayal, but there were no Atayal performers. Mbing thought she should sing a traditional Atayal tune. She was slightly nervous, as she hadn't sung in public since her youth, when she sang Chinese and Western folk music in restaurants. "I thought, OK, I'll just give it a try."
She was both surprised and moved by the response: many of the elders in the audience had tears in their eyes, Mbing recalls. "People came up to me, held my hand, and said 'You're so young! How do you possibly know these songs that we heard when we were young, songs only our fathers and grandfathers know?'"
COMING HOME TO ROOST
At that moment, "I felt like I was needed," she says. "Afterwards, I had this feeling that singing for my people — in our own language — could spark a new vitality, and remind us of the past memories and ancient sentiments [of the Atayal]."
Next weekend's concert, which takes place in Chienshih Township in Hsinchu County, will be Mbing's first ever performance in her home village. Such "cultural activities" are rare there, and this will be the village's first ever concert of Atayal music, she says. Is she nervous? A little, but she's also looking forward to the experience.
If anyone could to relate to her music, Mbing says, it would be her fellow villagers, many of whom will be participating in the concert. "I want to see if I can spark any kind of ideas ... . I hope what I do — it will have some effect," she says.
But at the end of the day for Mbing, her purpose is simple: "I just want to remind people of our ancient wisdom through music."
Tonight she performs with her touring band, which includes cellist IO Chen (陳主惠), guitarist Ken Ohtake (大竹研), bamboo flute player Sangpuy Katatepan (盧皆興) and percussionist Yashui Inka (雅舜伊因卡), Mbing's daughter. Sunday's performance also features residents of Mbing's home village, including a group of female singers.
Publication Notes
Performance notes
What: Inka Mbing and Ensemble
Where: Taipei Zhongshan Hall (台北市中山堂), 98 Yenping S Rd, Taipei City (台北市延平南路98號); Chienshih Elementary School (尖石國小), 7, Lin 6, Jiale Village, Chienshih Township, Hsinchu County (新竹縣尖石鄉嘉樂村6鄰7號)
When: Tonight (Chungshan Hall) at 7:30pm; Sunday (Chienshih Elementary School) at 4pm
Details: Admission tonight is NT$350; a free CD is included in the ticket price. Admission on Sunday is free
On the Net: www.treesmusic.com
Comments will be moderated. Keep comments relevant to the article. Remarks containing abusive and obscene language, personal attacks of any kind or promotion will be removed and the user banned. Final decision will be at the discretion of the Taipei Times.