Teutonic take on a Taiwan tale on a Taiwan tale
Legendary German director Monika Treut can't get enough of Taiwan. Her latest project, 'Ai-Mei,' is a collaboration between local and German filmmakers
When she first came to Taiwan at the invitation of Women Make Waves Film and Video Festival (女性影展) in 2002, German director Monika Treut felt an instant attraction to the richness and diversity of the country's culture. In the following six years, the legendary feminist filmmaker has made two documentaries about Taiwanese women and successfully mounted the feature-film project entitled Ai-Mei (曖昧), which she finished shooting in Taipei with a German crew of 12 professionals last Thursday.
The NT$48 million-budget film, the first German-Taiwan feature film, is co-produced by Treut's production company Hyena Films in Hamburg and Taiwan's Chi & Company (李啟源電影公司). The film's makers plan to enter the movie in the Berlin International Film Festival next year and premier it in Taiwan next March.
Both the cast and production teams were recruited from the two countries. German professionals head most of the technical departments including cinematography, makeup and costume design, while local talents lead the art direction and props sections, which required detailed local knowledge. The cast includes German film and theater actress Inga Busch, Taiwan's Judy Hu (胡婷婷), up-and-coming actress Ke Huan-ru (柯奐如) as well as veterans Lu Yi-ching (陸弈靜) and Jack Kao (高捷).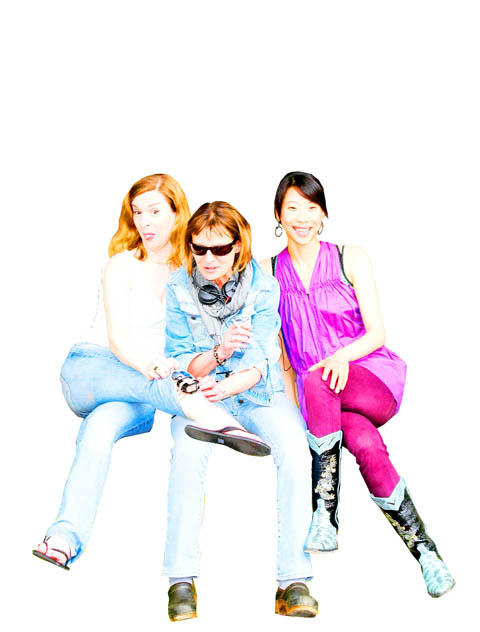 Ai-Mei may mark the beginning of a beautiful relationship between local and German filmmakers.
PHOTO: WANG WEN-LING, TAIPEI TIMES
According to the synopsis unveiled at a press conference held last Friday, the film is about the love affairs between the German artist Sophie Schmitt (played by Busch) and her two Taiwanese lovers - Ai-ling (played by Ke), who is mysteriously murdered, and Mei-li (played by Hu), a journalist who follows Sophie back to Hamburg and secretly investigates Ai-ling's death.
Noted for her fearless exploration of sexual subcultures and gender identities, Treut, or the mother of New Queer Cinema as she is sometimes known, turns to Taiwan's mixed religious beliefs of Taoism and Buddhism for inspiration. Treut says she tried to make Ai-Mei a study on how to cope with emotional loss and feelings of guilt and death.
"The East has a different way of dealing with death than the West does. Westerners have to deal with emotions themselves, while Taiwanese can express their emotions outwardly through rituals," Treut said.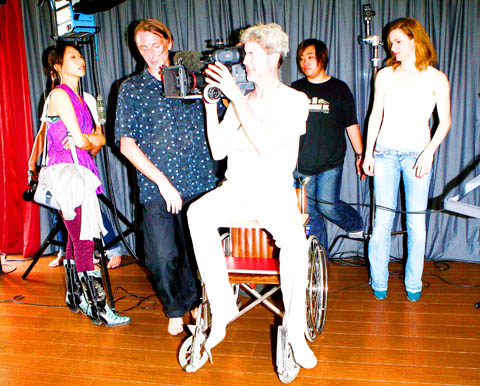 Ai-Mei may mark the beginning of a beautiful relationship between local and German filmmakers.
PHOTO: WANG WEN-LING, TAIPEI TIMES
To the 54-year-old director and the equally seasoned crew members, most of whom have over 30 years of experiences in filmmaking, working with the Taiwanese team made up of 20-somethings proved to be exciting, fun and informative.
While the Germans served as role models for the youthful Taiwanese crew, the local filmmakers demonstrated dexterity and flexibility, which is often lacking in more established filmmaking outfits.
"When our team first came to Taipei, we were surprised to find out that we were old enough to be the Taiwanese crew members' moms and dads. We all got energized by those kids. … It is a very beautiful thing to see the old Germans and young Taiwanese trying to communicate with one another," Treut said.
Comments will be moderated. Keep comments relevant to the article. Remarks containing abusive and obscene language, personal attacks of any kind or promotion will be removed and the user banned. Final decision will be at the discretion of the Taipei Times.