Say it with lilies
Each weekend in early spring, thousands of tourists converge on the farms around Bamboo Lake for the annual Zhuzihu Calla Lily Festival
In a sea of calla lilies, young couples banter while picking bunches of the white, long-stemmed flowers. Grandparents take a tea break on shady patios and watch moms and dads chase after their children. The Calla Lily Festival has made its annual return to Zhuzihu, or Bamboo Lake (竹子湖), in an event that routinely draws huge crowds to the secluded valley to pick lilies, enjoy a pot of tea or coffee, and eat local produce while admiring the fields of white blossoms.
Located in Yangmingshan National Park (陽明山國家公園), Bamboo Lake derives its name from the slopes of bamboo that cover the hillsides in this area. Because of its moist, cool air, this mountain valley is one of the few places in Taiwan where calla lilies thrive. More than 30 calla lily farms are located in the Dinghu (頂湖) and Xiahu (下湖) areas of Zhuzihu, and 15 of these will open their doors to visitors during the festival, which starts on Tuesday.
During the festival, Calla Lily Boulevard (海芋大道) becomes a car-choked road where it passes through Xiahu. Here, the road is flanked by restaurants, street peddlers and food stands hawking fruit, vegetables and snacks. The atmosphere here is little different from what you might find at any of the country's more popular tourist spots.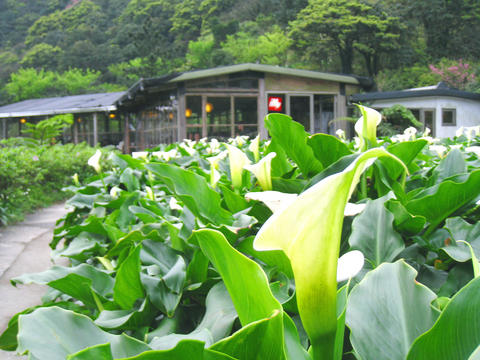 Calla lilies are the main attraction in early spring at Bamboo Lake, where farms charge as little as NT$100 for access to their fields and a bouquet of freshly picked flowers.
PHOTO: HO YI, TAIPEI TIMES
The bustle fades as one steps through the gates into a calla lily farm. Admission is usually NT$100 per person, and this allows you to pick a bouquet of eight flowers. Some establishments remain open until May, when African lilies and hydrangeas begin to blossom, followed by sunflowers in the summer.
"When calla lilies begin to flower in January and February, cherry blossoms are in full bloom, so the area has a spring feel. From February to March, the flowers look like fair damsels who will reach their full blossom in April," said a spokesman for the Beitou Farmer's Association (北投區農會), one of the festival organizers.
Travel further up the circular, winding route of Zhuzihu Road (竹子湖路), which connects the farms, to reach Dinghu, which is nestled between the Datun (大屯) and Qixing (七星) mountains. This area offers a more secluded setting. There are fewer restaurants and vendors, but the coffee shops here provide an unobstructed view of the steaming volcanic fissure of Xiaoyoukeng (小油坑).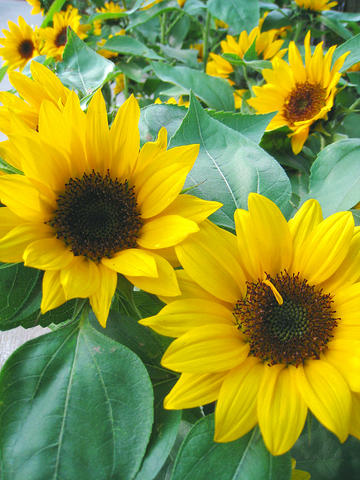 PHOTO: HO YI, TAIPEI TIMES
Musical performances are scheduled to be held at different calla lily farms every Saturday and Sunday at 2pm. Light fixtures have been set up in the valley to extend the festival's activities until 8pm. Evening performances will take place at the Miao Bang Calla Plantation (苗榜海竽園), one of the oldest and largest calla lily farms in the area, and Hua Chih Yu Natural Garden (華之友自然景觀農園), a solitary establishment in the hot-spring village of Matsao (馬槽), which offers a great view of the calla lily fields.
For those interested in exploring the area around Bamboo Lake, tours are available at 10:30am and 2pm each Saturday and Sunday and depart from the entrance to Calla Lily Boulevard, where Zhuzihu Road and the Yangjin Highway (陽金公路) intersect.
Scheduled activities also include a photo contest (for more information, go to www.photo.org.tw), and a group wedding sponsored by the city government on April 27 that takes advantage of an environment that is an ideal backdrop for wedding photos.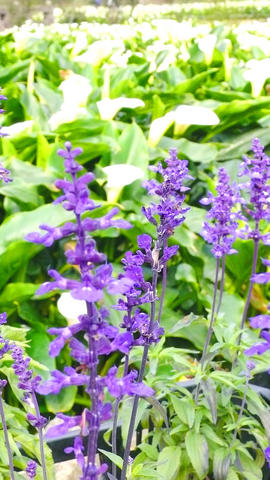 PHOTO: HO YI, TAIPEI TIMES
Bamboo Lake accounts for nearly 90 percent of Taiwan's total production of calla lilies each year and has become one of the country's most popular tourist venues. When it was first grown here commercially in the 1970s, the South African plant was particularly favored as a flower for funerals. The area under cultivation has increased considerably in recent years, from around two hectares in 1999 to more than 13 hectares today, according to Wang Wen-an (王文安), head of the promotion and education section of the Beitou Farmer's Association.
The festival at Bamboo Lake is part of the Taipei City government's official promotion of agritourism, which began in 2002. The event now attracts more than half a million visitors each year and pumps over NT$140 million into the local economy, considerably more than the NT$30 million generated by flower sales alone.
Wang said there are many reasons why the event has been such a successful combination of agriculture and tourism: "Calla lilies are not fragile flowers. They aren't afraid of cold or dampness. From a farmer's perspective, the flower is easy to tend and blossoms over a period that can last for up to five months. From the tourism perspective, the flower creates a unique gardening vista with a palette of white, green and yellow. It creates a scene that is simple and elegant."
Traffic restrictions are imposed on weekends and national holidays between 9am to 5pm around Zhuzihu Road throughout the duration of the festival. Visitors are strongly advised to take public transportation to avoid traffic jams. Festivalgoers can take bus numbers 126 through 129 and 108 through 111 to Yangmingshan and then transfer to the Small 9 (小9號) or No. 131 bus to Zhuzihu. For more information, go to the event's official Web site at www.ed.taipei.gov.tw/calla-2008.
Publication Notes
Festival notes
What: 2008 Zhuzihu Calla Lily Festival (竹子湖海芋季)
When: From Tuesday until April 30
Where: Zhuzihu (Bamboo Lake) in Yangmingshan National Park
On the Net: www.ed.taipei.gov.tw/calla-2008
Comments will be moderated. Keep comments relevant to the article. Remarks containing abusive and obscene language, personal attacks of any kind or promotion will be removed and the user banned. Final decision will be at the discretion of the Taipei Times.