THE VINYL WORD
Unless you're on LSD or magic mushrooms, music can be tough to see. Enter the video jockey, who can provide a party's optical soul.
Before MTV coined the term for presenters that introduce music videos and read from cues, the early 1980s saw the development of veejaying, whose practitioners synchronized live video clips and film loop projections to the DJs' music.
Fast-forward three decades and although the tools of the trade have advanced light years, at many a party the VJ, if there is one at all, remains an afterthought.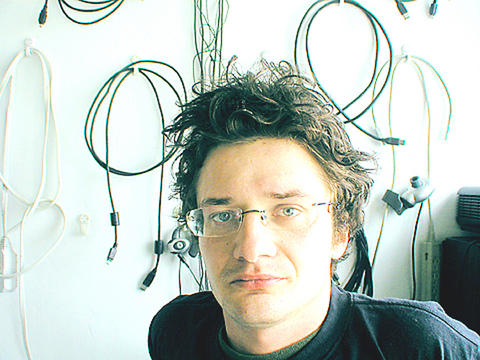 Freeformone must see the music.
PHOTO: COURTESY OF DANIEL M.
"VJs are only as important as the canvas they are provided with," Dominik Tyliszczak, Luxy VJ Dr DMT said. "Hire a VJ for a party and give him or her a small screen with a low light projector and what they do will be crappy."
Dr DMT's favorite gig was Monster Massive, where he had three huge screens to work with. "Like it or not, sound is really our second sensory input, for most people. It's our eyes that primarily guide the average person," he said. "So at a party where music is the focus, and only music, you are denying the audience something very significant."
Even if DJs wanted to play original music at every gig, it's difficult for them to do so. VJs have the edge in this regard and are able to project something into the crowd that music alone cannot do.
Daniel M, aka Freeformone, is an Australian VJ working at Ageha, Taipei. "Experienced VJs are sparse, so there seems no need for competition," he said. "There are four to five gigs a weekend in Taipei. How many have VJs?"
For the most part very few. Although some clubs slum it with stock libraries available for free on the Internet, with so many parties surely the goal should be originality.
"You are expected to come up with your unique ideas," says Dr DMT. "For [the] most part playing other people's stuff is totally looked down upon, as opposed to deejaying. Allow the artist/VJ to create the setup of the screens and you can get art."
So is veejaying really art?
Members of "the VJ community considers themselves 'artists,'" says Dr DMT.
"Think 'electronic artist,'" says Freeformone. "Visual artists have often been mistaken for VJs, the term "visualist" is more accurate to my personal ego."
Getting to make that art can be expensive and time consuming. With no standardization of equipment, "veejaying" has never been as simple as carrying a couple dozen DVDs to a gig. "It used to be several boxes of electronics and specialized gear," says Freeformone.
Dr DMT agrees and believes this may be one reason why there aren't many VJs.
"Two hundred thousand NT for the equipment you brought to the wet, hot, electronics unfriendly environment and you start to think about getting that job at the Sunshine Gas Station on Jianguo," he said.
"I guess it has something to do with critical mass of intelligence and electronics," says Freeformone.
Veejaying is most popular in Japan. Given Taiwan's proximity, why are there so few VJs here?
"VJs got little if no recognition on party fliers and could not build up a reputation," Dr DMT said. "Lack of recognition meant few jobs and very few new people bringing in the necessary exchange of ideas pushing each other creatively."
Another point, says Dr DMT, is that "VJs are grossly underpaid.
Comments will be moderated. Keep comments relevant to the article. Remarks containing abusive and obscene language, personal attacks of any kind or promotion will be removed and the user banned. Final decision will be at the discretion of the Taipei Times.