French freebie to welcome new center
To celebrate moving to the National Taiwan University Extension Education Center (台灣大學進修推廣部) eight years after it opened, the French language center Alliance Francaise de Taiwan will treat Taipei's residents to an open-air concert tomorrow afternoon.
Representing the multicultural vibes on the streets back home, Rue d'la Gouaille will open the matinee with a fusion of folk, rock and world music played on the accordion, guitar, mandolin, banjo, double bass and drums. Formed in 1994, the band is said to embody vitality and excitement in its gigs at bars and music festivals.
African musician Thierry Nkeli Faha, who was born and raised in the former French colony of Togo, is noted for blending jazz with African beats and singing of folklore, myths, love and peace in French as well as African dialects.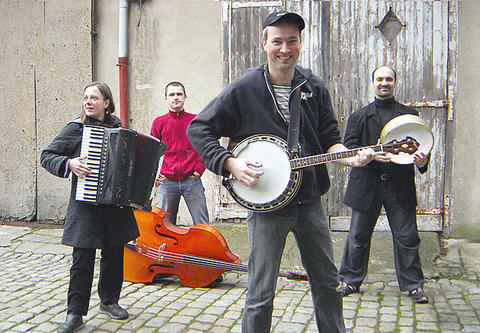 Rue d'la Gouaille blends folk and rock tunes with world music.
PHOTO: COURTESY OF ALLIANCE FRANCAISE DE TAIWAN
A French radio show host and DJ in China for more than 10 years, Guillaume Cadihac will demonstrate "Frenchise." In this style, artists perform French hits in Chinese.
Besides the concert, the non-profit association will cater to the French speaking population of Switzerland with the Comics Country Switzerland exhibition.
The country has been regarded as the origin of the Ninth Art in Europe as Rodolphe Topffer's The Adventures of Obadiah Oldbuck, first published in 1837, are believed to be the world's first comics.
Twelve artists who exemplify the history and development of Swiss comics were selected for the exhibition, which features a wide variety of aesthetic and narrative styles. Celebrated artists include the master of narrative comics, Cosey; blockbuster creator, Zep; and pantomime comics wizard, Thomas Ott. The exhibition will run until April.
Publication Notes
Performance notes
What: French Concert on NTU campus
When: Tomorrow from 1:30pm to 4:30pm
Where: National Taiwan University Extension Education Center at 107, Roosevelt Rd Sec 4, Taipei City (台北市羅斯福路四段107號)
Admission: Free
Exhibition notes:
What: Comics Country Switzerland
Where: National Taiwan University Extension Education Center at 107, Roosevelt Rd Sec 4, Taipei City (台北市羅斯福路四段107號)
When: Monday to Saturday; 10am to 12pm and 2pm to 7:30pm
Admission: Free
Comments will be moderated. Keep comments relevant to the article. Remarks containing abusive and obscene language, personal attacks of any kind or promotion will be removed and the user banned. Final decision will be at the discretion of the Taipei Times.