Two biopics to focus on the life of Ip Man
Actors Donnie Yen and Sammo Hung are scheduled to portray Ip Man, the kung fu master who trained Bruce Lee and many others
Bruce Lee (李小龍) is the master to many martial arts fans. Less is known about his master, Ip Man (葉問), a pioneer in the kung fu style that influenced Lee. Hong Kong filmmakers hope to change that by bringing Ip's story to the big screen.
On Tuesday, action stars Donnie Yen (甄子丹) and Sammo Hung (洪金寶) from the US television series Martial Law prepared to start shooting one of two planned movies about Ip, as they joined Ip's sons in paying tribute to their father at his hometown in the southern Chinese city of Foshan, about four hours northwest of Hong Kong by car.
Performers staged a traditional Chinese lion dance featuring four bright orange lions on an outdoor platform near a memorial hall that honors Ip.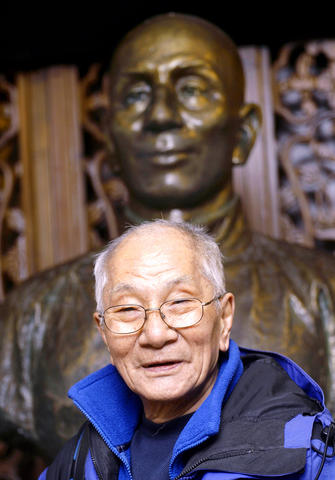 Ip Chun, elder son of Ip Man in front of a statue of the latter.
PHOTO: AP
Yen posed next to bust of Ip and performed a series of maneuvers against a wooden mannequin - a common practice in kung fu's wing chun style, which is known for its practicality.
Yen, a veteran action star whose credits include Blade 2, Hero (英雄) and Shanghai Knights, called his role as Ip his most challenging ever.
"We all know that teacher Ip Man promoted Chinese kung fu around the world. He's also the teacher of my idol Bruce Lee. So when I took this role I put a lot of pressure on myself," he said.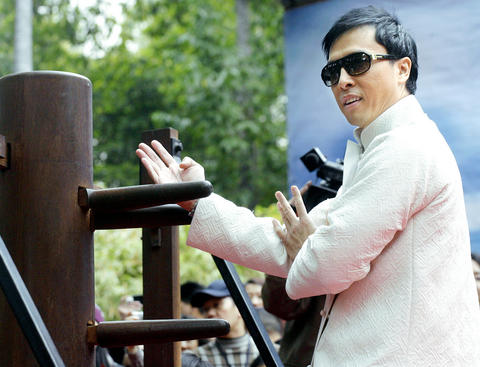 Donnie Yen is slotted to play Ip Man in an upcoming film.
PHOTO :AP
Yen said he was focusing exclusively on his portrayal of Ip and leaving the action choreography to Hung, another kung fu movie veteran.
He said he has studied the wing chun style for a few months, but struck a humble tone. "I've learned a superficial few things. I don't dare say I know wing chun," he said. "But I hope to use my filmmaking experience and my few years of kung fu training to let more people know about teacher Ip Man and wing chun (詠春) through this movie." Yen's reverence for Ip's legacy is testimony to the master's storied reputation.
Born in Foshan in 1893, Ip started his training in wing chun - which traces its roots to a monk from the famed Shaolin Temple - in 1903, according to Ip's younger son, Ip Ching.
The elder Ip arrived in Hong Kong in the 1940s to escape the Communist takeover of China. In Hong Kong, he started out teaching kung fu to restaurant workers but broadened his reach to hundreds of students, including Lee, before passing away in 1972.
His sons studied under him and also taught. Their students have spread wing chun to the US, Canada, Australia, Britain and South Africa.
But Lee is a standout because of his international fame.
Lee, who died in 1973 at age 32 from swelling of the brain, studied under Ip for five years starting at age 13, according to his official biography on the Bruce Lee Foundation Web site.
"He greatly revered Ip Man as a master teacher and wise man and frequently visited with him in later years," the biography says.
Ip Chun, the older of Ip Man's two sons, said his father got along well with Lee.
"They had a very good relationship. They often studied kung fu together," the 84-year-old said, adding that Lee stayed in touch after studying with Ip. "I saw him very often."
The movie starring Yen isn't the only production about Ip Man in the works.
Famed Hong Kong art-house director Wong Kar-wai (王家衛) is also planning a biopic starring Cannes best actor winner Tony Leung Chiu-wai (梁朝偉), although the timetable for that project is unclear.
Wong's Jettone Films has not released any information about the movie, but Leung said this week he planned to devote the second half of this year to studying wing chun and hoped to start shooting at the end of the year or the beginning of next year.
Yen's movie, a US$5 million production directed by Wilson Yip (葉偉信), is scheduled to start shooting in March in Shanghai and to be released early next year, Yip said Tuesday.
Ip Chun said he would support both productions.
Yip said his movie would focus on Ip Man's time on the mainland and his tensions with China's Japanese invaders in the World War II era.
Comments will be moderated. Keep comments relevant to the article. Remarks containing abusive and obscene language, personal attacks of any kind or promotion will be removed and the user banned. Final decision will be at the discretion of the Taipei Times.