'Martian Child' should be saved for dessert
This saccharine adaptation of David Gerrold's short story is a sticky, gooey tearjerker
Trend spotters (and actresses) take note. This season John Cusack is struggling with parenthood and worlds of sorrow: In Martian Child he plays a novelist widower hoping to adopt a small, broken boy, and in the forthcoming Grace Is Gone his working-stiff widower grapples with trying to break the bad news to his girls. In each movie the beloved is already out of the picture, which allows Cusack instantly to take possession of the screen with his trademark sensitivity. Nice guys rule, and don't you forget it.
Cusack receives fierce competition in the "aw" department in Martian Child from a golden retriever (the noble Bud) and a wee killer called Dennis (Bobby Coleman), who arrives in a cardboard box literally marked "Fragile" and "Handle With Care," and who comes equipped with trembling lips and a load of cute. But Cusack is not one to relinquish the spotlight without a fight. Like W.C. Fields he takes the challenge presented by animals and children seriously. And so he bobs, weaves, weeps, plays with the volume, kisses the girl (bashfully, naturally), stutters and smiles, tucking his chin just enough to make those dark, pooling eyes look even more inviting. Come on in, the water's just fine.
Written by Seth Bass and Jonathan Tolins from David Gerrold's short story, Martian Child is 100 percent goo. There's nothing wrong with the setup - man meets boy, surrenders heart - but there's little right about the delivery. Menno Meyjes, who last directed Cusack in Max, appears never to have met a visual cliche he didn't want to embrace, an emotion he didn't want to milk or an obvious idea he didn't want to broadcast. He lets Cusack cut loose and go lazy, while the support team (Joan Cusack, Oliver Platt, Amanda Peet) smilingly basks in the star's glow. You might think that Bobby Coleman wouldn't stand a chance, but this kid bats his lashes like Joan Fontaine. The audience wept; I just cried uncle.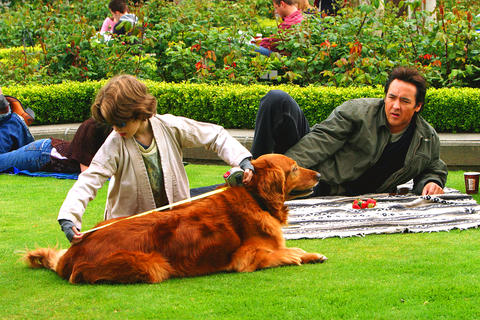 Martian Child's Bobby Coleman, left, John Cussack, right, and Bud, front, reach new levels of sweetness.
PHOTO: COURTESY OF ARM
Publication Notes
Film Notes
MARTIAN CHILD
DIRECTED BY: Menno Meyjes
STARRING: John Cusack (David), Amanda Peet (Harlee), Sophie Okonedo (Sophie), Oliver Platt (Jeff), Joan Cusack (Liz), Bobby Coleman (Dennis), Richard Schiff (Lefkowitz)
RUNNING TIME: 108 MINUTES
TAIWAN RELEASE: Currently showing
Comments will be moderated. Keep comments relevant to the article. Remarks containing abusive and obscene language, personal attacks of any kind or promotion will be removed and the user banned. Final decision will be at the discretion of the Taipei Times.