[REEL NEWS]
The Berlin Film Festival might be the first major event on the global movie business' calendar for the year with the Oscars hard on its heels a week later.
But it is rare that the Berlinale and the Academy Awards share much in common in selecting movies for their top prizes.
For the most part, the films that do well at the Berlinale, which tends to celebrate edgy and more political cinema, are not the ones that score well at the Academy Awards in Hollywood.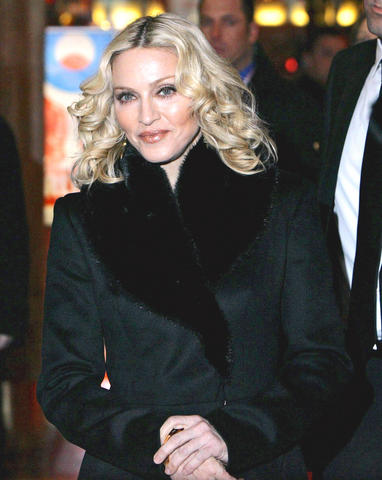 Madonna is following in her husband's footsteps with her film Filth and Wisdom.
PHOTO :EPA
However, this year could be different with US director Paul Thomas Anderson's There Will Be Blood starring Daniel Day-Lewis in the role of the ruthless but charismatic oilman Daniel Plainview emerging as the clear favorite to scoop the Berlinale's top honors.
The Berlinale's gala award ceremony tomorrow will be followed about a week later with Oscar night in Los Angeles with There Will Be Blood having been nominated for eight Academy Awards including Day-Lewis for best actor for his towering performance in the film.
The 58th Berlinale has also scored well in the race among the world's leading film festivals for solid quota of glamour with some of the top stars taking to the red carpet in Berlin.
Japanese director Yoji Yamad passed away earlier this week.
PHOTO :AP
The Rolling Stones helped to kick off this year's Berlinale a glittering launch with Oscar-winning director Martin Scorsese's concert movie of what is one of the world's greatest pop groups, which was seen by critics more as public relations coup for the festival than cinematic success.
In fact, a large number of the about 400 films from around the world to be shown during the 10-day festival will mark career highlights of what are essentially members of rock royalty.
As a result, music icons such as Neil Young and Patti Smith have been rubbing shoulders in Berlin with actors such as Eric Bana, Penelope Cruz, Ben Kingsley, Daniel Day-Lewis and Bollywood superstar Shah Rukh Khan.
Madonna also whipped up a media storm in Berlin with her directing debut, Filth and Wisdom, a comedy about the dreams of ordinary people and starring Richard E Grant, but which was not part of the festival's main competition.
A batch of movies has also touched on life in Muslim nations including the struggle for gay rights and the battle of a German women's football team to play in Iran.
But after a disappointing and slow start, the competition for the festival's top honors, the Golden and Silver Bears, has started to tighten as the festival enters its final days with several favorites having emerged as possible favorites for prizes.
This includes British director Mike Leigh's Happy Go Lucky, about a carefree London teacher and Japanese director Yoji Yamada's anti-war story Kabei - Our Mother as well as police political thriller Elite Squad (Tropa Squad) from Jose Padilha which has been a box-office hit in his native Brazil.
But film festival juries are notoriously difficult to predict with Greek-born director Constantin Costa-Gavras and his team having to select from more than 20 movies that have been included in the Berlinale's main competition.
The Star Wars universe, already substantially rendered by computer generated imagery, is giving in all the way to animation.
Star Wars: The Clone Wars' an animated film, will open in US theaters Aug. 15 and be followed by a TV series of the same name.
"I felt there were a lot more Star Wars stories left to tell,'' said Star Wars creator George Lucas in a statement. "I was eager to start telling some of them through animation and, at the same time, push the animation forward." Produced by Lucasfilm Animation, both the film and TV show will be distributed through Time Warner Inc, which owns TNT, the Cartoon Network and the film's distributor, Warner Bros.
Film director Kon Ichikawa, who took the lead in Japan's post-war cinema industry, died of pneumonia at a Tokyo hospital Wednesday, a film company said. He was 92.
"Director Ichikawa was hospitalized on January 24 after complaining about feeling of smothering, but passed away early today, seen by his family," film company Toho said in a statement.
After debuting as a film director in 1948, Ichikawa won the International Critics Award at the Cannes Film Festival for his documentary about the 1964 Tokyo Olympic Games titled Tokyo Olympiad, Kyodo News said.
He was also known for such films as The Burmese Harp about a Japanese soldier who stays in Burma as a monk after World War II to comfort the spirits of soldiers who had died.
Ichikawa also received an award for cultural merit from the Japanese government in 1994 and received a lifetime achievement award at the Montreal World Film Festival in 2001, Kyodo said.
- agencies
Comments will be moderated. Keep comments relevant to the article. Remarks containing abusive and obscene language, personal attacks of any kind or promotion will be removed and the user banned. Final decision will be at the discretion of the Taipei Times.