On point
Kaohsiung City Ballet (KCB, 高雄城市芭蕾舞團) founder Chang Hsiu-ru (張秀如) took a chance five years ago that people in southern Taiwan were interested in seeing more homegrown ballet. She also wanted to provide the best dancers in her company with more opportunities to perform and to give Taiwanese choreographers a platform for their work.
So she devised a program called "Dance Shoe" that would focus on choreographers from southern Taiwan. Chang seems to have hit a winning combination, for Dance Shoe 2008 begins its three-city run next weekend in Kaohsiung, with a mix of familiar names and newcomers on the program.
Kaohsiung-based choreographer Dominique Yen (顏鳳曦) is making her second appearance in the series, expanding upon last year's crowd-pleasing meditation on ballerina's love-hate relationship with her point shoes that began with a woman entering the stage almost invisible under a tottering pile of old point shoes that dropped off with every step she took.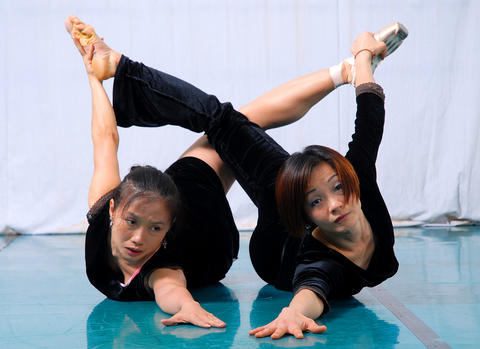 Kaohsiung City Ballet.
PHOTOS: COURTESY OF KAOSIUNG CITY BALLET
The shoes are back in her new work, Awakening, but this time, Yen said, they will have a more active role alongside the three dancers in the piece.
"The point shoes will fly all over - into the air, all over the stage and into the audience," she said in a telephone interview from her home.
"Last year's piece was about the shoes and the ballerina, but this time the emphasis is more straightforward, the energy is more powerful."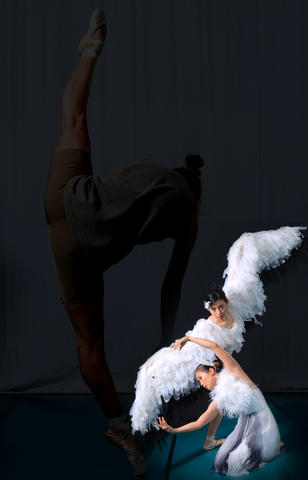 Kaohsiung City Ballet.
PHOTO: COURTESY OF KAOSIUNG CITY BALLET
The idea for Awakening comes from a few sentences in famed author Lin Yu-tang's (林語堂) The Art of Life, Yen said.
"The sentences gave me the feeling, the idea about how sometimes you see a person who looks like they are very sure about they are doing, but they really don't have a clue, while other times you might see a person who looks like they are sleeping but they are really aware of everything that is going on around them," she said.
Yen said she set her piece to Johann Sebastian Bach's Baroque masterpiece Goldberg Variations because it was supposedly written to help a man who had trouble sleeping get through the night.
Janet Chang (張慈妤), a former Cloud Gate Dance Theatre dancer and 13-year veteran of Hong Kong's City Contemporary Dance Company has created a duet for herself and a KCB dancer as her contribution to the program.
Chang's To be or not to be examines why it is so hard to do something new, why we face such resistance - from ourselves, from others - when we want to try new things.
"Sometimes the problem is that we don't know what to try, or why we want to do something different," she said.
While To be or not to be is Chang's first work for the Dance Shoe series, she is no stranger to KCB audiences, having co-choreographed last year's production of The Peony Pavilion or Mudanting (牡丹亭).
Making her third consecutive appearance in the Dance Shoe line-up is Tsai Po-chen (蔡博丞), whose piece is titled Winter. Chang Ya-ting's (張雅婷) work Wing (羽翼) and Kao Hsin-yu (高辛毓) with Ballet Fantasy (芭蕾狂想) round out the program.
Dance Shoe 2008 won't be in Taipei until March 8 and March 9 but it will be worth the wait because for the first time the troupe will be in the Experimental Theater instead of the Crown Theater, with its low ceiling that is the bane of choreographers and dancers alike. Before that, however, there will be two performances in the B2 Art Space at the Eslite Book Store in Tainan on Saturday, March 1.
Comments will be moderated. Keep comments relevant to the article. Remarks containing abusive and obscene language, personal attacks of any kind or promotion will be removed and the user banned. Final decision will be at the discretion of the Taipei Times.