[RESTAURANT REVIEW] Cha for Tea (喫茶趣)
The Cha for Tea chain offers a contemporary teahouse alter-native to the onslaught of Starbucks, Dante and Ikari coffee shops that have spread across the country in recent years.
Operated by the Ten Ren tea company, there are 10 stores in the chain so far, including five in Taipei and two in Kaohsiung, where you can kill an hour or two with a pot of tea with friends or enjoy tea-flavored options for lunch or dinner. Three of the Taipei branches (Fuxing, Neihu and Dazhi) are open for breakfast from 7:20am to 10:30am). There also offer private rooms for tea-tasting parties at NT$150 per person.
Each store has a different theme, such as "peace," "heritage" or yuanrong (easy-going). For the Zhongshan branch in Taipei, one of the newest and largest in the chain, it is "nature," which is appropriate because looking out the windows one can see the Shihlin Garden across the street (if you ignore the nearby gas station). Large reproductions of traditional Chinese scrollwork are on the walls and while the restaurant is large, it still manages to convey an atmosphere of calm.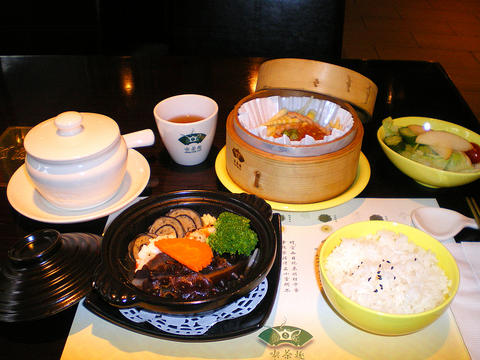 Two for tea and tea for two ...
As befitting a tea-oriented establishment whose slogan is "Contemporary Tea Fashion," the menu opens with five pages of drink options, ranging from traditional tea choices such as pots of Osmanthus Oolong or Cuifeng Canyon Oolong to iced green tea lattes or hot Earl Grey lattes. The prices for drinks range from NT$165 to NT$350 for a pot of tea and from NT$120 to NT$170 for the iced drinks and lattes.
Cha for Tea offers five types of set meal offerings, including one that is totally vegetarian, plus a la carte offerings of tea noodle dishes or dim sum favorites such as shrimp xiao-mai, pork dumplings or steamed veggie dumplings. The set meals are good value, with a small salad, choice of one of three side vegetable dishes, three kinds of soup, a dessert and then a choice of hot or cold beverages for after the meal. Prices range from NT$385 for the Steamed Vegetarian Pu-erh Tea or King's Treasured Tea Meal set (seafood) to the Osmanthus King Cod Meal set for NT$580.
Don't expect a fast-food meal. While the service is attentive, each meal is prepared to order and so even going in for a steamer or two of dumplings will require at least 40 minutes. The portions are on the small side, but care is taken with the preparation and the presentation and the set meals can be very filling.
My one complaint about the vegetarian set meal is that for some reason their winter option includes slices of ersatz sea cucumber that look like someone has sliced up a doggie squeeze toy and tastes about as appetizing.
Publication Notes
Cha for Tea (喫茶趣)
Address: 570, Zhongshan N Rd Sec 5, Taipei
(台北市中山 北路五段570號)
Telephone: (02) 2888-2929
Open: 11am to 11pm
Average meal: NT$385 for a set meal
Details: Chinese and English menu; credit cards accepted.
On the Net: www.chafortea.com.tw
Comments will be moderated. Keep comments relevant to the article. Remarks containing abusive and obscene language, personal attacks of any kind or promotion will be removed and the user banned. Final decision will be at the discretion of the Taipei Times.