Winehouse cleans up ... at Grammys
Soul singer Amy Winehouse won five awards, but lost out on album of the year to jazz musician Herbie Hancock
Trapped half a world away by the place she promised to never "go, go, go," a vibrant, exuberant Amy Winehouse dominated the Grammys, winning five awards and delivering a defiant performance of her autobiographical hit Rehab via satellite from London.
Winehouse, nominated for six awards, lost the final prize at Sunday night's ceremony in a shocker when Herbie Hancock took album of the year for River: The Joni Letters. "You know it's been 43 years since the first and only time that a jazz artist got the album of the year award," Hancock said, then proceeded to honor "the giants upon whose shoulders I stand, some of whom like Miles Davis, John Coltrane ... unquestionably deserved the award in the past. But this is a new day, that proves that the impossible can be made possible." For a while it seemed impossible that Winehouse would perform at all. She recently entered a drug rehabilitation center after months of erratic behavior and canceled performances, not to mention the anthemic "no, no, no" resistance of her hit song.
As the ceremony approached, suspense built over whether the UK singer's drug troubles would cost her a work visa. When her visa application was rejected Thursday, Grammy producers arranged for her to perform remotely. On Friday, the US government reversed itself and approved the visa, but it was too late for her to make the cross-continental trek.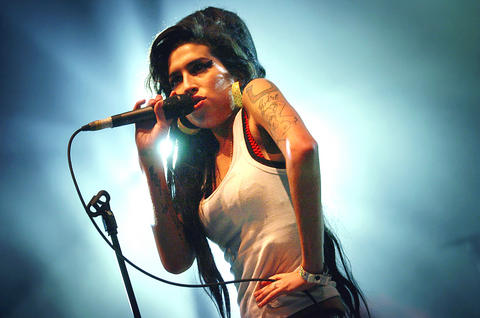 The 50th annual Grammy Awards were dominated by Amy Winehouse.
PHOTOS: AP AND AFP
So she took the stage at almost 4am London time Monday before a small cabaret audience, wearing a sly smile as she performed a sultry, soulful rendition of the hit that has defined her recent fall from grace. She looked just as coy as she sang the song You Know I'm No Good - almost reveling in the irony of her words.
Shortly afterward, Winehouse seemed dumbfounded when she was announced as the record of the year winner. She was immediately enveloped by her band, then her mother and father, who have publicly worried whether the 24-year-old artist would survive her demons.
"I am so proud of this album," Winehouse told reporters in a statement. "I put my heart and soul into it and it's wicked to be recognized in this way. I feel truly honored to be mentioned in the same breath as many of the artists present tonight and to win is even more amazing!" Her five awards were the most of the night, and included wins for best new artist, song of the year, pop vocal album and female pop vocal performance.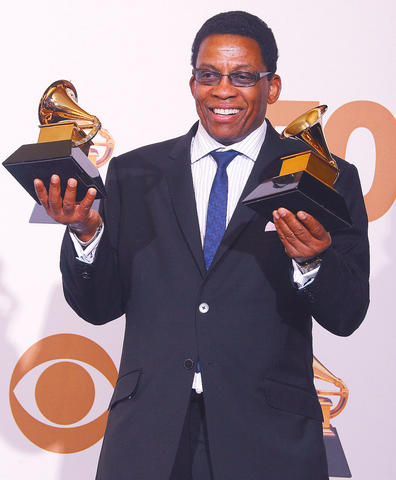 Album of the year winner Herbie Hancock with trophies.
PHOTOS: AP AND AFP
Winehouse's performance was not the only dramatic moment of the night. Kanye West, who had a leading eight nominations and won four trophies, delivered an electric, glow-in-the-dark rendition of Stronger, then segued into a stirring tribute to his mother, Donda West, who died unexpectedly last year at age 58 after undergoing plastic surgery.
"Last night I saw you in my dreams, and now I can't wait to go to sleep," sang West, dressed in black and with MAMA etched into his haircut, as he launched into Hey Mama, a celebratory tune from his second album that has become a somber ode.
West won awards for best rap album for Graduation, best solo performance for Stronger, best rap song for Good Life and best rap performance by a duo or group for his collaboration with Common on Southside. While West was accepting the best rap album trophy, the orchestra tried to play him off the stage as he began speaking about his mother.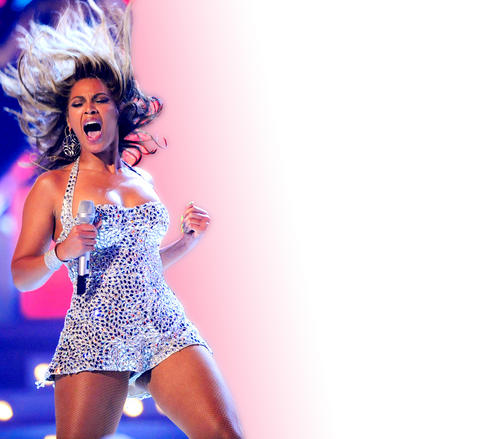 Beyonce performs at the 50th annual Grammy Awards.
PHOTOS: AP AND AFP
"It would be in good taste to stop the music," West said - and the music stopped.
"I know you're really proud of me right now and I know you want me to be the No. 1 artist in the world and Mama," West continued, "all I'm going to do is keep making you proud. We run this." The Grammys, celebrating its 50th year, emphasized its history from the first performance. Alicia Keys, glammed-up with a 1950s style, sat at the piano and sang Learnin' the Blues along with a black-and-white video performance from the late Frank Sinatra.
Later, the casts from Cirque Du Soleil's Love Beatles' show and the Beatles-inspired movie Across the Universe paid tribute to the Fab Four as Ringo Starr, Yoko Ono and George Harrison's widow Olivia Harrison watched from the audience.
It was a hot-legs competition when Tina Turner teamed up with Beyonce on Proud Mary. The senior citizen kept up with her younger counterpart, showcasing her famous dance moves while wearing a tight-fitting silver bustier and pantsuit.
Carrie Underwood's Before He Cheats earned two Grammys, including for best female country vocal performance. Bruce Springsteen took three awards, including best rock song for Radio Nowhere. Other winners included the White Stripes, Justin Timberlake and Mary J. Blige with two each, the Foo Fighters and even Democratic presidential candidate Barack Obama for best spoken-word album.
Publication Notes
The following is a list of winners in the major categories at Sunday's 50th annual Grammy Awards:
■Album of the Year: River: The Joni Letters, Herbie Hancock
■Record of the Year: Rehab, Amy Winehouse
■Song of the Year: Rehab, Amy Winehouse
■New Artist: Amy Winehouse
■Producer of the Year, Non-Classical: Mark Ronson (Amy Winehouse)
■Pop Vocal Album: Back to Black, Amy Winehouse
■Female Pop Vocal Performance: Rehab, Amy Winehouse
■Male Pop Vocal Performance: What Goes Around Comes Around, Justin Timberlake
■Pop Performance by a Duo or Group With Vocals: Makes Me Wonder, Maroon 5
■Pop Instrumental Album: The Mix-Up, Beastie Boys
■Alternative Music Album: Icky Thump, The White Stripes
■Rock Album: Echoes, Silence, Patience and Grace, Foo Fighters
■Rock Song: Radio Nowhere, Bruce Springsteen
■Solo Rock Vocal Performance: Radio Nowhere, Bruce Springsteen
■Rock Performance by a Duo or Group With Vocals: Icky Thump, The White Stripes
■Hard Rock Performance: The Pretender, Foo Fighters
■Rap Album: Graduation, Kanye West
■Rap Solo Performance: Stronger, Kanye West
■Rap Performance by a Duo or Group: Southside, Common, featuring Kanye West
■Rap/Sung Collaboration: Umbrella, Rihanna, featuring Jay-Z
■Country Album: These Days, Vince Gill
■Country Song: Before He Cheats, Josh Kear and Chris Tompkins, songwriters (Carrie Underwood)
■Female Country Vocal Performance: Before He Cheats, Carrie Underwood
■Male Country Vocal Performance: Stupid Boy, Keith Urban
■Country Performance by a Duo or Group With Vocals: How Long, The Eagles
Source: DPA
Comments will be moderated. Keep comments relevant to the article. Remarks containing abusive and obscene language, personal attacks of any kind or promotion will be removed and the user banned. Final decision will be at the discretion of the Taipei Times.