The big bang
Musicians and artists will send off the Year of the Pig with lots of loud noises as the annual Freak Out Beast turns Shida park into a giant carnival
Time to get your "Freak" on.
Two dozen bands and DJs were originally scheduled to perform tomorrow on stages in Shida park (師大公園) and inside the nearby Underworld (地下社會) music pub for this year's Freak Out Beast (吵年獸) festival. Because of inclement weather, organizers have provisionally postponed sections of the event until next weekend.
Part street fair, part concert, the third annual Freak Out Beast Chinese New Year Music and Art Festival Project (2008吵年獸立春音樂藝術季) started last week with art exhibitions that are on display inside the Shida neighborhood's Mi Tsang (米倉音像食館), Salt Peanuts, and Zabu (雜舖居酒食堂) cafes through next week.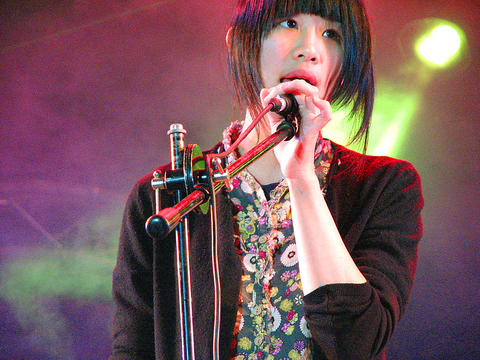 Space Cake.
PHOTO COURTESY OF FREAK OUT BEAST
Besides the concerts, Shida park will also host the festival's outdoor creative market (創意市集). The market will spill out onto the sidewalk along Shida Road (師大路) and showcase independent designers selling handmade T-shirts, jewelry and other clothing and fashion accessories.
Musicians and artists affiliated with indie-electronica collective KbN (凱比鳥) are organizing the festival under the name Shibishou (詩筆獸), with support from the Taipei City government's Cultural Affairs Bureau (台北市政府文化局). The concerts were scheduled to run from 2pm to 10pm. The creative markets were scheduled from 2pm to 10pm. Admission will be NT$100 for the shows at Underworld. All other events are free. Check the event's Web site for updated dates and times.
Freak Out Beast is presented as a modern take on traditional Lunar New Year celebrations, one that aims to inject energy into a city that quiets down as residents head south to visit family during the holidays. The festival takes its name from the ancient practice of dancing and using gongs, drums and firecrackers to scare away Nian Shou (年獸), the legendary monster that sneaks in from the mountains every winter to feed on humans. According to myth, Nian Shou fears explosions and has an aversion to red, the color associated with the Lunar New Year.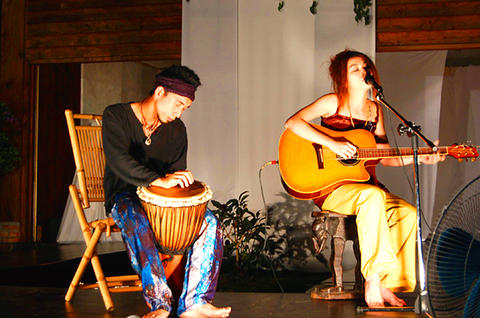 Kuo Wen-fan.
PHOTO COURTESY OF FREAK OUT BEAST
Since 2006, Taipei has seen at least one street fair similar to Freak Out Beast every month. Freak Out, as much a music festival as it is an art fair, and the monthly city-hopping Campo Life Art Carnival (CAMPO生活藝術狂歡節), usually held in Sindian, Taipei County, were first staged that year. Organizers present these and similar festivals as alternatives to consumerism and attempts to introduce art into the daily lives of city residents.
Founded in 2003, the Guling Street Book and Art Fair (牯嶺街書香創意市集) is generally recognized as having launched this trend. It was one of the first street fairs in Taiwan to emphasize interaction between artists and fairgoers and offer what are commonly called "creative markets," forums for the sale of handmade and secondhand products.
Recent admission-charging commercial music festivals, including Neutron Innovation's (中子創新) Urban Simple Life (簡單生活節) and TK Rock concert (台客搖滾嘉年華), have incorporated creative markets and other elements of these street fairs.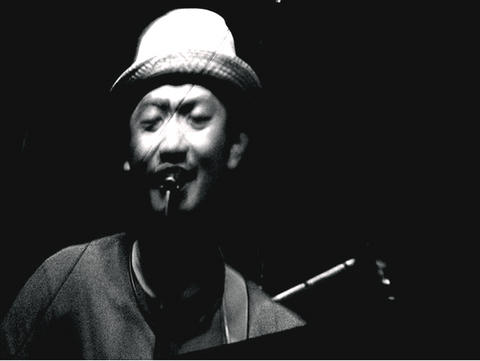 88 Balaz.
PHOTO COURTESY OF FREAK OUT BEAST
The first Freak Out Beast featured performances by 20 bands and DJs. The event drew around 1,000 people to Huashan Culture Park (華山文化園), according to Shibishou. The second, a free unplugged acoustic music festival, art exhibition and street fair, was held in Yongkang Park (永康公園) and attracted crowds of 20,000 people each of the two weekends it ran, said Meline Yu (余柔靜), a media contact for this year's fest. (This figure could not be independently confirmed.) The musical leg of the second weekend, however, was cancelled after people living near the park complained about the noise.
Notable musical acts include Black Reign, the Taipei-based Jamaican sound system formerly known as the O-Brothaz, festive indie-rock band 88 Balaz (88顆芭樂籽), Hakka rapper Kou Chou-ching (拷秋勤), indie-electronica acts Space Cake (太空蛋糕) and Digihai and DJ Zephec, who spins industrial-flavored micro house.
For updated information on performances, venues and markets, see the blog: freakoutbeast.blogspot.com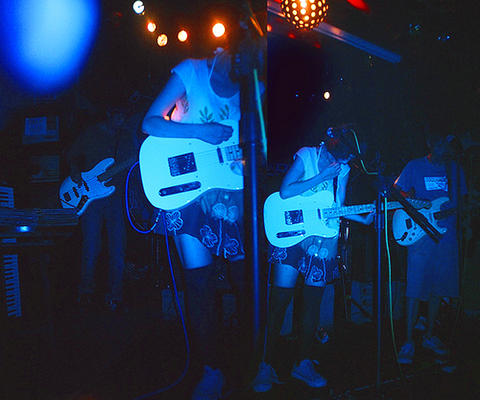 Freckle.
PHOTO COURTESY OF FREAK OUT BEAST
ILLUSTRATION: TAIPEI TIMES
Publication Notes
Band schedule
Folk and noise stage (民謠噪音舞台)
2pm Chet Liu (劉鎮)
2:30pm Guirum (吉朗)
3:30pm Kuo Wen-fang (郭紋汎)
4:30pm Jame`s EY (沾姆是咿歪)
5:30pm Kitano Katsujiro (北野葛次郎) and Rex Onizuha (鬼塚雷克斯)
6:30pm Groupie Phone (骨肉皮阿峰) and Qiu Ah-ze (邱阿澤)
7:30pm Wang Yu-Chun (王榆鈞) and Yang Shu-fan (楊舒帆)
Breakdance stage (涼亭舞池)
3pm Zephec (dubstep)
4pm Black Reign (reggae, dancehall)
5pm Kou Chou-ching (拷秋勤, hip-hop)
6pm Funkstar (drum 'n' bass)
7pm Fruit Dragon (水果龍, new rave,
breakbeat)
8pm Zoltan (house, techno, breakbeat)
Groove rock stage (凹槽搖滾舞台)
2pm The Shine and Shine and Shine and Shine
3pm Black Summer Days (黑色夏日)
4pm Emily (艾蜜莉)
5pm Touming Magazine (透明雜誌)
6pm Go Chic
7pm Funk Brother's Plan (放克兄弟計畫)
8pm Taimaica Soundsystem (台買加大樂隊)
Underworld (地下社會)
3pm Freckle (雀斑)
4pm The Touch
5pm 88 Balaz (88顆芭樂籽)
7pm Space Cake (太空蛋糕)
8pm Digihai
SOURCE: RON BROWNLOW
Publication Notes
Festival notes
What: Freak Out Beast (吵年獸)
Concerts: Will be held in Taipei's Shida park (師大公園), at Underworld (地下社會), B1, 45 Shida Rd, Taipei City (台北市師大路45號B1) tel: (02) 2369-0103 and near the Tai Power Building MRT Station, exit No. 3 (台電大樓捷運站3號出口)
Exhibitions: Mi Tsang Cafe (米倉音像食館), B1, 25, Ln 44, Taishun St, Taipei City (台北市泰順街44巷25樓) tel: (02) 3365-2285; Salt Peanuts, 23, Ln 60, Taishun St, Taipei City (台北市泰順街60巷23號) tel: (02) 2368 1019; Zabu (雜舖居酒食堂), 9-4 Pucheng St, Taipei City (台北市浦城街 9-4號) tel: (02) 2369-6686.
Creative market: Will be held in Shida park and surrounding sidewalks along Shida Road (師大路)
Admission: NT$100 for shows at Underworld. Other events are free
On the Net: freakoutbeast.blogspot.com
Comments will be moderated. Keep comments relevant to the article. Remarks containing abusive and obscene language, personal attacks of any kind or promotion will be removed and the user banned. Final decision will be at the discretion of the Taipei Times.