[POP STOP]
The Year of the Rat is just around the corner and at least one Taiwanese celebrity is acting like a rodent, while the behavior of other celebrities suggests it will be a year of mother issues.
Faltering actor and Fahrenheit singer Julian Yang (楊士萱) seems to have moved from boy band to boy-letch. Gossip rags were in a tizzy over allegations that Yang, Taiwan's latest Lothario, attacked a female university student in an elevator a few weeks ago.
The crooner allegedly groped the student's silk stockings and then used his cellphone to photograph her knickers. As the woman cried for help, Yang ran away - though not before dropping a wallet containing his ID, according to reports.
Julian Yang learns the importance of keeping hands and cellphones to himself.
PHOTO: TAIPEI TIMES
Unlike "I'm-quite-good-at-stalking" Gary Tsao (曹格), who publicly aired certain Taiwanese celebs' dirty laundry, Yang doesn't seem to understand the difference between looking and touching.
After the story broke last weekend, Yang spent three days denying that he had anything to do with the attack ... until, that is, indisputable evidence was presented to him. A Sunday press conference saw Yang boo-hoo through a litany of excuses for his foul behavior - including his faltering acting and singing careers. But the real culprit for Yang's "depression," it turns out, is his mother, who is apparently disapproves of his acting career.
Pop Stop finds it interesting how the predator so quickly becomes the victim.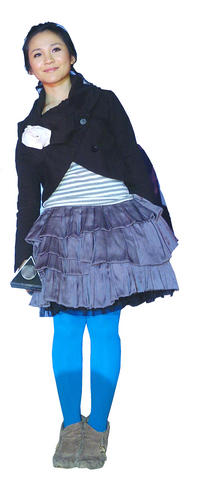 Rachel Liang forgave her late mother's shortcomings and even dedicated a song to her.
PHOTO: TAIPEI TIMES
Male model Jerry Huang (黃志瑋), meanwhile, says his mom should keep her mouth shut. He was responding to his mother Ah Xiu's (阿秀) comments - reported in the Liberty Times (the Taipei Times' sister newspaper) and other media - that Huang and sometime-diva Terri Kwan (關穎) are still an item.
"We go out for dinner all the time," Huang's mother said. But Taiwan's gossip hounds, the adept reporters that they are, dug deeper and asked Ah Xiu to cite the last time the three of them broke bread.
"I don't remember," she said. "Ever since I bumped my head I can't seem to remember anything." Indeed.
But some do stand by their mothers. One Million Star (超級星光大道) finalist Rachel Liang (梁文音) dedicated her final number to her mom, who died of liver cancer when the starlet was 14 years old. Pop Stop respects Liang's willingness to give mothers a shout-out when other stars are coming out against theirs.
But hang on, all isn't love and roses; more like guns and roses.
Liang told Next that when she was in kindergarten her mother would get drunk and beat her. Apple highlighted all the worst aspects of Liang's relationship with her mother, which supposedly included a drunken episode that resulted in the accidental death of her father in a factory fire.
Was Liang's claim of forgiveness before the show just ass-kissing behavior meant to work on the sympathies of the judges? Who knows, but if it was it didn't work. Liang came in second place - amid rumors that the whole contest was fixed by the record companies.
Pop Stop wonders if all these perceived maternal shortcomings will be used as a means to distract the media from celebrities' misbehavior in the coming year - a prospect most foul.
Comments will be moderated. Keep comments relevant to the article. Remarks containing abusive and obscene language, personal attacks of any kind or promotion will be removed and the user banned. Final decision will be at the discretion of the Taipei Times.