THE VINYL WORD
His clean-cut GQ looks and well-mannered deportment may not shout hip-hop, but once he starts spitting out rhymes, it's clear that this charming rapper is the real deal. MC Shaman (玄武), aka Elliot Tsai, first drew attention with his mellow Chinese rap song Man Man Lai (慢慢來, Take It Easy) on MySpace Music. It's a soothing song for those stressed-out about life.
Shaman brings his laptop to an interview with the Vinyl Word to present more of his recent work: Two party-rocking songs Blow Ya Mindz and Countdown to Unsound that he did with Vast (Canadian DJ, sound engineer) and BabbleOn (Canadian MC, B-boy) as well as with his group THC (Taipei Hip-hop Crew). After listening to the music as Shaman raps along in sync, I can't wait to see his next gig.
Having been in the hip-hop game for about five years, Shaman recalls that it was a Taiwanese gansta rapper he met during his one-year stay in Washington, DC who drew him into the scene. "Just hanging out with him, I picked up the ability to rap," he said. "One day in 2003, a song just popped into my head and ever since then I have had no problem writing songs."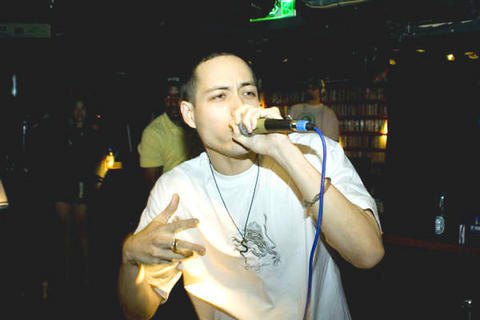 MC Shaman keeps it real, and in style too.
PHOTO COURTESY OF DAVID P. HEDLUND.
In 2003, Shaman - influenced by Tupac, Method Man, Eminem, Snoop, UGK, 50 Cent and even classical music - went to Houston, Texas, and began emceeing at parties, open mic gigs and on the radio.
"I have two kinds of songs," he says. "One is party music, but in the other kind I talk about saving the world, being humble and taking care of nature."
I don't really care much about cars, money, or bling ... when I hear songs about that stuff I start to fall asleep. My music is about freedom."
Shaman grew up in Houston and was raised by a NASA scientist father from Taiwan (also a blues/jazz fan, former actor and former mobile DJ) and an American hippie mother. This background, along with his interest in drawing, poetry, super-hero comic books, spiritual stuff and music have helped get him where he is.
MC Shaman has the ability to ease people's minds with his songs, like a medicine man. As he says, "Ultimately, I want my music to be medicine for the soul. I want to heal the world. Music has the power to make people think, to inform them, to make them feel passion, to inspire ... . Music is magic. That's why I'm the Shaman."
THC's music "is special," he says, "because it has English, French and Chinese ... with cultural influences from the US and Canada. Our music is very mixed ... but still true hip-hop."
The group is planning to release an album this year.
It seems like the advertising major knows his niche and the way to reach audiences. THC appeared at a handful of shows and festivals (Peace Fest and Basic Aid) last year, and has already garnered a dedicated following (which consists of mostly foreigners and Taiwanese girls) in and around Taipei. "We'd also like to see more Taiwanese people coming to our shows and maybe work with some other local artists in the future," he adds.
For more info about MC Shaman and THC visit myspace.com/thedragonshaman.
Upcoming gigs by THC: Feb. 16 at Elemental, a hip-hop party in Taichung and Feb. 29 at Bliss, located at 148, Xinyi Rd Sec 4, Taipei City (台北市信義路四段148號). Entry for the show at Bliss is NT$200.
Comments will be moderated. Keep comments relevant to the article. Remarks containing abusive and obscene language, personal attacks of any kind or promotion will be removed and the user banned. Final decision will be at the discretion of the Taipei Times.