[RESTAURANT REVIEW] Tripod King (鼎王麻辣鍋)
Taipei residents have been heading south for years to experience the cozy "old Sichuan" ambience and salty Dongbei (northeastern China) flavor of Tripod King's (鼎王麻辣鍋) four branches in Taichung. Seventeen years after the first Tripod opened, Taipei finally got a branch of its own in October. Was it worth the wait?
Well, the wait isn't over yet. Tripod prefers walk-in reservations, meaning the same people that didn't mind waiting an hour or more to get seats after driving all the way to Taichung are now thrilled to sign their names on a list a mere two or three hours before getting into the Taipei branch.
But once inside - and when the staff says two hours its two hours prompt, there's no need to hover around the door like everyone else seems to - it's obvious Tripod is not your average hotpot shop.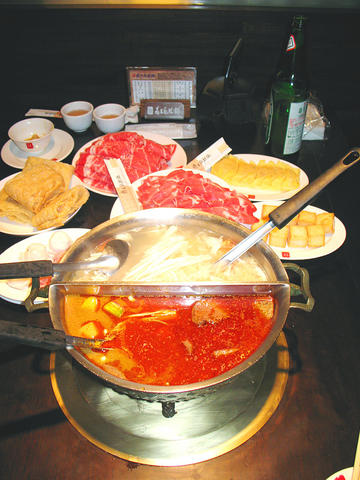 Both flavors: not very spicy and not even spicy.
PHOTO: BLAKE CARTER, TAIPEI TIMES
The waitstaff pads about in traditional silk robes and slippers, dark wood furniture glows under paper lamps and even the small iron teakettle and teacups on the table have been carefully arranged as if to say: "Look, this is what you're about to pay for."
A glance at the menu explains all the pomp: meat dishes are NT$280 to NT$290 each. Add dumplings (NT$180), handmade meatballs (NT$180 to NT$190), veggies and tofu and the price quickly jumps to around NT$600 per person.
Tripod's famous for its hotpot base: After eating, cult-like clientele tote out plastic bags of the stuff to finish at home. It comes in two flavors: spicy (麻辣鍋) and with pickled cabbage and pork (東北酸白菜鍋, or Dongbei pickled cabbage pot).
The menu says the spicy base contains 32 healthy ingredients, but it appears to be the usual stock cube and pepper oil melted in brine with some soggy chili bits muddled in the mix. The crunchy Sichuan peppercorns, star anise and dried "facing-heaven" chilies (朝天椒) that make a good hotpot and leave the mouth tingling are either missing or so finely ground they sneak past the taste buds.
The pickled cabbage base is even less spicy and thus seems more authentic - Dongbei food isn't known to pack a punch. This one might appeal to fans of summer kimchi.
It's hard to spite Tripod, though, as most other Taipei hotpot places with mala in the name don't seem to know what it means, either. Too much spice and they'd probably drive away most of their clientele.
And what Tripod lacks in Scoville heat units, it makes up for with its amicable ambience and exemplary service. The simplest "May I have more broth?" or "Where is the bathroom?" elicits a smile and a deep bow from the waitstaff.
You can't buy that for a dollar. Matter of fact, it'll cost about 1,200 of them if you bring a date.
Publication Notes
Tripod King (鼎王麻辣鍋)
Address: 89, Guangfu N Rd, Taipei City (台北市光復北路89號)
Telephone: (02) 2742-2116
Open: 11:00am to 2:30am
Average meal: NT$1,200 for two
Details: Chinese and English menu; credit cards accepted
Comments will be moderated. Keep comments relevant to the article. Remarks containing abusive and obscene language, personal attacks of any kind or promotion will be removed and the user banned. Final decision will be at the discretion of the Taipei Times.