[ART JOURNAL] Concrete and steal made sensual
As Brazilian architect Oscar Neimeyer turns 100, his passion for work, art and life, as well as his hatred of US President George W. Bush, are as strong as ever
Retirement is not on the agenda of Brazilian architect Oscar Niemeyer even as he turns 100.
"He does not have a spare minute. He is booked up 'til the end of the year, with a lot of work, tributes and other commitments," Vera, 61, his wife and secretary, said.
It is even a surprise that he has taken a day off to celebrate his birthday with a small group of friends.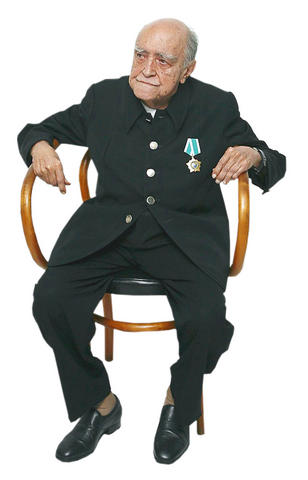 Brazilian architect Oscar Niemeyer in his studio in Rio de Janeiro, Brazil.
PHOTO: EPA
"Work keeps one young, and growing old is shit," Niemeyer himself said in an earlier interview, describing the secret of his longevity in his characteristically drastic ways.
Known as the Lord of Curves, he remains full of plans and thirsts for action after 70 working years and more than 600 completed projects.
"This is the most important work in my life," he said recently, as his project for a large cultural center in the northern Spanish town of Aviles was approved.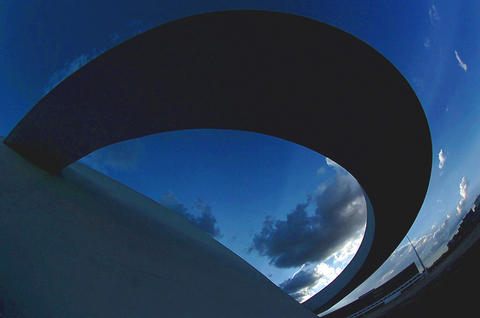 The Planalto Place, top left, and The National Museum, top right. Both buildings are located in Brasilia, Brazil and were designed by architect Oscar Niemeyer, who celebrated his 100th birthday this week.
PHOTO: EPA
He is soon expected to renovate the Planalto palace, the seat of the Brazilian government in Brasilia, to plan a cultural center in Kazakhstan and to build the new government center of the Brazilian state of Minas Gerais.
"I have an awful lot of work. Angola wants to charge me with planning its new capital, set to be four times as big as Brasilia. That should take 16 years, but we may make it more quickly," he said.
In contrast to his sharp mind and memory, the diminutive Niemeyer's body is growing ever more fragile. But he still drives every day through Rio de Janeiro, from his home in Ipanema to his workshop in an Art Deco building in Copacabana.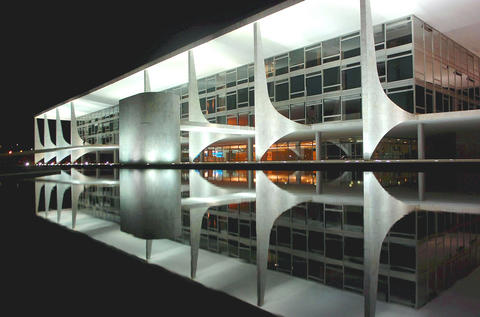 PHOTO: EPA
At his office, with a stunning view of the Sugarloaf and the crescent-shaped beach, the architect works 12 hours a day, seven days a week, but sometimes also invites friends over for a glass of wine.
Recently labeled "the pope of architecture" by Brazilian Magazine Istoe, Niemeyer talks about his work only reluctantly.
Life, friends and "above all this unjust world, which we all should change," are more important than buildings, says this convinced communist and self-proclaimed "hater of George W. Bush." Niemeyer continues to receive cigars from Cuban leader Fidel Castro.
Niemeyer was born in Rio to a shopkeeper of German origin with five other children. As a small child, he "drew" in the air with his fingers. "Then, when I got my first pencil, I never again stopped drawing," he recalls.
Curves, "like the curves of a beloved woman," are the basis of Niemeyer's work. His curves, however, are not drawn with a compass but rather sketched "freely and sensually."
He studied architecture, and began a meteoric rise through cooperation with his great role models, Lucio Costa and Le Corbusier. After his "debut" with the old Rio Health Ministry in 1943, Niemeyer designed the UN Headquarters in New York in 1947. In the late 1950s, he designed Brazil's drawing-board capital, Brasilia.
During the military dictatorship from 1964 to 1985, Niemeyer was persecuted and forbidden to work. He went into exile and continued to build enthusiastically: in Israel and Algeria, in France and the reconstruction of Nicaraguan capital Managua, ravaged first by an earthquake and then civil war.
Brasilia remained his masterpiece.
In the plateau, far from civilization, Niemeyer realized his "tropical fantasy," as Gropius put it. The renowned architect Henock de Oliveira said Niemeyer turned "concrete into pure poetry."
"Architecture should not just be functional or castrated by dogmatism. It should also be beautiful and creative and stimulate fantasy," Niemeyer once said.
This attitude did not just attract admirers. Critics complained that Niemeyer's work did not satisfy to people's needs. He was accused of building in a soulless, "communist" style.
These critics find arguments in Brasilia, where palaces built mostly of concrete seem to float in the air. The "city without street corners" barely has spots to relax. Niemeyer counters that capitalists alienated society and destroyed the Brasilia dream.
"There is no ideal architecture that is accepted by all. That would be too boring," he said.
Niemeyer has become a living symbol of Brazil, alongside like football idol Pele and composer Tom Jobim.
"Niemeyer has never let himself be dazzled by luxury, power and fame. He continues to rebel against injustice," said Brazilian President Luiz Inacio Lula da Silva when he recently declared 2008 the Year of Niemeyer.
"I do not give a damn about the client," the architect said years ago.
In spite of that, he can "hardly count" orders and prizes, and leaves that to his grandson Cadu.
Other members of the large family also work with the patriarch. Niemeyer has one daughter, Ana Maria, five grandchildren, 13 great-grandchildren and five great-great-grandchildren. Only granddaughter Ana Elisa has become an architect.
"I am always being compared with Grandad," she complains.
Niemeyer told a newspaper that his 100th birthday was meaningless, and that he does not feel older than 60.
His recipe to stay young: "Modesty and tolerance," Niemeyer says.
Comments will be moderated. Keep comments relevant to the article. Remarks containing abusive and obscene language, personal attacks of any kind or promotion will be removed and the user banned. Final decision will be at the discretion of the Taipei Times.