RESTAURANTS: Carnegie's
Because of Carnegie's long-standing reputation as a dining and nightclub fixture among Western expats, it's easy to become cliche when reviewing it. Even those who have little experience of Taipei's nightlife know the place for its 30-plus crowd. What people seem to be less aware of, though, is Carnegie's brunch. It's a feature that deserves applause for its relaxing ambience, friendly prices and, of course, good food.
We, the reviewer and three cycling mates, reached the destination famished after a Sunday morning ride. We seated ourselves at an outdoor table on Anhe road, where there's little traffic. The weather was perfect: a gentle breeze and wintry sunshine. For a moment, we felt we had left pollution-plagued Taipei.
Though the brunch menu is limited, it comes from a reputed kitchen that earned a favorable review in the Taipei Times three years ago. One companion warned us against the big version of the traditional English breakfast (NT$480), simply because the proportions are too generous, even for the ravenous. So we went for the small version of the English plate (NT$320), eggs Benedict (NT$250) and the Continental (NT$260), all of which were larger than similar options served at other establishments.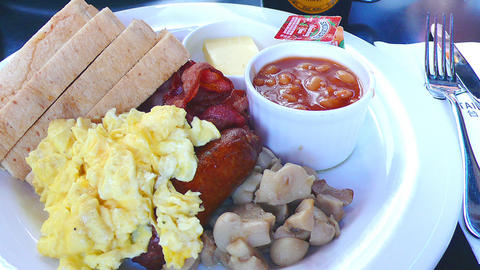 Brunch at Carnegie's is a delectable way to begin a weekend day.
PHOTO: HO YI, TAIPEI TIMES
The English breakfast consists of bacon, eggs, sausage, fried mushrooms, baked beans and toast and comes with a glass of orange juice and coffee or tea with refills. It was quite satisfying after a sweat-inducing workout. Departing from the traditional, Carnegie's eggs Benedict included hearty portions of smoked salmon, spinach and fried potatoes.
If you are more the do-it-yourself type, a variety of fillings are available to make your own omelet. Fruit salad with yogurt and honey are available for the health-conscious while pancakes with apple, raisin, banana and/or bacon topped with brown sugar and syrup sounds seductive.
The blues/rock tunes played on the day of our visit suited the lackadaisical Sunday atmosphere. The shadowed indoor seats, however, seemed much too somber for a brunch crowd.
Though the menu could be expanded with lighter options, the perennial nightspot may well make it into the top 10 list of the city's best brunch places.
Publication Notes
Carnegie's
Address: 100, Anhe Rd Sec 2, Taipei City
(台北市安和路二段100號)
Telephone: (02) 2325-4433
Open: Saturday and Sunday from 10am to 5pm
Average meal: NT$300
Details: Menu in Chinese and English; Credit cards accepted
Comments will be moderated. Keep comments relevant to the article. Remarks containing abusive and obscene language, personal attacks of any kind or promotion will be removed and the user banned. Final decision will be at the discretion of the Taipei Times.