PLANET POP
The long arm of the law caught up with several celebrities the past week, though some got off more lightly than others.
Troubled singer Britney Spears and ex-husband Kevin Federline fought another round in the battle for custody of their two children on Friday with Federline's attorney saying a ruling was expected early next week. "We don't know what the custody arrangement will be until we get the court's order on Monday," Federline's attorney, Mark Vincent Kaplan, said after a more than three-hour hearing before Superior Court Commissioner Scott Gordon, who will make the ruling.
A judge on Thursday dismissed a hit-and-run case against Spears after her lawyer revealed an out-of-court settlement was reached with the person whose car she struck in a parking lot. But the 25-year-old performer is still on the hook for a misdemeanor count of driving without a valid license in connection with the Aug. 6 fender bender in Los Angeles, said City Attorney spokesman Frank Mateljan.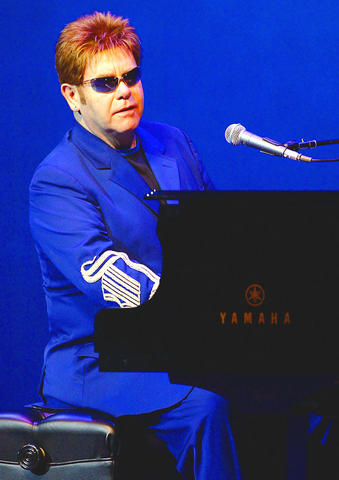 Prosecutors said a photo belonging to Elton John is not child pornography.
PHOTO: AP
The day after Spears' dismissal, Orlando Bloom also escaped hit-and-run charges stemming from a car crash during which the Pirates of the Caribbean star was chased by paparazzi. "There was insufficient evidence he was trying to get away," said Jane Robison, a spokeswoman for the Los Angeles Country District Attorney.
Meanwhile, singer Pete Doherty escaped jail on Friday despite admitting a string of drug and driving offences. The 28-year-old musician was handed a four-month jail term, suspended for two years, at West London Magistrates Court after pleading guilty to driving illegally while in possession of crack cocaine, heroin, ketamine and cannabis.
Also in England, a photograph owned by Elton John that was seized by police at a gallery as part of a child pornography probe is not an indecent image, the Crown Prosecution Service said on Friday. The photo, entitled Klara And Edda Belly-Dancing, had been removed from an exhibition at the Baltic gallery in Gateshead last month after management had sought advice before it was put on public display.

Singing monk Singa Rinpoche will release a new CD.
PHOTO: TAIPEI TIMES
Less lucky was Grammy Award-winning rapper T.I., who walked out of a federal court on US$3 million bond on Friday two weeks after he was arrested in a weapons case that could see him jailed for 30 years. Wearing a pale gray suit, T.I. smiled and gave victory signs to around 20 cheering fans as he emerged from the court in downtown Atlanta and in his first public comments since his arrest thanked supporters.
At home, a Tibetan lama famous for singing rap will release his second CD to spread Buddhism through hip-hop songs, Taiwanese music company Forward Music said on Friday.
"We have begun preparations for Singa Rinpoche's (盛噶仁波切) second CD. Singa and us will cooperate in writing the lyrics and music. Like his first CD, the theme of his second CD will be compassion and love," Cheng Chao-jen, spokesman for the record label, said.
Cheng did not say when Singa's second CD will be launched, but said preparation for a CD usually takes eight months.
Singa, 30, lives in Qinghai Province, in northwest China. He has many disciples and fans in Taiwan where he is known as the "handsome lama."
When Singa visited Taiwan in the spring of 2006 to promote his autobiography, This is Me, a Living Buddha, he stirred up controversy because he wore jeans instead of the lama's red robe.
His book added to the controversy by talking about cars, fashion and girls, causing the Government Information Office to ban him from entering Taiwan for one year.
In June, Singa visited Taiwan at the invitation of Forward Music to promote his CD Wish You Happy.
His songs, which combine Buddhist chants with rap and hip-hop, are popular among young Taiwanese.
"In the three months after its release, when Singa Rinpoche was banned from entering Taiwan, we sold 30,000 copies of his CD. In the two weeks he visited Taiwan in June, we sold another 10,000 CDs. This is smashing success for a new singer because for a normal singer, a new CD sells only about 10,000 copies in the first three months after its release," Cheng said.
Comments will be moderated. Keep comments relevant to the article. Remarks containing abusive and obscene language, personal attacks of any kind or promotion will be removed and the user banned. Final decision will be at the discretion of the Taipei Times.