Messing about with 'The Bard'
When the star-crossed lovers of Shakespeare's A Midsummer Night's Dream are named Hang (Lysander), Byuk (Hermia), Ik (Helena), Ru (Demerits), Kabi (Titania) and Dot (Oberon), it's clear that this well-worn favorite has morphed into something else all together.
Though South Korea's Yohangza Theater Company has comprehensively reworked the original to create something almost unrecognizable, its production retains the original's impish spirit, which made it the toast of this year's Edinburgh Festival Fringe and one of the few foreign productions of Shakespeare to make it into the hallowed halls of London's Barbican Theater.
For all its success, it's hard to understand what relationship Yohangza's production has to do with Shakespeare's play at all, other than its title and some basic plot elements. Homing in on universal themes of lovers at cross-purposes and mischievous spirits let loose, Jung Ung-yang, the director and founder of the company, has condensed the comedy so that it involves just the six main characters along with comic roles of Puck and Bottom. The story is driven by physical theater and percussion music, which allows the production to cross language boundaries easily; the poetry of language is firmly relegated to second place. This is hardly a new development as Shakespeare has been dragooned into all kinds of unlikely mediums. Yohangza's version is yet another instance of the ubiquitous fusion of East and West.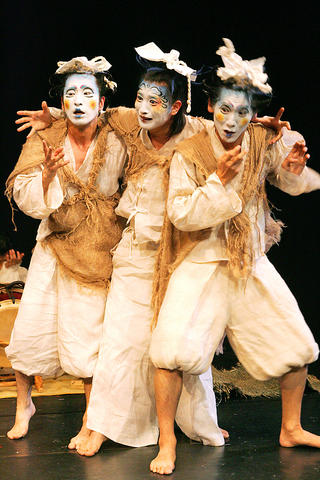 Yohangza Theater Company's new production is enough to make Shakespeare turn in his grave.
PHOTO: COURTESY OF ARTS FESTIVAL
Yohangza's A Midsummer Night's Dream is lively, with plenty of folk elements that are well suited to the "pastoral" aspect of the original material, and the energy and comic mastery of the performers carry the show.
If you're looking for new insights into this much-loved play, you will be sadly disappointed. For that matter, A Midsummer Night's Dream also fails to open any windows on Korean culture, seeing as this play settles for making a few superficial twists to a well-known story.
As part of the 7th Taipei Arts Festival, A Midsummer Night's Dream fulfills its function of providing a new perspective on the world, but, above all else, it provides a warning as to the dangers of half-baked fusions, a warning that Taiwan's artistic community could only benefit from.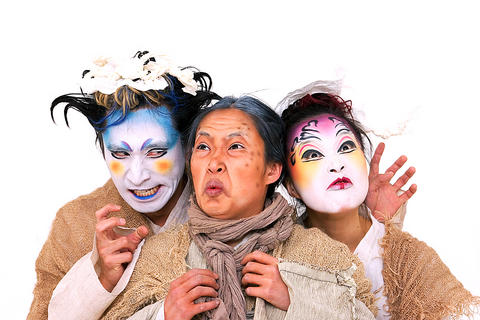 Publication Notes
Performance notes:
What: A Midsummer Night's Dream
When: Today and tomorrow, 7:30pm
Where: Zhongshan Hall (中山堂), 98 Yenping S Rd, Taipei ( 台北市延平南路98號)
Tickets: NT$400 to NT$1,200, available through NTCH ticketing
Details: English and Chinese subtitles
Comments will be moderated. Keep comments relevant to the article. Remarks containing abusive and obscene language, personal attacks of any kind or promotion will be removed and the user banned. Final decision will be at the discretion of the Taipei Times.