Restaurants: Wanda (丸大食堂)
The area south of National Taiwan Normal University along Shida Road (師大路) is full of restaurants, but surprisingly few of these serve Japanese food. So it came as a nice surprise to find Wanda, a cozy, no-frills establishment located in an alley between Longquan Street (龍泉街) and Taishun Street (泰順街), across the street from Cafe Bastille and the Notting Hill boutique.
What you get at Wanda is a bit of a mixed bag. Some of the dishes, especially the set meals, are good. Some, namely Wanda's sushi rolls, can be pretty bad. Service is excellent when there are few customers, but average when the place is crowded, especially during dinner on a weekend.
First for the good. Wanda is the place to go if you find yourself in the Shida night market area and want sashimi. The portions are generous, the prices and quality reasonable, and there really isn't anywhere else in the general vicinity to go. The menu lists seven basic kinds of a la carte sashimi, including octopus (花枝生魚片, NT$200), dolphinfish (旗魚生魚片, NT$260) and tuna (鮪魚生魚片, NT$280). A combination sashimi platter (綜合生魚片) is NT$280. The best deal, at NT$160, is the sashimi set meal (綜合刺身), which comes with a bowl of miso soup and seven pieces of assorted sashimi, including shrimp, tuna and salmon, served on a bed of rice and garnished with seaweed, ginger and cucumber. When I sat down for lunch this week, the waiter was attentive enough to tell me this was a better deal than the sashimi-only platter I was planning on ordering.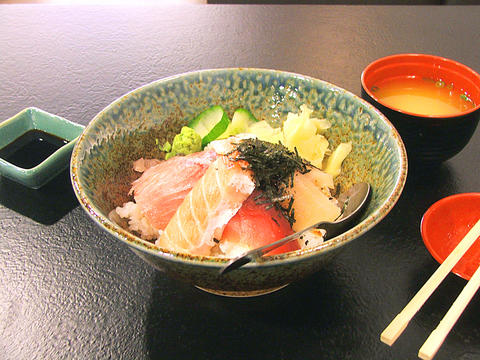 Wanda serves generous portions of sashimi at reasonable prices.
PHOTO:RON BROWNLW, TAIPEI TIMES
Wanda's sashimi isn't the best I've had, but the portions are generous. The sushi, however, is another matter. Last Friday night I ordered the NT$150 assorted sushi (綜合壽司), a platter of six California rolls. The result was disappointing. Two of the rolls were wrapped in bean curd, which I don't like, and the rest were held together by saran wrap and fell apart when they were removed. Aside from this major faux pas, the rolls contained little in the way of fish. It also took some convincing before the waiter handed me mine as the restaurant was packed, and he thought my sushi was for the party seated at the next table.
Most of Wanda's customers seem to order set meals. Aside from the sashimi, two of the more popular options are the NT$200 teriyaki chicken leg (照燒雞腿定食) and NT$250 fried mackerel (炸鯖魚定食), both of which come with miso soup and two side dishes.
Wanda lacks the splash to feel like a big night out, but you could happily eat there once a week, if you order wisely.
Publication Notes
Wanda (丸大食堂)
Address: 32, Ln 40, Taishun St, Taipei (台北市泰順街40巷32號)
Telephone: (02) 2369-5003
Open: Daily from 11am to 2:30pm and 5pm to 10pm
Average meal: NT$160 to NT$400
Details: Chinese menu; credit cards not accepted
Comments will be moderated. Keep comments relevant to the article. Remarks containing abusive and obscene language, personal attacks of any kind or promotion will be removed and the user banned. Final decision will be at the discretion of the Taipei Times.