'Peaceful Warrior' puts matter over mind
Starting with the title and extending everywhere else, Peaceful Warrior is blatantly ludicrous. A didactic enlightenment parable couched as a heroic sports flick, the film stars Scott Mechlowicz as Millman, an arrogant gymnast in Berkeley, California, who is learning New Age life lessons from a pseudo-Buddhist gas station guru played by Nick Nolte. Mindlessly espousing principles of "no mind" and evidently capable of teleportation, this gravel-voiced fortune cookie suggests the missing link between Grizzly Adams and Yoda.
Based on a best-selling book by Dan Millman, this rich slice of spiritualist cheese has been served up on screen by the director Victor Salva, best known to audiences for his Jeepers Creepers horror movies, and perhaps best known to authorities in California as a man who served time in prison in the 1980s for molesting a 12-year-old boy who had appeared in his movies.
Whether or not one thinks of this while observing the intense eroticism of the film and its gawking display of sweating, half-nude teenagers, knowing about it insinuates a queasy frisson to the themes of mentorship and initiation, with their appeal for trust and relinquishing control.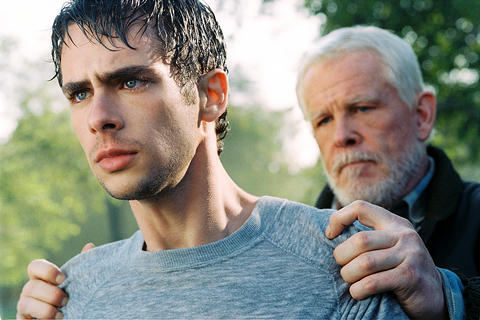 Scott Mechlowicz serves up the cheese in Peaceful Warrior.
PHOTO: COURTESY OF LIONSGATE
But there I go letting ego cloud my mind, when the seminal fact of Peaceful Warrior is that for all its manifest corniness, this is an achingly sincere and supremely unembarrassed effort to transform an audience for the good. Its heart is very much in the right place - a place that movies all but ignore - but its mind is a mush.
Publication Notes
PEACEFUL WARRIOR
DIRECTED BY: Victor Salva
STARRING:
Nick Nolte (Socrates), Scott Mechlowicz (Dan Millman),
Amy Smart (Joy), Tim DeKay (Coach Garrick),
Paul Wesley (Trevor), Ashton Holmes (Tommy)
RUNNING TIME: 120 MINUTES
TAIWAN RELEASE: TODAY
Comments will be moderated. Keep comments relevant to the article. Remarks containing abusive and obscene language, personal attacks of any kind or promotion will be removed and the user banned. Final decision will be at the discretion of the Taipei Times.