Reel News
Ang Lee's (李安) Lust, Caution cannot qualify for the major categories at the Hong Kong Film Awards because not enough Hong Kong residents worked on it.
The news comes after Oscar organizers rejected the spy thriller as Taiwan's entry for best foreign film because not enough Taiwanese people took part in making it.
The much-hyped Lust, Caution is about a sexually charged relationship between an undercover activist (Tang Wei, 湯唯) and a Japanese-allied intelligence chief (Tony Leung, 梁朝偉) in World War II-era Shanghai.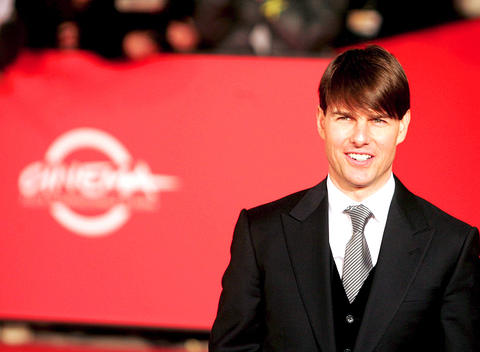 Tom Cruise is going to war.
PHOTO: EPS
The Hong Kong Film Awards event is open to movies that meet at least two of these three requirements: it has a Hong Kong director, a Hong Kong film company and at least six Hong Kong residents among the key creative talent.
Although Lust, Caution doesn't make the cut for major categories, it still eligible for the best Asian film prize at the Hong Kong Film Awards, which is open to non-Hong Kong movies.
At the Rome Film Fest, which finishes on Sunday, US director Robert Redford unveiled his anti-war polemic Lions for Lambs, a film which counterpoints war, politics and the media in three dovetailing stories.
Actress Meryl Streep stars in Lions for Lambs, an anti-war film by Robert Redford.
PHOTO:AP
The film, starring Tom Cruise, Meryl Streep and Redford, is "about the effects and the consequences of the last several years in my country," the 71-year-old director said.
Cruise praised Redford's ability to "construct and develop important ideas in a way that's compelling, entertaining and intelligent."
Lions for Lambs is among a raft of recent films on the US wars in Iraq and Afghanistan including Gavin Hood's Rendition, Brian De Palma's Redacted and In the Valley of Elah by Paul Haggis.
Another of the 14 films premiering at the festival is Noise, US director Henry Bean's witty, often laugh-out-loud funny second instalment in a trilogy exploring religious, political and artistic fanaticism.
It casts Tim Robbins as David, an upper-class family man driven insane by New York's loud sounds - grinding garbage trucks, horns honking, back-up beepers and worst of all, car alarms squealing at all hours.
He becomes so obsessed with noise that he turns into a black-clad vigilante, waging his own crusade on those damn alarms shattering his quiet.
"Going out to break into a car whose alarm had been going off for hours, getting arrested, going to jail, appearing before a judge, all that happened to me, I did that," said Bean, who lives in New York.
"When I got arrested," he continued, "I had already been doing it a lot. I had been doing it for years. But when I spent the night in jail and it cost me several thousand US dollars, I began to think I wasn't getting anywhere by pursuing it in this way.
"I confess that a couple of times I could not control myself afterwards and I went out and did it again and didn't get arrested those times ... . In fact you'll never find a policeman who will tell you that these things [car alarms] do any good whatsoever."
In Texas, hundreds of Christian filmmakers gathered to study entertainment pioneer Walt Disney and how they believe his corporate heirs at the Walt Disney Co went astray from his family-friendly legacy.
The Christian Filmmakers Academy, which trains aspiring filmmakers and promotes the making of films with biblical values, contends that the Walt Disney Co has become "an engine of cultural decline after Walt's death" and exercises an alarmingly vast global influence.
The two-day analysis of Disney, the man and the corporation, is part of the San Antonio Independent Christian Film Festival and Third Annual Christian Filmmakers Academy.
Despite their admiration of Walt Disney, the focus on Disney, the company, reflects growing discomfort among some evangelical Christians with the content and reach of the company's entertainment products.
Disney's relationship with the US Christian community has been strained over the past decade over issues such as Disney policies considered friendly to gays, although Christian groups in 2005 halted a nine-year boycott of the entertainment company.
Comments will be moderated. Keep comments relevant to the article. Remarks containing abusive and obscene language, personal attacks of any kind or promotion will be removed and the user banned. Final decision will be at the discretion of the Taipei Times.