'Chuck' creates a new genre: unfunny comedy
Not even grapefruit sex and Jessica Alba can make this immature, poorly executed 'comedy' entertaining
I've occasionally heard Dane Cook, one of the stars of Good Luck Chuck, described as a comedian. I find this confusing, since my understanding is that comedians are people who say and do things that are funny. Perhaps Cook is some new kind of conceptual satirist whose shtick is to behave in the manner of a person attempting to be funny without actually being, you know, funny. Or maybe he answered an ad in the back of a magazine and sent away for a mail-order license to practice comedy.
Whether Jessica Alba, his co-star, acquired her acting credentials by similar means is an issue that will be addressed if she ever tries to act. She does expend a little effort in Good Luck Chuck, pretending to be goofy and clumsy. But the main audience for this dim little sex comedy has no particular interest in seeing Alba act. They want to see her in her underwear and also to confront one of the central cultural questions of our time: Will she take her top off?
No spoilers here! In the meantime plenty of less famous women do take their tops off, which will make Good Luck Chuck a must-see for young men with a subscription to Maxim but no access to the Internet. The intended viewership seems to consist of guys who fantasize about sleeping with Alba, which may represent a reasonably large share of the population. The actual paying audience, however, will more likely be those poor, deluded souls - they've highlighted all the relevant passages of that notorious pickup manual The Game - who think they might really have a shot.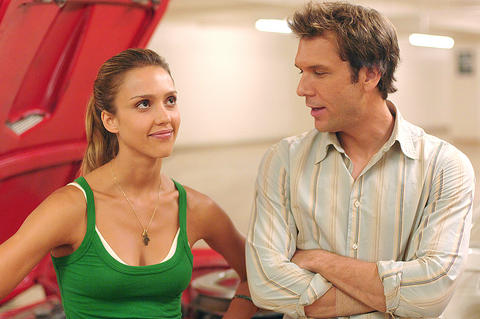 Jessica Alba, left, and Dane Cook try so hard to be funny in Good luck Chuck, but don't quite pull it off.
PHOTO:COURTESY OF WARNER BROS
The makers of Good Luck Chuck (it was directed by Mark Helfrich from a script by Josh Stolberg) try for the blend of filth and sentimentality that has made movies like The Wedding Crashers and the recent productions of the Judd Apatow atelier such big hits. What they end up proving (by negative example) is that even lowbrow comedy requires skill and intelligence. Instead they offer breasts, penis jokes and a cavalcade of wildly unoriginal ideas.
Cook's character has a doofus friend (Dan Fogler, in case Balls of Fury didn't satisfy your need to be reminded of his existence). Alba's character is crazy about penguins. Her brother (Lonny Ross) smokes a lot of pot. Apparently the very notion of fat women having sex is screamingly hilarious, though not as funny as the image of a three-breasted woman or a chubby man having sex with a grapefruit. (Typing that phrase turns out to be kind of amusing, but trust me, you don't need to see it.)
What passes for cleverness is the movie's central conceit: Chuck (that would be Cook) suffers under a curse that causes every woman he goes to bed with to fall in love with the next guy who asks her out. When the local ladies find out about this, Chuck gets a lot of action, but then - after a long, split-screen montage of his priapic exertions - he starts to feel empty and used. Me too. But if the logic of Good Luck Chuck holds, the next movie I see should be a masterpiece.
Publication Notes
Film Notes:
GOOD LUCK CHUCK
DIRECTED BY: Mark Helfrich
STARRING:
Dane Cook (Charlie), Jessica Alba
(Cam), Dan Fogler (Stu), Ellia
English (Reba), Sasha Pieterse
(Goth Girl), Lonny Ross (Joe),
Chelan Simmons (Carol)
RUNNING TIME: 96 MINUTES
TAIWAN RELEASE: TODAY
Comments will be moderated. Keep comments relevant to the article. Remarks containing abusive and obscene language, personal attacks of any kind or promotion will be removed and the user banned. Final decision will be at the discretion of the Taipei Times.