The way we were, way back in June of 1968
'Grand Hotel' meets 'Towering Inferno' in Emilio Estevez's ambitious drama
With Bobby, Emilio Estevez, writer and director (as well as one of a huge ensemble of actors), sets himself a large and honorable task. It is important to appreciate this in spite of his movie's evident shortcomings.
Intentions do count for something, and Estevez's seem to me entirely admirable. He tries, by means of the familiar technique of weaving together story lines connected only by coincidences of time and place, to produce a feeling of collective life. Beyond that, he tries to link the intimate stories of nearly two dozen characters to a large and consequential public event - the assassination of Robert F. Kennedy - and to capture the heady combination of anxiety, anger, hope and idealism that supposedly characterized the US in 1968.
All of the action in Bobby takes place at the Ambassador Hotel in Los Angeles on June 4, 1968, the day Kennedy, a late entry into the presidential race, won California's Democratic primary. After midnight, as Kennedy made his way from a ballroom through the hotel's kitchen, he was fatally shot, a calamity that casts its shadow backward over the more mundane doings of the day. In every scene of Estevez's film, portent hangs heavy in the air.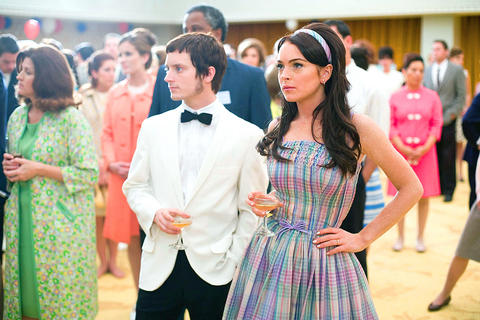 Despite inspired acting from the likes of Lindsay Lohan and Elijah Wood,'Bobby' ends up as less than the sum of its subplots.
PHOTO: COURTESY OF WARNER BROTHERS
The candidate himself is a tangential figure, present mainly through archival news clips and audio recordings, in which he talks, with a quiet eloquence that sounds almost outlandish to present-day ears, about the problems of poverty, prejudice, pollution and war. His assassin also barely figures in the story. Instead Bobby uses both Kennedy's candidacy and his murder as a kind of prism, through which the aspirations and confusions of a cross section of Americans might be filtered.
Not all their concerns are political. Yes, the Mexican-American kitchen workers (Freddy Rodriguez and Jacob Vargas) argue about social justice with the wise black cook (Laurence Fishburne) and trade scowls with their bigoted boss (Christian Slater). And a young woman (Lindsay Lohan) prepares to marry a young man (Elijah Wood) to keep him out of Vietnam, even though she doesn't know him very well. But at least as much attention is paid to the vague discontent experienced by a middle-aged couple (Martin Sheen and Helen Hunt), to the mutterings of the hotel's retired doorman (Anthony Hopkins), and to the adventures of a pair of young campaign workers (Brian Geraghty and Shia LaBeouf), who skip out on their canvassing duties to drop acid for the first time.
There's much more. There's Demi Moore, playing a boozy chantoozy with the kind of manic gusto you expect from drag performers. (She behaves like a cast member in the Wigstock road-show production of A Woman Under the Influence: The Musical.) Estevez self-effacingly takes the role of her husband, who minds the lap dog and wears an ascot, sure signs of emasculation. Meanwhile the hotel manager (William Macy), married to one of the hairdressers (Sharon Stone), carries on an affair with a young switchboard operator (Heather Graham). A black Kennedy staff member (Nick Cannon) embodies the aspirations of his race.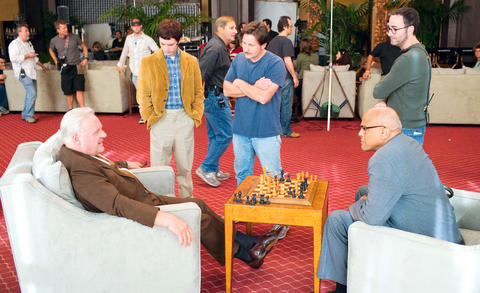 And so on. As if to make sure that we understand this movie's pedigree, Estevez throws in a clumsy reference to Grand Hotel. He also nods vigorously in the direction of Robert Altman, stitching his disparate narrative threads together with floating cameras, long, twisty tracking shots and snappy cuts. These techniques give Bobby a degree of fluidity and momentum, but the multiple story lines coalesce in a manner more reminiscent of The Towering Inferno - or an episode of Fantasy Island - than Nashville. Each story rises toward an epiphany that is quickly overwhelmed by the gunshots in the kitchen.
The actors seem more like very special guest stars than like real, vintage 1968 Americans, and their period-appropriate get-ups - the narrow lapels and skinny ties, the sheath dresses and piled-up hairdos - are more distracting than convincing. Some of the stories feel too obviously melodramatic, while others are vague to the point of inscrutability. In the Vietnam- and drug-related plots, the point is hammered home too hard, while other narratives wind toward no discernible point at all.
Nonetheless the ambition behind Bobby is large and serious. Along with many other Americans who grew up in the wake of the 1960s - for whom figures like the Reverend Martin Luther King Jr. and Kennedy were always more myth than flesh and blood - Estevez, who was six years old when Kennedy was shot, seems preoccupied with understanding what it was like to live through some of that decade's galvanizing events.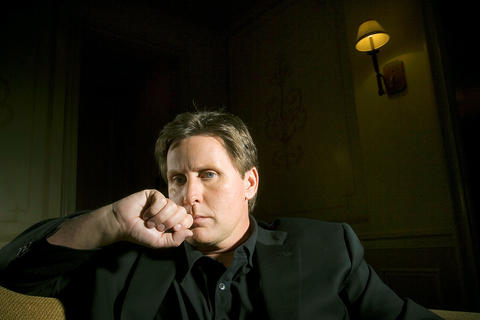 Estevez stars in the new film
The pulse of history is most audible not in the fictional portions of the movie, but in the moments, especially at the end, when the documentary record takes over. The sound of Kennedy's voice, even as it takes you out of the movie, throws you into a past that seems both terribly remote and uncannily alive. When you hear his patient, meditative speeches, from which every note of demagoguery or pandering has been purged, you glimpse the film Estevez set out to make - the one you may wish you were watching.
Publication Notes
Film Notes:
Bobby
DIRECTED BY: Emilio Estevez
STARRING: Harry Belafonte
(Nelson), Joy Bryant (Patricia),
Nick Cannon (Dwayne), Emilio
Estevez (Tim Fallon), Laurence
Fishburne (Edward Robinson),
Brian Geraghty (Cooper),
Heather Graham (Angela),
Anthony Hopkins (John Casey),
Helen Hunt (Samantha), Joshua
Jackson (Wade Buckley), David
Krumholtz (Phill), Shia LaBeouf
(Jimmy), Lindsay Lohan (Diane),
William H. Macy (Paul Ebbers),
Svetlana Metkina (Lenka), Demi
Moore (Virginia Fallon), Freddy
Rodriguez (Jose Rojas), Martin
Sheen (Jack Stevens), Christian
Slater (Timmons), Sharon
Stone (Miriam Ebbers), Jacob
Vargas (Miguel), Mary Elizabeth
Winstead (Susan), Elijah Wood
(William Avary)
RUNNING TIME: 111 MINUTES
TAIWAN RELEASE: TODAY
Comments will be moderated. Keep comments relevant to the article. Remarks containing abusive and obscene language, personal attacks of any kind or promotion will be removed and the user banned. Final decision will be at the discretion of the Taipei Times.