Handle with care
Salmonella is the most common form of food poisoning, but Listeriosis, caused by a much hardier bacteria, is more dangerous - especially to those already at risk
There is good news about the bacterium Listeria monocytogenes, a potentially deadly source of food poisoning. Since US federal food safety officials threatened in 2002 to toughen the rules to reduce listeria infections by 50 percent, things have definitely improved. In the effort's first year, the recalls because of listeria contamination dropped to 14 from 40, and the volume of recalled products fell to 25,000kg from 15 million kg.
But the situation is still far from good enough, as these recent recalls demonstrate:
: 1,500kg of ready-to-eat chicken products in Tennessee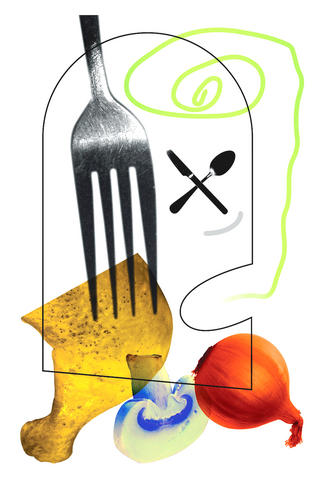 Illustration: NY TImes news Service
: 23kg of onions in California
: Smoked salmon and cheese spreads in Georgia
: Diced onions sold at Trader Joe's
: Raw milk in Pennsylvania
: Sprouts in Minnesota
: 3,500kg of ready-to-eat turkey products in California
: 10,000 cases of fresh sliced mushrooms from Pennsylvania
: 24,000kg of fully cooked ham and turkey products from Ohio
Listeriosis, as the disease is called, is not nearly as common a cause of food poisoning as, say, the gastrointestinal upset caused by salmonella. But, although listeriosis affects otherwise healthy people mildly, if at all, it is far more dangerous than salmonella poisoning for many people who are especially susceptible to it. In that group as many as one in four diagnosed cases is fatal.
Those most at risk are pregnant women and their unborn or newborn babies; people with weakened immune systems; the elderly; patients receiving chemotherapy or radiation treatments for cancer; people with diabetes; people taking immunosuppressant medications, including corticosteroids and drugs to prevent the rejection of transplanted organs.
Listeria emerged as a serious contamination problem in meat and poultry products in the 1980s. In the 1990s, the US Agriculture Department said, an outbreak traced to hot dogs and, possibly, deli meats sickened at least 101 people and caused 15 adult deaths and six stillbirths or miscarriages.
By 1999, an especially virulent strain of L monocytogenes had evolved, alarming health officials and prompting them to urge food producers to clean up their act. When another disastrous outbreak occurred in 2002, the inspection service concluded that voluntary measures were not enough and more stringent regulations were needed.
Although the "interim final rule" for ready-to-eat meat and poultry products issued in 2003 has helped control exposure to the bacteria, it has clearly not eliminated it. According to the US Centers for Disease Control and Prevention, an estimated 2,500 people become seriously ill with listeriosis each year, and 500 people die of it. People at high risk may contract listeriosis after eating food contaminated with even a few bacteria.
Last year, in a further effort to protect the public, the US Food and Drug Administration approved using an antiseptic spray to help control contamination of ready-to-eat meat and poultry products. The spray contains a mix of six bacteriophages, otherwise harmless viruses that destroy L monocytogenes. Consumers cannot tell, however, whether this spray has been used, which means those at risk of serious listeria infections should continue to follow the guidelines listed below.
L monocytogenes is a ubiquitous organism found in soil and water. Vegetables can become contaminated from the soil or manure used as fertilizer. Farm animals can carry the bacteria without experiencing ill effects, and foods of animal origin, including meat, poultry and dairy products, can become contaminated.
SOURCES AND SYMPTOMS
While the organism can be found in a variety of raw foods like uncooked meats, vegetables, unpasteurized milk and foods made from raw milk, processed ready-to-eat foods like cold cuts and cut-up vegetables can become tainted after processing. The spread of contamination to other foods in the home can occur when commercial foods with L monocytogenes contaminate food and kitchen surfaces directly or through packaged juices.
The organism is tough. It resists heat (though not high heat), salt, nitrite and acidity. It survives freezing and can even multiply slowly in the refrigerator. Thus, it is extremely important for people at high risk to consider all foods that are not thoroughly cooked just before consumption a potential source of L monocytogenes.
People not at high risk may not be sick at all or may develop just mild flu-like symptoms such as muscle aches, fever, nausea and diarrhea. Those symptoms occur, perhaps more severely, in people at high risk. If the infection spreads to the nervous system, the symptoms can include headache, stiff neck, confusion, loss of balance or convulsions.
Pregnant women are 20 times as likely as other healthy young women to contract listeriosis, probably because in pregnancy the immune system is dampened to prevent rejection of the fetus. A pregnant woman is likely to experience just mild symptoms. But the bacteria can penetrate the placenta and infect the fetus, resulting in possible miscarriage, premature birth or stillbirth. Newborns infected in pregnancy are at risk of dying, as well.
According to the Agriculture Department's Food Safety and Inspection Service, listeriosis cases in the US have been linked to frankfurters, deli and lunch meats, refrigerated pate, salami, brie, Mexican-style soft cheeses, shrimp, butter, raw vegetables and unpasteurized milk. Overseas, outbreaks have also been linked to shellfish, raw fish, smoked seafood, pork tongue, cream, rice salad, coleslaw and rillettes.
One problem with diagnosing listeriosis and detecting its source is that there can be a long delay, possibly 90 days, from consumption of a contaminated food and symptoms. The average time from exposure to illness is 30 days.
Comments will be moderated. Keep comments relevant to the article. Remarks containing abusive and obscene language, personal attacks of any kind or promotion will be removed and the user banned. Final decision will be at the discretion of the Taipei Times.