Hip hop finds a new beat
The rising popularity of dance moves that originate as songs is helping hip hop move away from its gangsta rap focus. But critics say the trend is being coopted by a music business eager to sell singles and ringtones in the wake of falling CD sales
It's late afternoon, and the 11 members of Stajez Dance Studio slowly arrive at the Blackstone Community Center in Boston's South End, their temporary home since a flood closed the studio's Mattapan site in March. After the teens change into dancewear, 17-year-old Olethea Williams begins teaching the group a new hip-hop routine. Breaking down the moves into small sections, Williams calls out directions as the others follow her lead.
"One, two, three," she says, demonstrating intricate arm movements. Then she and the others leap into the air with their legs forming a diamond shape.
Chicken Noodle Soup, Williams says, calling out the name of a well-known dance. The teens land and do the rapid kicks to the side, with first their right leg and then their left, that make up a portion of the Chicken Noodle Soup. After they land with legs spread out, they continue the routine.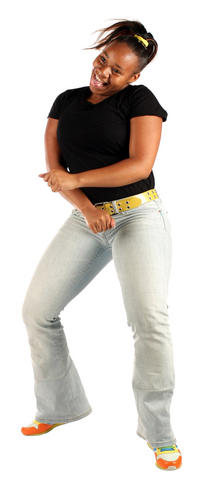 Briana Brown performs the controversial routine Chicken Noodle Soup.
PHOTO: NY TIMES NEWS SERVICE
The members of Stajez began adding popular dance accents to their freestyle hip hop to provide some recognizable elements when they perform in front of a crowd.
"Really it was the kids that wanted to do that," says Sophia Haynes-Cardwell, 40, who founded Stajez in 1995. "When their peers would see them in the audiences, they would root them on because they knew how to do that (dance) too."
As critics wring their hands and even spearhead a congressional hearing over the misogyny and violence in hip hop, the music genre is shifting away from its gangsta rap focus. In the past few years, the number of dances, such as the Chicken Noodle Soup, that originate as songs and become dance sensations has risen exponentially.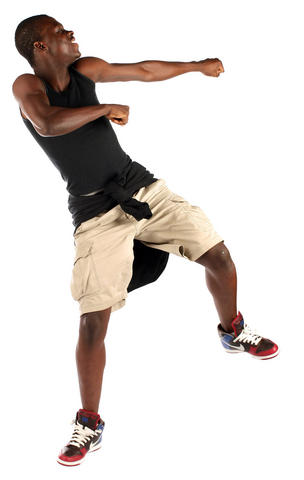 Oumaru Fofana demonstrates a step from Soulja Boy's new hit Crank That.
PHOTO: NY TIMES NEWS SERVICE
The song-and-dance combinations include Huey's Pop, Lock and Drop It, Cherish's Do It to It, Lil Boosie's Do tha Ratchet, Jason Fox's Aunt Jackie, Unk's Two Step, and Soulja Boy Tell 'Em's Crank That. The craze often starts with a music video that showcases the new moves. The dances subsequently become Internet phenomena as fans videotape themselves doing the motions and upload the results onto YouTube. Some fans put their own twists on the moves by creating new versions of the original.
The latest example, Crank That, shows not only how these dances break out but how popular the songs they're based on have become. The journey of Crank That began in April, when Soulja Boy uploaded the video onto YouTube - so far it's gotten more than 13 million views. The song hit No. 1 in the country just before Soulja Boy's CD, Souljaboytellem.com, received its major label release by Interscope Records last week. Visitors trolling through YouTube can find videos of Chris Brown, Beyonce, Samuel L. Jackson, and far less famous folks doing Soulja Boy's creation. Others inspired by the Superman dance within Crank That the dance have created spinoff versions: the Spiderman and the Aquaman.
Although the popularity of dance seems to represent a positive step for hip hop, not everyone is rejoicing. Longtime fans of the culture see the trend as one jump-started by a music business eager to sell singles and ringtones in the wake of falling CD sales. Rapper Cassidy recently released the song My Drink N' My 2 Step, referencing the 2 Step dance, and it quickly became a top 10 favorite on US cable channel BET's video countdown show, 106th & Park. Some also criticize creations such as the Chicken Noodle Soup, which has the refrain "chicken noodle soup wit a soda on the side" and features movements like the side-to-side kicking. Together they represent some of the worst stereotypes of black culture.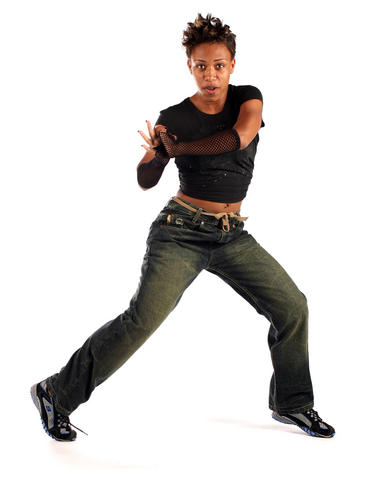 Victoria Bresnihan shows a move inspired by Jason Fox's song Aunt Jackie.
PHOTO: NY TIMES NEWS SERVICE
"When you see all these dances it's like, 'Was it really a case where these were dances that kids were doing at parties and clubs and it naturally became a song and the song happened to become a hit?"' says Alvin Blanco, music editor at Allhiphop.com. "Or is it a case where somebody was thinking, 'If we make a song we can make a whole lot of money off of it if there's a dance that's married to it.'"
Haynes-Cardwell disagrees with the criticism. She and many members of Stajez believe dance provides a positive alternative for bored teens. "Instead of focusing on all the negatives," Haynes-Cardwell says, "Give these kids some credit for ... finding a way to stay out of trouble and have fun with their lives."
It only takes hearing Soulja Boy's story to realize that his dance comes from his heart rather than from his desire to make a buck. He says he had been doing his Crank That moves for a while. While a junior at South Panola High School in Batesville, Mississippi, he laid down a beat and decided to videotape himself and some friends doing it along to the song.
Dance in hip hop is certainly nothing new. The genre has spawned break dancing, popping-and-locking, and crumping. In 1986, Joeski Love released the platinum selling single Pee Wee's Dance, which launched a dance named after the Pee-wee Herman character. But these new dances arrive at a time when dance has become an intrinsic part of pop culture. Hollywood has capitalized on the interest with films such as You Got Served, Stomp the Yard, Step Up, and the latest entry, Feel the Noise, which opened last weekend. On television, dance fans are being satiated with Dancing With the Stars and So You Think You Can Dance.
Soulja Boy believes the interest arrives at a time when hip-hop fans are looking for alternatives to gangsta rap.
"With all this stuff that's going on, you gotta have stuff that's uplifting," says Soulja Boy, 17, whose birth name is DeAndre Way, during a concert stop in Dallas. (A high school senior this year, he travels with a tutor.) "You don't just want to have gunshots and shooting and killing and pimping and all that. Sometimes you just want to have fun and dance and let it all go."
So who exactly is embracing these dances? Haynes-Cardwell thinks there's no age limit. When Stajez performed at the Blackstone this summer, she noticed that everyone did the dances: kids, grandmothers, and mothers.
But Stajez member Oumaru Fofana, 17, has different ideas. His grandmother often asks him to show her the dances he's learning at practice. He'll happily demonstrate modern and ballet moves. But when she presses him to show the hip-hop steps, he says, "I was like, all right, I gotta go, girl." He couldn't bring himself to do it.
Gender also plays a role in who does these dances. The 2 Step is a laid-back move men over a certain age do, says Jake Paine, East Coast editor at hiphopdx.com. "You kind of rock back and forth, move your arms, but you're almost too proud to dance. ... There's a generation break right around 21 or 22. If you're older than that and not trying to completely make a clown of yourself, you're not really doing it. You might like the song and bob your head and know the dance at the back of your mind, but it's a thing of the young people."
For teens, the dances have become a part of life. Members of Stajez say they do them in their school hallways, after school, and during breaks in their dance practice.
"You'll be in the middle of a ballet class and they're doing the Superman," says Haynes-Cardwell.
Teens learn new moves in a variety of ways. When Briana Brown, 16, wanted to add one of the most popular new dances, the Superman, to her repertoire she looked to fellow Stajez members Jasmine Dyer, 14, and Charae Hemingway, 14. First, Brown watched them do the dance several times. Then she got behind them and began doing it herself.
"There's always one person who knows all that stuff," says Williams. "You can learn it from your friends."
Or a myriad of other resources. Brown also went online to learn the Superman - Soulja Boy helpfully uploaded an instructional video on how to do the dance. Hemingway learns new dances by watching the MTV show Dances From Tha Hood. Or she discovers new ones when she and her family visit out-of-state relatives.
Even with the Internet helping to spread trends faster, the teens say Boston woefully trails behind on the dance front. The dances often originate in the South, usually Atlanta, or New York City. Although Fofana knew the Aunt Jackie, some of his fellow Stajez members had never heard of it.
"It gets old" in other places, says Fofana, "and then it comes here and gets hot."
Comments will be moderated. Keep comments relevant to the article. Remarks containing abusive and obscene language, personal attacks of any kind or promotion will be removed and the user banned. Final decision will be at the discretion of the Taipei Times.