Hot deals for cool vacations
The summer tourist season is over and the harvest is just beginning, a time when Europe is less expensive, crowded and hot, but still has many cultural events
Berlin: a harvest of art
A cold rain might have soaked Berlin for much of the summer, but art insiders know that the city doesn't really heat up until the fall, anyway.
During August, many of the city's white-hot galleries, like Galerie Max Hetzler (www.maxhetzler.com), close, leaving the much-hyped art quarters feeling like cultural wastelands. But come fall, the art scene reboots with a heady buzz of new shows and galleries.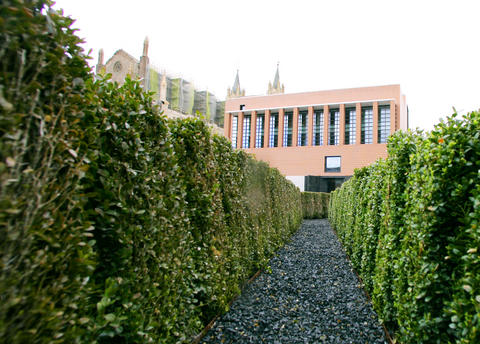 Part of the Prado Museum in Madrid
PHOTOS: AGENCIES
The season kicked off last week with Art Forum Berlin (www.art-forum-berlin.com), a contemporary art fair during which a raft of new galleries was unveiled around the city to gain the attention of acquisitive visitors. Among them was Rakete Berlin (www.raketeberlin.de), an artist-run space that is pushing the trendy art scene further north within the Mitte district.
An impressive new space is Nordenhake (www.nordenhake.com), where the Swedish dealer Claes Nordenhake gutted a former department store and hired the architect team of Pierre Jorge Gonzalez and Judith Haase to carve out eight galleries. Around the corner is the year-old Jablonka (www.jablonkagalerie.com), a highbrow gallery where the American artist Mike Kelley is showing his provocative installations and sculptures through Nov. 24.
While you're sniffing out the ever-growing art scene, hop over to the desolate strip north of the Berlin Hauptbahnhof train station where the Haunch of Venison just opened a gargantuan outpost (www.haunchofvenison.com). On view (for now, at least) is a monumental Buddha sculpture made of incense ash by the Chinese artist Zhang Huan (張奐).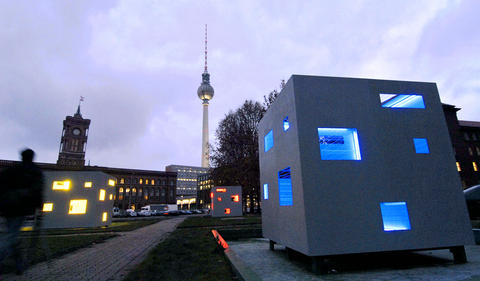 A design of lights in Berlin's Mitte district.
Champagne: a place to celebrate
Winston Churchill was so fond of the drink from this region, that he once declared, "It's not just France we are fighting for, it's Champagne." Just one of many reasons to visit.
The cathedral city of Reims is the capital of Champagne the region, but nearby Epernay considers itself the capital of champagne the drink. Unlike Reims, Epernay is a jewel of graceful streets and centuries-old mansions.
An Orthodox bell tower overlooks the port town of Fyra, on the Greek island of Santorini
Among the latter are the headquarters of major champagne producers, conveniently situated along the town's famed Avenue de Champagne. So are hotels like the stylish Villa Eugene, with rates from US$142 to US$355 , and Parva Domus US$95 and up.
Most champagne houses have public tours on weekdays (and often weekends, depending on the season), costing around US$7. Each offers something different - Castellane features a museum of traditional winemaking instruments, Mercier a giant oak barrel - and all show you how champagne is made. After 45 minutes in the chalk-walled cellars where the wine is stored, you emerge to sample a glass or three.
No surprise, there are bottles to buy, many of them bargains.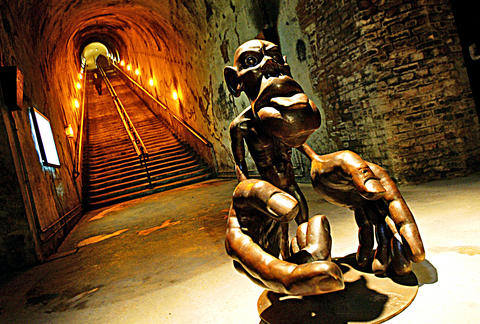 A sculpture in the wine cellar of a champagne company, one of many that can be visited in a trip to the region.
For real deals, rent a car and head for the nearby hills, home to hundreds of small champagne makers. (The tourist office has brochures.) You can meet producers and sample their wares gratis, but it's wise to make a reservation and appropriate to buy at least one bottle as a courtesy.
If time is short, you can sample - and purchase - bubbly from 50 independent producers right in Epernay at C. Comme Champagne. With prices starting at US$17 a bottle, you can get an early start on your holiday partying.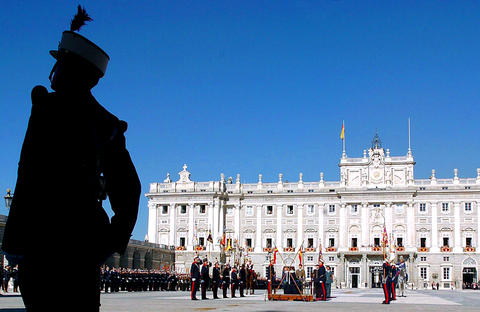 The changing of the Guards ceremony at the Royal Palace, Madrid
London: a culture club
Standing in front of the South Bank Center on the banks of the Thames, it is hard to imagine there could possibly be more activity going on inside the arts complex than on the walkways outside, where street performers entertain an endless parade of pedestrians.
Yet the interior scene is even more bustling as hundreds of patrons regularly make their way to each day's many visual arts, dance, literary and musical events (www.southbankcentre.co.uk).
Add to that an array of new bars and restaurants in this expansive building - part of a US$220 million renovation of the center's Royal Festival Hall that was completed in June - and you have a culture club like no other.
To celebrate the reopening of the 56-year-old concert hall, some of the world's greatest orchestras are scheduled to perform in the 2,800-seat auditorium this fall.
The pianist Mitsuko Uchida will join with the Chamber Orchestra of Europe in performing works by Mozart, Strauss and Wagner on Nov. 5. The Bavarian Radio Symphony Orchestra will concentrate on the music of Haydn and Mahler on Nov. 11, and the Royal Concertgebouw Orchestra of Amsterdam will perform Tchaikovsky's Fifth Symphony Nov. 30.
Those in search of an alternative to classical music may prefer the sounds of the South African group Ladysmith Black Mambazo on Oct. 15 and Oct. 16 or Sinead O'Connor on Nov. 12. Young hipsters (like those who regularly skateboard in the concrete park outside the center) should check out Video Games Live on Oct. 22, a new performance showcasing the music behind games like Tetris and Space Invaders, performed by a full symphony and choir and accompanied by a backdrop of cutting-edge visuals.
Afterward, head to the Skylon Bar and Grill (www.skylonrestaurant.co.uk), a new restaurant which serves modern European food (smoked wild Pacific halibut; roasted corn-fed guinea fowl), but more importantly offers one of the best views of the London skyline.
For a more casual setting, head to the Riverside Terrace Cafe, where you can dine outdoors and watch the steady stream of boats.
Madrid: cool to be green
After the blast furnace of the Spanish summer, Madrilenos eagerly await the gentler climate of fall, when they can stroll through the city's parks and gardens.
While Retiro Park (Plaza de la Independencia) may not rival Vermont for leaf-peeping, the towering oaks, chestnuts and sycamores provide enough blazing yellows and rich russets to make a worthy backdrop for the new fall fashions that the locals proudly sport on their daily paseo.
Other favored green zones include the romantic Botanical Gardens (Plaza Murillo; open 10am to 7pm; entry, US$3, which stretch between the Prado Museum and Atocha rail station in the heart of the city and seem little changed since they were inaugurated in 1781.
Even closer to Madrid's historic center, amid the bustle and noise of La Latina neighborhood tapas bars, is the tiny Garden of the Principe Anglona (10am to 6:30pm). Nestled between the Plaza de la Paja - the site of Inquisition burnings - and the precipitously downhill Calle Segovia, the garden was originally laid out in 1761. When the leaves start to fall, the garden seems to float among the red tile rooftops and church spires of Madrid's oldest quarter.
Follow Calle Segovia down to the Campo del Moro (Paseo de la Virgen del Puerto, 10am to 6pm), with its knockout view of Madrid's Royal Palace looming above. Once a royal party ground of Hapsburg kings, the Campo today is bursting with specimen trees, fountains, promenading peacocks and a charming duck pond that is beloved - if a bit terrorized - by children.
What most tourists happily don't miss - and shouldn't - are the nearby Sabatini Gardens along the Royal Palace's northern facade (9am to 9pm). Cypresses, magnolia, cedars and boxwood, punctuated by the gleaming white sculptures of long-forgotten Spanish kings, know no season and are ready for the masses whenever the mercury rises, which it often does in December, with temperatures often going up to 15°C.
Prague: beyond opera
Though mainstream music fills the Czech capital all year, autumn is the time for the avant-garde to shine, with several festivals supplementing the usual operas and orchestras.
From the first day of fall through Nov. 18, the Strings of Autumn (www.strunypodzimu.cz) offers a kissing cousin of the long-running Prague Spring concert series, but more diverse in taste. The program stretches this year from the American jazz violinist Regina Carter to the Portuguese fado vocalist Ana Moura.
For cutting-edge tunes with visual accompaniments, check out Music on Film - Film on Music (www.moffom.org, from Oct. 18 to 22) for music-themed movies from around the world. Run by John Caulkins, an American resident of Prague, Moffom, as the festival is known, shows more than 70 documentaries, musicals, concert films and videos. This year's special focus on Russian films includes a live performance by the Beth Custer Ensemble during a screening of the 1929 Soviet silent comedy My Grandmother.
Through Oct. 21, more unconventional acts perform noise and electronic music at the Stimul Festival (www.stimul-festival.cz). Among them will be the Japanese sound performer Keiji Haino, the American experimental hip-hop group Daelek, the Italian duo My Cat Is an Alien, and the pioneering English guitarist Fred Frith.
In the middle of all this is Prague's Bollywood Film Festival from Oct. 11 to 14 (www.bollywood.cz), a long weekend of movies, music and food from the Subcontinent.
With several new high-end addresses, Prague has no shortage of excellent lodgings, though the most suitable for avant-gardists might be the high-tech Hotel Icon (www.iconhotel.eu), which opened this spring. Rooms, which start at US$170, come with a keyless "biometric" safe, a Skype phone and an iPod jack, so you can mix your own offbeat selections between events.
Rome: sit, sip, eat
Fall in Rome - especially October and early November - inspires a decidedly languorous take on life. So find a cafe, order a glass of fruity Vino Novello, the new wine that will be officially released at midnight on Nov. 4, and plan to stay awhile.
There are plenty of places to sip wine on the lively Campo de Fiori, but just around the corner, at L'Angolo Divino, you'll find a quiet, well-stocked wine bar where one can indulge in more serious tasting.
There are other ways to satisfy one's taste buds in the fall. After the August calf-birthing season "comes new milk and with it ricotta Romana," explained Cesare Lopez, the president of the consortium, Consorzio Ricotta Romana DOP, that ensures that this local product follows precise standards. You can savor the creamy cheese year round (it's particularly good with honey, he suggested), but in November, production starts anew.
At Volpetti, the cheese emporium, ricotta Romana sells for around US$7 per kilogram. As part of the lunchtime buffet at Casa Bleve, near the Piazza Navona, you'll find fresh ricotta stuffed into zucchini flowers, as well as plain.
Newly pressed olive oil - the local varieties are from the areas of Canino, Sabina and Tuscia - is also available starting in November. One of the best places to buy some, as well as most regional culinary products, is the Enoteca Regionale del Lazio, not far from the Spanish Steps.
Fall is also the season of chestnuts, and as the weather turns colder, chestnut hawkers proliferate in the old city. There's something very Roman about strolling the streets with a paper cone full of roasted chestnuts. But like so many seemingly simple Roman pleasures, they don't come cheap: prices for a small cone (four or five chestnuts) can start at US$7.
Santorini: views, not tourists
The view from Oia, on the wildly popular island of Santorini, illuminates the sun-and-sea bliss of Greece: At day's end, the sun drops into the blue Aegean horizon, draping the caldera of the Santorini volcano in a shimmery twilight. But just try finding an unobstructed glimpse of this glorious scene in summer, with all that village's camera-toting tourists.
Come October, though, the view from Oia, as well as the rest of this island of whitewashed homes perched on steep seaside cliffs, is all yours.
Without the cruise tours, honeymooners and bikini-clad movie starlets to entertain, Santorini relaxes. The sun, now muted, no longer burns. (October highs are generally around 20°C.) The roads between villages are not crowded with rental cars, and the windy, gorgeously rugged cape of Akrotiri is free of Australian college students mooning each other. Islanders stop greeting everyone in English and revert to Greek. Even the grandmothers come out of hiding.
Though many establishments on Santorini close for the winter, you can still find choice places to eat, drink and sleep in the fall. Through late November, you can enjoy a hearty dinner at the bistro Roka near Oia's community offices. It serves an outstanding dinner of traditional dishes, like mushrooms marinated in sweet vinsanto, and fritters made with the island's aromatic cherry tomatoes, for under US$28.
In tiny Foinikia, the homey tavern Krinaki, near the village's main parking area, offers gastra, or fork-tender lamb slow-cooked in clay pots, for under US$14.
You can sleep in traditional cave houses for close to 50 percent off summer prices, starting at US$140 at Alexander's Boutique Hotel of Oia. Even the most extravagant suite at Oia's upscale Katikies (www.katikies.com) costs around US$1,300 after Oct. 16.
Comments will be moderated. Keep comments relevant to the article. Remarks containing abusive and obscene language, personal attacks of any kind or promotion will be removed and the user banned. Final decision will be at the discretion of the Taipei Times.