Travel destinations upsize to attract big spenders
Since the 1970s, high-end tourism has typically maintained a 'small and discreet' philosophy, but with the success of Dubai's uber-upscale mega-resorts, exclusive new developments in seldom-visited locations are competing to outdo one another in size and grandeur
Small is beautiful. This has been the prevailing mood in tourism over the past decade. We want boutique hotels, cozy bed-and-breakfasts, family-run restaurants serving local fare, city breaks, modest rental cottages, cycling holidays. We shun the sweeping all-you-can-eat hotel buffets, multinational hotel chains, giant cruise ships, carpets of sun loungers on the beach. We seek the isolated and unspoiled and we reject the overdeveloped and congested.
But there is growing evidence that the "big is best" model - typified by the skylines of Cancun, Benidorm and Las Vegas - is fast making a comeback. Across the world, major tourism developments are now planned or under construction that defy the fashion for modesty over brashness. Not since the 1970s have we seen such epical tourism projects.
The spark for much of this about-turn is the success of Dubai, the holiday jewel of the Middle East that has risen rapidly out of the deserts of the eastern Arabian peninsula and which, in just over a decade, has become one of the world's highest-profile tourist destinations. This is a place that is building indoor ski runs in the desert, a theme park twice as large as Florida's Disney World, three skyscrapers vying to be the tallest in the world, hundreds of man-made islands in the sea and a six-runway airport. It's a formula that has been a huge success: from a standing start in the early 1990s, Dubai now attracts 6 million visitors a year. And the infrastructure that is currently under construction aims to attract a staggering 15 million by 2010.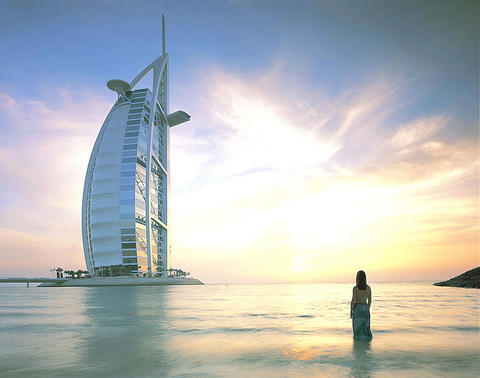 The Burj al Arab Hotel in Dubai, United Arab Emirates, started the trend toward big resorts and remains a leader today.
Photo: NY Times News Service
A growing number of countries now aspire to recreate their own Dubai, largely through the rapid construction of mega-resorts serving high spenders seeking luxury. High yield, low volume is the business model for these destinations: why have four tourists spending US$200 a night when you can have one willing to spend US$800? Even countries such as Iran are starting to think like this, as evidenced by the building of the US$2.4 billion Flower of the East development on Kish Island - a vast project that, when finished in 2010, will include a seven-star hotel to rival the famous sail-shaped Burj al Arab across the Persian Gulf in Dubai.
Only time will tell the implications such developments will have for local environments and communities. But some campaign groups fear the worst. "According to the International Tourism Business Partnership, the global tourism industry is now worth US$6.5 trillion a year, and is projected to achieve 4.2 percent annual growth over the next decade," says Tricia Barnett, the director of Tourism Concern. "Clearly, developers and governments around the world want to have a cut of this. This latest building frenzy is like the new gold rush and the developments are positively industrial in scale.
"What the tourist will never see, though, is who might have been forcibly moved from their homes to make way for the new resorts and golf courses, how much biodiversity has been lost in their development, how local needs might be sacrificed - such as water - and the extent of the corruption. The tsunami in 2004 unexpectedly and conveniently cleared land that had been longed for by the developers. It's particularly frightening because the enormity of the resorts are often obscured by their luxury. Nowadays, these developments aren't necessarily high-rise and in your face. They can be more subtle than that and are cleverly sculpted over huge acreages of land."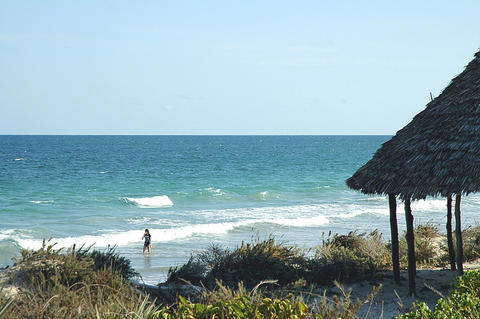 A guest tests the waters at Mike's Camp on Kiwayu Island, Kenya, which is reached by a two-hour flight from Nairobi. The government has plans to make its coastlands more attractive and accessible to tourists.
Photo: NY Times News Service
Beyond angkor wat
Cambodia's reputation as a less-developed, more pristine alternative to the well-trodden backpacker tracks that traverse Thailand and Vietnam could be short lived. The county's largely untouched south coast is the focus of a major government-backed project to develop high-end tourism. A year ago, it announced that 61 offshore islands were now available to international investors to develop into a beach paradise. According to local media reports, the government wants to jump-start the country's economy and help diversify the tourism industry beyond the prime attraction of the 800-year-old Angkor Wat.
Last year, a Russian financier signed an agreement for an initial investment of US$300 million to develop one of the islands, sparking fears among local environmentalists about the implications for the rest of the near-pristine coastline. And last month, the government announced that the leases for five of the islands had been sold for US$627 million.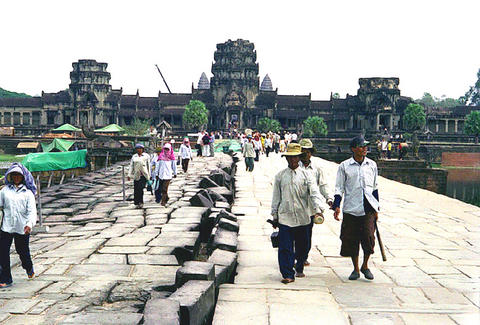 Angkor Wat has long been a source of tourism dollars for Cambodia, but the government, taking Thailand as a model, is looking to develop its coastlands.
Photo: NY Times News Service
China's Hawaii
Hainan Island, which lies off the southern coast of the China, is often called "China's Hawaii" due to its silky sand, palm-fringed beaches and year-round tropical climate. That it has attracted this nickname says something about the type of tourism on offer: the main resort's hub, Sanya, with 18 golf courses (and 10 more planned), a thick swathe of beach front and high-rise hotels mean it has the look of pretty much any identikit tropical beach resort in the world - clearly inspired by Western hotels. But it's China's domestic tourists who are really fuelling Sanya's building boom. Yalong Bay, a special tourism national reserve about 19km east of Sanya, is where most of the luxury hotels are now located. International hotel chains located there include Sheraton, Crowne Plaza and Marriott. Further along the coast still is Haitang Bay where there are plans for a US$200 million seven-star deluxe hotel project to be constructed by 2011.
What is happening in Sanya today could be a taster for things to come elsewhere as Chinese tourists get more adventurous and start to travel beyond their borders with increasing frequency and volume. The UN's World Tourism Organization predicts that about 100 million tourists will be coming out of China each year by 2020, a rise of 80 million from 2003.
Burj Dubai, the newest addition to the city's high-end tourist market, will be the world's tallest skyscraper when it is completed.
PHOTO: EPA
Safari and beach vacations, Kenya
A lion surrounded by a dozen white 4x4s. White-sand beaches crammed with package-holiday tourists: images that could easily blur the mind's-eye vision of a dream safari holiday - and ones that Kenya has worked hard to shake-off in recent years. The strategy appears to have worked; eco-lodges are thriving, while the tourist numbers continue to swell: 1 million visitors will fly in this year for the first time ever.
So what to make of a new long-term plan to build three resort cities - one in the safari heartland, the others at the coast - with South Africa's Sun City as the inspiration? A wise move or the first step on the path downmarket?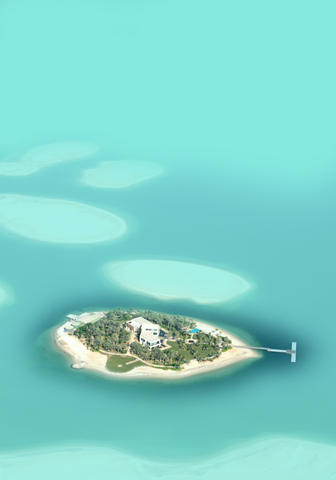 An aerial view shows one of the man-made Deira islands of Dubai, United Arab Emirates.
PHOTO: AFP
The first resort is planned for Isiolo, a backwater town 65km north of Mount Kenya. Situated at the gateway between the lush highlands and the desert scrub badlands that run toward Ethiopia, the town currently has little to offer the visitor in terms of amenities or attractions, bar a lively livestock market attended by Samburu, Turkana and Boran tribesmen. What it does have is a superb climate and location: there are seven wildlife sanctuaries nearby, including Samburu, Buffalo Springs and Lewa Downs.
While no firm plans have yet been drawn up - tourism officials are still studying resorts in Las Vegas, Dubai and South Africa for ideas - it is envisaged that the Isiolo will become a one-stop shop for tourists, with hotels, restaurants, golf courses and entertainment.
"We are still in the first steps but imagine that it will have a design similar to Sun City," said Mwangi Gakunga, spokesman at the tourism ministry.
Resorts are also planned for Mombasa and a second coastal city, possibly Malindi to the north, in the next 10 to 15 years.
The idea of a resort city on the coast is not new; the government identified Diani Beach, south of Mombasa, as a possible location as far back as 1971. But the plan was shelved after concerns about sustainability and the effect on local population. Eager to avoid similar problems this time, the government has pledged to conduct impact assessments on both the human and natural environment before any ground is broken.
sustainable development in Libya
Libya may have only just taken its first tentative steps into the world of tourism since coming in from the cold, but the government is already planning to leapfrog into tourism's big league.
Earlier this month, Muammar Qadaffi's 35-year-old son, Saif al-Islam, announced to a slightly perplexed gathering of the world's press that a 3,200km2 area of land between Benghazi and Tobruk in the north will be the location for the US$3 billion Green Mountain Sustainable Development Area. The plan is to incorporate a national park, eco-friendly hotels and even organic farms. It aims to create more than 70,000 jobs and comes with the endorsement of some high-profile names including Sir Norman Foster, Sir Nicholas Stern and the Prince of Wales ... well, the Prince's School of Traditional Arts is involved.
The authorities clearly know what they don't want - the Green Mountain brochure has a photograph of Benidorm with a big red cross through it - but are a little vague on the details when it comes to explaining exactly how this vision for sustainable tourism will be come to fruition. But one sensible step taken will be to not build on the coast itself. Instead, all the hotels and tourism facilities will be set back away from the beach.
Morocco warms up to business
Beautifully restored - and affordable - riads, trekking through vast, empty mountains, exploring ancient kasbahs ... these are the attractions that draw us to Morocco. But the Moroccan government clearly feels it has missed a trick by ignoring the potential of its coastline - only 5.5km of it are currently developed for tourism. That is about to change.
To reach its goal of 10 million holidaymakers by 2010, the government estimated that 160,000 new tourist beds would be needed. The result was Plan Azur - a blueprint for six coastal resorts to be built by the end of the decade - five on the Atlantic, one on the Mediterranean.
The resort at El Jadida, near Casablanca will focus on gambling and entertainment and is being financed by Kerzner International, the hotel group behind the Atlantis in the Bahamas. Other Plan Azur developments include the 5,190 bed Port Lixus marina resort near Tangier.
And it's not just the beaches being earmarked for development. Dubai-based investor Emaar is spending US$2 billion on a ski resort in the High Atlas mountains at Oukaimeden. And with 2,000 hotel rooms, more than 300 retail units and 25,000m2 of business and conference facilities planned, Oukaimeden will be a year-round hive of activity. But anyone who has visited the High Atlas will probably be wondering exactly how Emaar will combine the two seemingly opposite worlds of the Berbers with that of conference facilities.
Switzerland's mountain-top beach
If Dubai can build ski runs in the scorching heat of its desert, then why can't a beach be recreated up a snow-crested mountain? That is the view of Samih Sawiris, the billionaire owner of the Egypt-based Orascom hotel group, who has announced that he is to fund a huge new resort at Andermatt, complete with swimming pool and artificial sandy beach. Construction starts next year on land formerly owned by the Swiss army and will also incorporate the ubiquitous 18-hole golf course (though few can have been built at such high altitude) and tropical spa complex. Five new hotels will offer at least 800 rooms and help create 2,000 new jobs in a town that has a population of 1,600 and has suffered an economic depression since the Swiss army vacated its training center near the town following the end of the cold war.
The beach will not be the only odd sight in the Alps. The US$140 million Matterhorn Glacier Paradise Project will see a 117m steel and glass pyramid built on top of the Klein Matterhorn, taking it to a height of 4,000m - which tourist chiefs hope will "make the mountain more attractive to visitors." But given that the Alps are currently one of climate change's proverbial coalmine canaries due to the region's fast-melting glaciers and disappearing snow lines, is this mountain range really the best place to spend billions of US dollars on new tourism infrastructure?
Comments will be moderated. Keep comments relevant to the article. Remarks containing abusive and obscene language, personal attacks of any kind or promotion will be removed and the user banned. Final decision will be at the discretion of the Taipei Times.