Paranoia will destroy her
'The Brave One' aims to raise awareness of post-Sept. 11 anxieties, but tanks with implausible twists and a cheesy ending
Neil Jordan's new film, The Brave One, displays all the ambition of a Dostoyevsky novel and all the logic of a Froot Loops commercial.
Erica Bain (Jodie Foster) is a New York City radio host whose show focuses on how the city has lost much of its idiosyncrasy over the years. (There's a ratings winner for ya!) One evening, while strolling through Central Park, Erica and her boyfriend (Naveen Andrews) are attacked by a gang of thugs. The boyfriend is killed, while Erica slips into a coma. After she wakes up months later, she finds herself too gripped by fear to leave her apartment. She decides that the only way to contend with her anxiety is to illegally purchase a gun and learn how to use it.
So far, so plausible. But soon Erica finds herself in a convenience store just seconds before a crook decides to rob the place. Taking matters into her own hands, Erica shoots the robber dead at point-blank range. Next, she happens to be on a subway where a young man is being robbed of his iPod; perhaps needless to say, the muggers don't stand a chance against our suddenly emboldened anti-heroine. The violent crimes just keep multiplying all around her, so that by the time Erica has liberated an underage prostitute from the clutches of a kidnapper, you may find yourself wondering if the entire movie is some kind of extended dream sequence. Indeed, compared to the crime-ridden, rotten-to-its-core New York City of this movie, Baghdad may seem like a Club Med getaway.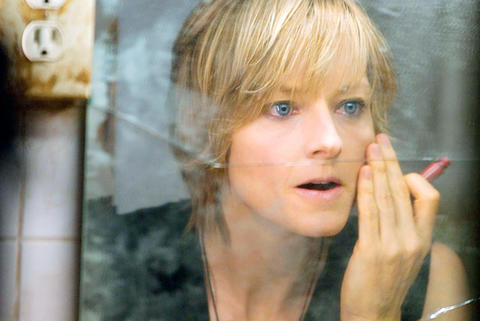 Jodie Foster as vigilante Erica Bain in The Brave One.
PHOTOS: COURTESY OF WARNER BROTHERS
Alas, The Brave One is no dream - it's just another case of Hollywood filmmakers pandering and condescending to the audience while pretending to be serving some larger public good. As Foster and Jordan have both pointed out in interviews, this movie wants to be a searing study of post-Sept.-11 urban anxiety; a Taxi Driver for our terror-plagued times. With her job working for an NPR-ish radio station and her general air of middle-class comfort and entitlement, Erica is meant to be a stand-in for all those slightly effete, big-city intellectuals who suddenly found themselves, in the aftermath of the Sept. 11 attacks, reckoning with impolite feelings of bloodlust, racism and rage. We're supposed to see her dilemma as the defining one of this young century: How do we all carry on living when our illusions of safety and security have been permanently, irreparably shattered?
But instead of having the courage to explore these ideas and feelings, The Brave One - written by Roderick Taylor, Bruce Taylor and Cynthia Mort - quickly devolves into an idiotic potboiler. A detective named Sean Mercer (Terrence Howard) is assigned to solve the vigilante crimes. Because she's either brazen or just plain crazy, Erica decides to strike up a relationship with Sean and asks him to be interviewed for her radio show. The two become fast friends, with Sean never suspecting that Erica is behind the vigilante killing spree. Harebrained twist follows harebrained twist, until Erica finds herself squaring off against her original Central Park attackers, who - in their most indecent act of all - have stolen Erica's German Shepherd and turned him into a guard dog.
Foster is an undeniably intelligent actress, and she plays Erica with intensity and gravity. But, dear God, did this woman ever bother to read the script? Erica is an impossibly fuzzy creation, a woman whose descent into homicidal mania happens in the literal blink of an eye. No actress alive could have made sense of this character, and Foster does herself (and the audience) no favors by making her so relentlessly dour and unpleasant. You don't want to spend five minutes with her, let alone the span of a 2-hour-plus movie.
As for Howard, he's as relaxed and charismatic as ever. But we never get a sense of why Sean feels a connection to Erica, or why he can't see what's so obvious to the audience - namely, that this gal is a couple of playing cards short of a full deck.
Photographed by Phillippe Rousselot, who also shot Jordan's two best-looking movies, The Miracle and Interview With the Vampire, The Brave One takes place in a dark-hued, strangely barren universe - a New York that seems to be on the teetering point of apocalypse. (Maybe Rousselot, too, thought the whole thing was supposed to be a dream sequence.)
But pretty images do not a great movie make. And the longer The Brave One drags on, the more plainly insulting it becomes. The screenplay does a series of perverse backflips to guarantee a happy ending - but the ending makes no sense either dramatically or thematically. Is this truly Foster and Jordan's idea of provocation, a movie that lets the audience brush off any troubling moral questions about vigilantism like pesky lint on a blazer? Did they really think they could patch up the movie's gaping plot holes with a rabbit-out-of-the-hat solution that wouldn't pass muster on an episode of Law & Order?
Forget Taxi Driver; The Brave One isn't even good enough to earn comparisons to DC Cab.
Publication Notes
Film Notes
The Brave One
DIRECTED BY: Neil Jordan
STARRING:
Jodie Foster (Erica Bain), Terrence Howard (Sean Mercer), Naveen Andrews (boyfriend)
RUNNING TIME: 122 MINUTES
TAIWAN RELEASE: TODAY
Comments will be moderated. Keep comments relevant to the article. Remarks containing abusive and obscene language, personal attacks of any kind or promotion will be removed and the user banned. Final decision will be at the discretion of the Taipei Times.