RESTAURANTS: Yulonggu (玉瀧谷)
Even frequent visitors to Yangmingshan National Park could be forgiven for never stopping by Yulonggu (玉瀧谷) because it's not easy to find.
But those who make the effort will be rewarded with a delicious home-cooked meal in a tranquil setting that offers a panoramic view of Taipei.
"You can forget your frustrations up here," said Simon Chong, 60, who was standing on a rocky outcrop below the restaurant.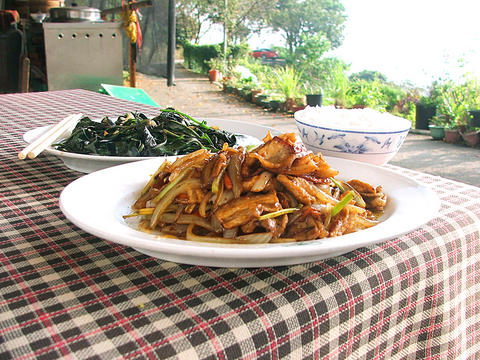 It may look like a shack, but Yulonggu boasts fresh air, mountain views and no traffic. The food is worth a visit too.
Photo: Ron Brownlow, Taipei times
Chong and his wife drive up from Taipei's Zhongzheng District once or twice each month to eat here. "They're like family," he said of the restaurant's staff.
Unlike the whimsical Alpine lodges that dot the slopes of Yangmingshan from Beitou's hot springs to the flower plantations on Zhuzihu Road (竹子湖路), Yulonggu isn't fancy.
With its corrugated roof and sparsely decorated interior, the restaurant resembles nothing so much as a large shack with a wall cut away to let the breeze in. On a recent Sunday evening, a friendly dog sniffed around the tables while Karaoke drifted up from the valley.
"I wake up every day at 5am to pick the vegetables," said owner Ceng Yong-yi (曾永義), 75, who set up shop here with his wife two decades ago. "Guides used to bring tour groups from Hong Kong," he said. "But they stopped coming back because we didn't give them a commission."
Ceng's family grows most of the herbs, onions, cabbages and other vegetables they serve on a plot below the restaurant. Once picked, the produce is laid out in neat green baskets on a table by the kitchen.
Customers order here because the menu offers only a rough guide. "Everything's natural," Ceng said. "We don't use chemicals."
Among the fresh produce was a kind of fennel (huixiang, 茴香), an aromatic herb that tastes like a less pungent version of anise, not the sort of thing you'd see on the menu at most restaurants.
According to Web sites that sell medicinal herbs, huixiang regulates the flow of qi in the liver and stomach, disperses cold and alleviates pain. Stir-fried with scrambled eggs and some leeks, it tasted delicious.
Chives and onions from Ceng's garden also went well in a stir-fry that featured slices of ginger and boar (山豬肉).
Although this dish beat similar fare available nearby, it was briefly overlooked when five flatcakes stuffed with shrimp and taro (山葯蝦餅) were served and promptly disappeared from their plate.
To get to Yulongu, take the Yangjin Highway (陽金公路) from Yangmingshan National Park. Turn left on Zhuzihu Rd. After about 400m, turn left at the sign for 8-16 Zhuzihu Rd (竹子湖路8-16號). Follow the driveway for just over 1km to Yulonggu.
Publication Notes
Yulonggu (玉瀧谷)
Address: 8-16 Zhuzihu Rd, Yangmingshan (陽明山竹子湖路8-16號)
Telephone: (02) 2861-5430
Open: Seven days a week, 9am to 9pm
Average meal: NT$640 for four courses
Details: Credit cards not accepted; Chinese menu
Comments will be moderated. Keep comments relevant to the article. Remarks containing abusive and obscene language, personal attacks of any kind or promotion will be removed and the user banned. Final decision will be at the discretion of the Taipei Times.