Mangroomer reaches parts other razors can't
The mangroomer is designed to put an end to the embarrassment of a furry back on the beach or in the bedchamber
For men with hirsute backs, a day at the beach can be a nerve-racking experience. It is tough to enjoy the sand and surf while constantly worrying - perhaps needlessly, perhaps not - that passers-by are lampooning your furry shoulder blades.
Brett Marut is all too familiar with that sort of anxiety. "I have hair on my back to the point where - I don't know if you'd call me self-conscious or what - but I'm a little bit embarrassed," said Marut, who lives in the beach mecca of Santa Monica, California.
He tried waxing, but he couldn't tolerate the pain or the awkwardness of entering a salon full of female customers. So he resolved to create a less agonizing hair-removal option, one which men could use in private.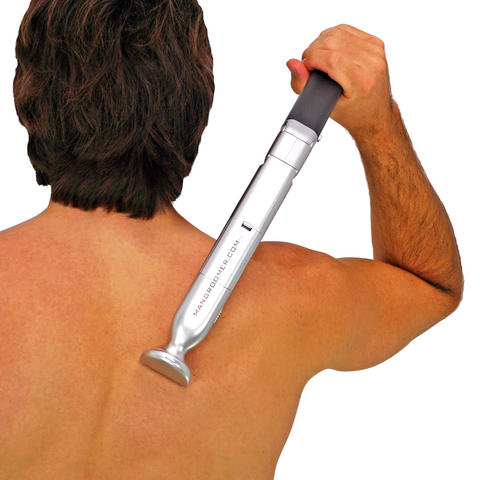 Mangroomer reaches parts other razors can't
PHOTO: NY TIMES NEWS SERVICE
That option is the Mangroomer, an electric razor that resembles a futuristic kung fu weapon. Fully extended, the Mangroomer measures nearly half a meter from base to blade - long enough, according to Marut, to shave the human back's remotest corners.
Though he toyed with the concept for years, he didn't start designing the product in earnest until the summer of 2003. That is when he had an epiphany while waiting for a flight at Los Angeles International Airport. "I was actually on a trip to see my family in New Jersey," said Marut, who was working as a day trader at the time. "I was going back to see people I barely ever see, and I just knew I was going to have to take my shirt off."
While fretting over that prospect, he noticed several fellow travelers wheeling around suitcases with telescoping handles. A razor with a similarly designed handle, he realized, would be ideal for back shaving - the handle could be adjusted to reach various spots, both near and far.
Upon his return to Santa Monica, he started sketching out the Mangroomer. "It had to look cool, so if somebody saw it on my counter, they wouldn't say, 'What is this ridiculous thing?'" he said. He eventually settled on a razor that folds in two, much like a flip-top cell phone.
Thanks to a previous job as a buyer for May Department Stores, a retailer that merged with Federated Department Stores in 2005, Marut understood how prototypes are made. He contacted several dozen Chinese factories that specialize in nose-hair trimmers and other depilatory gadgets. After choosing a factory, he exchanged countless e-mail messages and phone calls with its staff while refining the design. They focused on finding the right angle for the razor's central joint, eventually settling on 135° - anything straighter tended to make the blade catch on folds of skin, Marut said, while smaller angles produced a coarser shave.
They also cut a thin line down the center of the joint. The cut made the joint less prone to cracking when considerable pressure is applied.
The first shipment of Mangroomers arrived from China last February. Marut says he has since sold 80,000 of the razors, primarily through retailers such as Bed Bath & Beyond and Amazon.com. He also sells the product, priced at US$39.99, through his Web site, Mangroomer.com.
Given my utter lack of back hair - for which I am grateful to my genetic forebears - I was unable to conduct a full test on the Mangroomer. But the product's shape, at least, seems clever; the 135° angle, combined with the telescoping handle, enabled me to reach every nook and cranny on my back, without the slightest physical strain.
Perhaps I'll use it as a back scratcher.
Comments will be moderated. Keep comments relevant to the article. Remarks containing abusive and obscene language, personal attacks of any kind or promotion will be removed and the user banned. Final decision will be at the discretion of the Taipei Times.